Having afternoon tea in London is a must-do British tradition when visiting the city. Historically known as the 5 o'clock tea, it originated in the 19th century when the Duchess of Bedford asked her servant to bring sandwiches and snacks with her tea in the afternoon to keep her going until dinner. Having something to eat with some tea in the afternoon soon became a tradition and the perfect time to socialize with family and friends.
A cup of tea is still the most popular hot drink of choice in the UK and all Brits know there's no problem that can't be solved by putting the kettle on. Over recent years, the traditional afternoon tea with sandwiches and cakes has become a trendy social event again, with many places offering both traditional and themed afternoon teas.
Types of Afternoon Teas in London
Cream Tea
Cream tea is a good option if you want to try something traditionally British, but it is cheaper and lighter than a full afternoon tea. Originating from South West England, cream tea consists of a pot of tea served with traditional scones topped with clotted cream and jam.
For those who don't know, a scone is a cross between a sweet bun and cake, either plain or made with raisins. Although more recently, it is not uncommon to come across flavoured scones. You can normally choose from various teas to accompany your scones, but the most traditional teas are English Breakfast or Earl Grey. We love cream tea and think it's a great option if you've already had a big lunch and just want a sweet snack in the afternoon!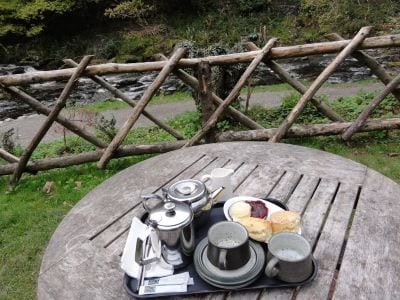 Traditional Afternoon Tea or High Tea
A traditional British afternoon tea consists of a selection of finger sandwiches and a variety of cakes and scones, served on a traditional two or three-tier cake stand with a pot of tea.
Afternoon teas in London usually take place between 12 and 6 pm, but if you are going for an early sitting, we recommend making this your lunch as it would probably be too much to have lunch and then an afternoon tea. Nowadays, many variations of afternoon tea include champagne, cocktails, and incredible themed afternoon teas for children.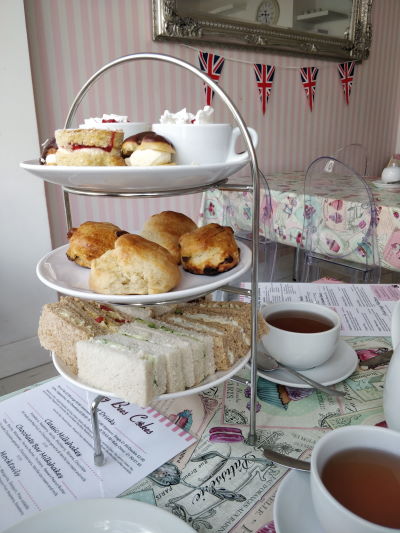 Afternoon Tea in London: Some suggestions for an unforgettable experience
As a personal recommendation, I would say that Afternoon Tea  tell you that if you want to try the complete afternoon tea, go hungry and go to a good place (where you will have to book in advance), otherwise the experience will not be the same! The afternoon tea in a decent place can cost at least 50 pounds per person, while the Cream Tea will always be cheaper, and it is always possible to try the typical scones in more normal places; it does not have to be in the best rooms London Tea.
Thames Cruise with Afternoon Tea
The cruise on the River Thames is something that I recommend to everyone who visits the British capital, mainly because it is something that I like the most. Hence, combining the cruise with a typical Afternoon Tea seems like a fabulous idea. I don't think the quality of the food is the same as in one of the luxury hotels, but surely as an experience, it must be unmatched.
Find out more: Thames River Cruise with Afternoon Tea
Kensington Gardens Tour and Afternoon Tea
For a spectacular experience, I recommend you take Afternoon Tea and visit the Kensington Gardens.
Find out more: Kensington Gardens Tour and Afternoon Tea
Best Places for Afternoon Tea in London
With so many venues offering afternoon tea in London, deciding the best place to go can be tricky. We have listed our favourite spots for Afternoon Tea in London, from the most exquisite experiences to more affordable options.
A traditional afternoon tea in a decent venue will cost around £50pp upwards. Early booking is highly recommended to guarantee a place!
Claridge's
Voted the best place for afternoon tea in London by The Telegraph in the past, this luxury hotel offers a range of traditional afternoon teas in its luxury salons.
Web: Claridge´s
The Chesterfield
A traditional hotel located in the luxurious area of Mayfair offering impressive 'themed' afternoon teas for an unforgettable experience.
Web: Chesterfield
Fortnum and Mason
On Piccadilly Street, you'll find the famous department stores Fortnum and Mason, which is worth a visit even if not for tea. There are a few places to choose from inside Fortnum and Mason for Cream Tea of Afternoon Tea.
The Gallery restaurant, located on the ground floor, offers traditional afternoon tea and cream tea. Go to the first floor for the spectacular ice cream parlour, 'The Parlour,' where you can enjoy afternoon tea or just ice cream and coffee. The Diamond Jubilee Tea Salon on the fourth floor is one of London's most recommended places to try traditional afternoon tea.
Web: Fortnum and Mason

The Ritz
Who hasn't heard of the Ritz hotel in London? So, if you've always wanted to visit, this is the perfect excuse. For an unforgettable experience, treat yourself to afternoon tea in the elegant Tea Salon at the Ritz.
Web: Ritz
The Berkeley
Known as the "fashionista tea" and a popular choice with celebrities, the Berkeley Hotel offers afternoon tea with a difference as their cakes are created by great fashion brand designers such as Dior, Gucci and Dolce & Gabanna.
Web: Berkeley
Sketch London
This trendy restaurant in the heart of London has different rooms offering breakfast, lunch, dinner and traditional afternoon tea. Each room is decorated in a different theme for a unique atmosphere, making its afternoon tea a trendy choice in London.
Web:  Sketch London
Shard
The tallest building in London, the Shard, has several restaurants that offer traditional Afternoon Tea. With their amazing views, Afternoon Tea in one of their restaurants can be one of the most spectacular options. Take a look at restaurants  TING, Aqua Shard, Oblix…
Other places in London offering afternoon tea include Harrods, Brown's Hotel, The Dorchester and the Hilton and Hyatt hotels.
More Afternoon Tea options in London
If you are looking for a more affordable afternoon tea in London, there are several great coffee shops and tea rooms in London that offer cheaper afternoon tea. The setting may not be as grand, but it will still be a traditional and enjoyable experience.
Camellia's Tea House
Serving more than 100 different types of tea, this tea room and shop in Soho is the perfect place for an afternoon or cream tea in London.
Web: Camellia´s
Beas of Bloomsbury
Well-known for their afternoon teas, their lovely tea rooms are the perfect choice for a more affordable afternoon tea in London.
Web: Beas
Patisserie Valerie
A chain of coffee shops in London where you can enjoy a cup of tea with a wide choice of decadent cakes and desserts.
Web: Patiserie Valerie
Caffé Concerto
Home to impressive cakes and pastries, afternoon tea is also served in an impressive three-tier stand with all the traditional features.
Web: Caffe Concerto
Le Pain Quotidien
Another good chain of cafe shops, with several venues throughout central London, for tea and cake.
Web: Le Pain Quotidien
Afternoon Tea for Kids in London
Many tea rooms offer afternoon tea with children in mind so the whole family can enjoy this British delicacy.
Peppa Pig Afternoon Tea Bus Tour
This is undoubtedly one of the most popular options: A traditional British high tea aboard a Peppa Pig-themed double-decker bus. Perfect for trying afternoon tea, keeping the children entertained and taking a bus tour of London simultaneously!
Find out more: Peppa Pig Afternoon Tea Bus Tour
Charlie and The Chocolate Factory
Hotel One Aldwych offers afternoon tea with the Charlie and the Chocolate Factory theme.
Find out more: One Aldwych.
Science Afternoon Tea
At the Ampersand hotel, they have created a science-themed afternoon tea, with cakes decorated as planets and science experiments… one to leave children speechless!
Find out more: Science Afternoon Tea
Jurassic Afternoon Tea
Also offered by the Ampersand Hotel, this afternoon tea is perfect for fans of Jurassic Park and dinosaurs!
Find out more: Jurassic Afternoon Tea
Peter Pan Afternoon Tea at the Shard
The Shard's Aqua Shard restaurant offers Afternoon tea inspired by Peter Pan.
Find out more: Peter Pan Afternoon Tea
Jungle Book Afternoon Tea
Afternoon tea for kids at Brown´s hotel, inspired by the Jungle Book.
Find out more: Brown´s
Chesterfields
In Mayfair, this children's afternoon tea is inspired by an Old Sweet Shop.
Find out more: Chesterfield´s Afternoon Tea
Sherlock Holmes Afternoon Tea
Inspired by the famous detective Sherlock Holmes, this afternoon tea is full of mysteries….
Find out more: Sherlock Afternoon Tea