The London Eye is the city's giant ferris wheel located in the heart of London, on the south bank of the River Thames. At 135 metres tall, this giant wheel is not only an engineering masterpiece, but also offers some of the best views of one of the most exciting cities in the world.
Contents:
> Information about the London Eye
> Going on the London Eye
> London Eye prices
> London Eye tickets
> Combo tickets
> Opening times and key dates
> How to get there
Information About the London Eye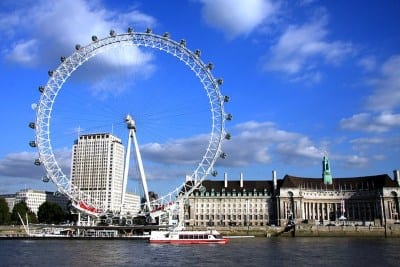 Launched in 1999, the Millennium Wheel as it was originally known, took over 2 years to complete and was designed by a group of 7 architects, led by British architect Julia Barfield. The London Eye is now one of the most recognised landmarks in the world, thanks to being the backdrop to London's incredible New Year's Eve fireworks which take place every year on 31st December.
Going on the London Eye 
If it's your first visit to London, your trip wouldn't be complete without riding on the London Eye as it offers some of the most incredible views of the city and of course, fantastic photo opportunities.
It takes about 40 minutes to do a complete rotation and you get to do a once-round trip. The capsules move so slowly that you don't even feel like you're moving but suddenly you'll find yourself at the highest point enjoying amazing views of the London skyline.
The London Eye has a total of 32 capsules which offer panoramic 360º views of the city.   Some of the landmarks that you can see from the top are Big Ben and the Houses of Parliament, Buckingham Palace and Hyde Park, the numerous buildings located along the banks of the River Thames, as well as the skyscrapers in the City of London and Canary Wharf.
London Eye Prices 
The price of a standard London Eye Ticket is:
Adults £26
Children (3-15 years) £21
Children under 3 go free
There's the option to buy the London Eye Fast-Track Ticket which allows you to skip some of the queues. You must buy this ticket online in advance.
The price of a Fast-Track London Eye ticket is:
Buying tickets for the London Eye
Whether you buy London Eye tickets online or at the ticket office on the day, you will need to collect your tickets from the ticket office, unless you buy Fast Track Tickets. We took some photos to show you what the ticket office looks like so it's a bit more familiar when you visit. The photos below were taken on a Tuesday morning in the low season as there was no queue! But be prepared for a very long queue as this is very rare!
This is entrance of the London Eye ticket office: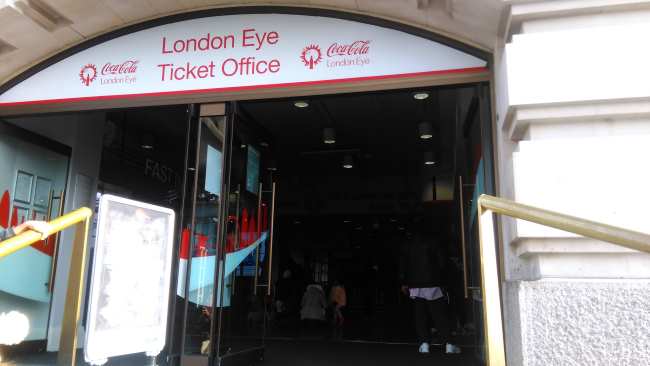 This is inside the London Eye ticket office: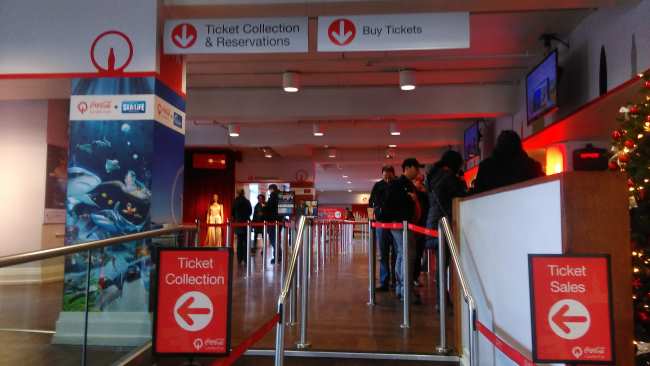 As you can see, once you go inside the ticket office you'll find two separate queues – one to buy tickets to go on the London Eye on the day and to collect pre-paid tickets you just need to follow the signs for  'ticket collection and reservations'.
Buying London Eye Tickets at the Ticket Office
It is possible to buy tickets on the day at the ticket office, but be warned that during weekends and peak season, there are usually very long queues and you will have to queue twice: Firstly you need to queue to buy tickets in the ticket office and then you will have to join another queue to board the London Eye.
If you buy your London Eye tickets online in advance, you will still have to visit the ticket office to redeem your tickets, but in this case you will have to collect pre-purchased tickets and this process is much quicker, and the queues don't tend to be as long. You'll also save up to 15% compared to the price at the ticket office.
Buying London Eye Tickets Online
As mentioned above, buying London Eye tickets online in advance is cheaper, and just having to collect the tickets at the ticket office is much quicker than buying the tickets on site.  Online tickets for the London Eye are date specific, so you'll need to select the date you want at the time of purchase.  And remember, if you have bought tickets online, you still need to collect your ticket at the "Ticket Collection and Reservations" counter with the proof of purchase. However, the queues for this counter are always much quicker than buying on the day as they only need to validate your ticket.  
Fast-Track London Eye Tickets
Buying a Fast-Track London Eye ticket (instead of standard entry), enables you to skip all the queues, saving you valuable time to explore more of London. A fast-track ticket is the more expensive option but as you can see in the photo below, the fast-track line is empty compared to the standard ticket line on the right of the photo.  You can select standard entry or fast-track entry when buying tickets online. You will need to choose the date in advance for both options.   
Buy tickets for the London Eye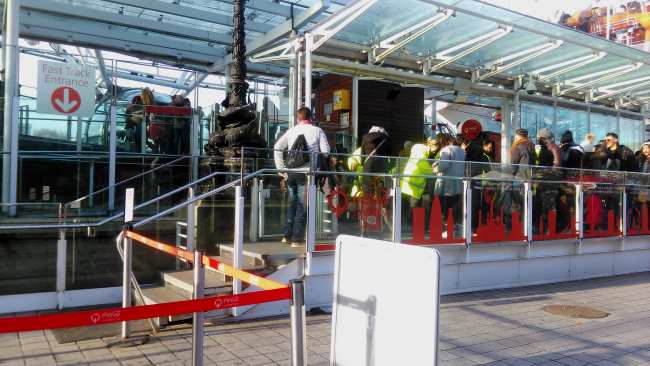 London Eye Combo Tickets
One way to save money if you are planning on visiting several attractions in London, is to buy a combo ticket or tourist pass which include multiple attractions on one ticket.
Below is some information on London's most popular tourist passes and a selection of combo tickets which include London Eye entry.
London Eye & Bus Tour Combo
The open-top sightseeing operator 'Big Bus Tours' offers a combo ticket which includes their Bus Tour and London Eye (standard and fast-track options available). You can save £5.70 per person through buying this combo-ticket compared to the cost of buying the bus tour and London eye tickets separately.  If you're on the Big Bus tour, get off at stop 14 of the red route to visit the London Eye.
You have 6 months to use this combo ticket from the date you bought it online. You will need to redeem the tickets for both attractions with staff at any of the Big Bus Tours bus stops, and you then have 30 days from this date to use the ticket for the London Eye.
⇒ More information: London Bus Tour + London Eye

BIG London Family Package
The BIG London Attraction Ticket includes entry to 4 popular London attractions: London Eye + Shrek's Adventure + Madame Tussauds + London Aquarium.  This ticket is a great option if you are visiting London with kids and guarantees an unforgettable trip for the whole family.  You have 90 days from the date of purchase to visit all 4 attractions, so there's no need to try and squeeze everything into the same day, giving you the opportunity to explore London at your own pace – really helpful when travelling with children.
⇒ More information: BIG London Ticket
London Explorer Pass
The London Explorer Pass is one of our favourite options for sightseeing in London. With this pass you get to choose whether you want to visit 3, 4 or 5 attractions from their list. You have 30 days to use London Explorer Pass from the first day that you redeem it.  Some of the attractions included are: London Eye, bus tour with river cruise, Madame Tussaud's, St. Paul's Cathedral and Shrek's Adventure. It also includes walking tours and a Windsor day tour.
⇒ More information: London Explorer Pass
Combo Tickets for 2, 3 or 4 London Attractions – including London Eye
London Eye Opening Times and Key Dates for 2018
Generally, the London Eye is open all year round but there are a few dates when it's closed or opening hours vary.
1 – 7 January: 10.00am – 8.30pm.
8 – 23 January: Closed for maintenance
24 January – 28 March: 10.00am – 8.30pm. 14 February: Normal tickets are only accepted until 4pm.  Special Valentine's Day events available after 4pm.
29 March – 14 April: 10.00 am – 9.30 pm
15 April – 27 June: 10.00 am – 9.00 pm
28 June – 31 August:10.00 am – 9.30 pm
1 September – 30 December:10.00 am – 8.30 pm, with the following exceptions:
24 December: 10.00 am – 5.30 pm
25 December: Closed – Christmas Day
31 December: 10.00am – 3.00pm. After this time the London Eye will be closed in preparation to become the main focal point for the New Year's Eve fireworks.
During the winter months it gets dark earlier so if you want to enjoy daytime views, we recommend that you plan your visit for the morning. For a more romantic experience on the London Eye, wait until dusk or after dark, as you'll get to see London lit up at night.
Getting to the London Eye
The London Eye is one of the easiest London landmarks to find as it dominates the skyline.  You simply have to look up and you can see it from many parts of the city. However, here are some pointers, just in case:
Getting to the London Eye by Tube
The closest underground stations to the London Eye are Westminster and Waterloo. Waterloo station is in London's travel zone 1 and is served by multiple tube lines: Bakerloo (brown), Jubilee (grey), Northern (black) and Waterloo & City (light blue).  Westminster tube station is also in zone 1, right next to Big Ben. From here you just need to cross Westminster Bridge to get to the London Eye. And here's a little tip from us, there are great photo opportunities of Big Ben and the London Eye from Westminster Bridge. 
Getting to the London Eye by Bus
The bus routes 77, 211 and 381 have stops close to the London Eye.
Getting to the London Eye on Foot
If you are walking around other popular tourist places like Trafalgar Square or Covent Garden, it's an easy (about) 10-minute walk to the London Eye. Head towards the River Thames and cross over one of the bridges.  You can also follow our sightseeing itinerary 1, which consists of a walk from Buckingham Palace to Trafalgar Square and Piccadilly Circus, passing by Westminster Abbey, Big Ben and the London Eye.
Buy tickets for the London Eye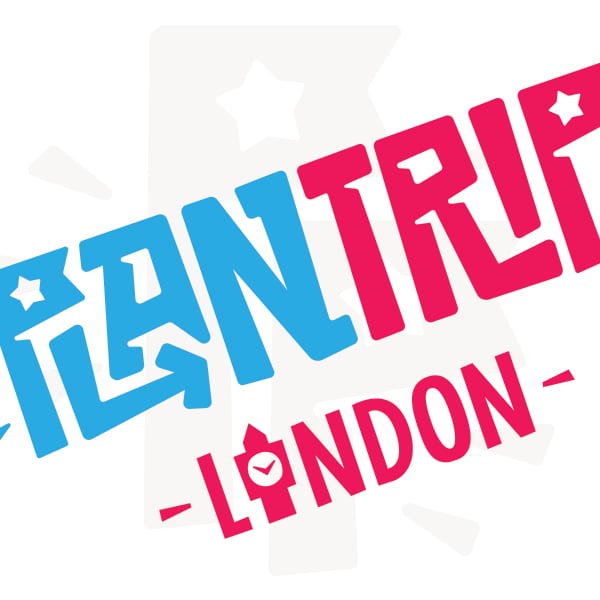 Hello! We moved to London (Yes, the best city in the world) in 2010, and since then we have been discovering everything that this fantastic city has to offer. We regularly plan our friends' trips to London, so we thought we would create PlanTripLondon.com and share our suggestions with the world for everyone to be able to plan the perfect trip to London!