The Christmas Markets in London are one of the biggest attractions during these important dates in the British capital. If you are planning on spending a few days in London this Christmas, you definitely need to include at least one – although we would say visit all of them if you can! – in your plans.
We don´t really need to tell you what you´ll find in a Christmas Market in London – obviously anything you can think of that is related to Christmas. Christmas carols playing in the background most of the time, we can stroll along choosing gifts, candles, Christmas decorations…There are always food stalls and hot drinks, so it´s the perfect pit stop if you´re anything like me and want to make the most of your time when visiting somewhere!
London is famous for its´ fabulous markets. Even though London´s all-year-round markets will also be offering special Christmas gifts and ambience, several special Christmas Markets pop up around London during the winter months to celebrate this time of the year.
Winter Wonderland
Winter Wonderland in Hyde Park is one of the most anticipated Christmas markets in London at this time of year. If you don´t already know, I must tell you that it is not just a Christmas market, but it is the largest Christmas fair in London, with attractions for all ages and numerous food and drink stalls, including cafes and cocktail bars… There is also an ice skating rink and a circus, as well as other family attractions. Millions of people visit every year, and I have to say that in my opinion it is a must-see if you are visiting London during the Christmas period. It does get packed though, so I´d recommend visiting in the afternoon during the week if possible!
Dates: 18 November 2022 – 2 January 2023.
Opening times: 10 am to 10 pm. Closed on Christmas Day.
Important for 2022: Tickets to be booked in advance.
Location: See map.
Find out more: Winter Wonderland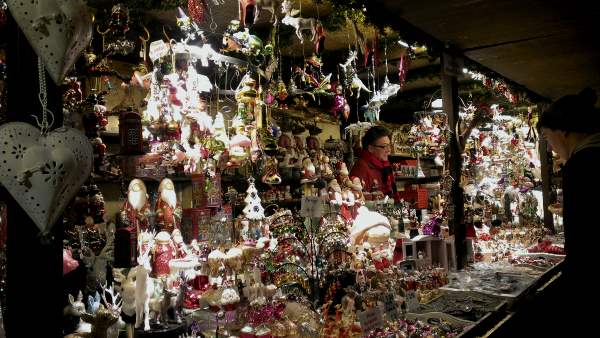 Southbank Winter Market
Located on Southbank, next to the London Eye. Here you´ll find an awesome traditional Christmas Market with wooden stalls decorated with twinkling lights. Christmas gifts and decorations, as well as food stalls, with the London Eye and Big Ben in the background.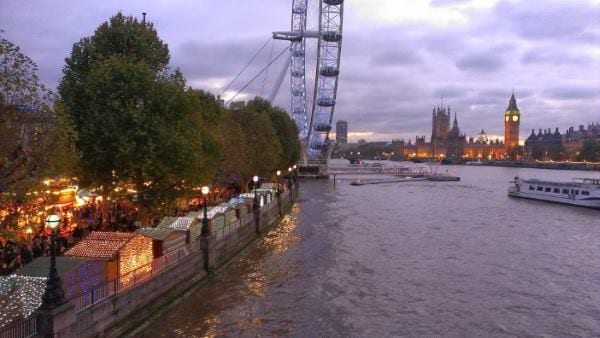 Christmas in Leicester Square
The famous square in London where film premieres are held during the year also celebrates Christmas in style as one might expect. Leicester Square has it´s own Christmas market, with food stalls and fun events. You won´t miss it as Leicester Square will need to be included in your itinerary!
Dates: 9 November 2022 – 8 January 2023.
Opening times: Monday to Friday: 12 pm – 10 pm. Weekends: 10 am – 10 pm.
Location: See map.
London Bridge Christmas Market
This Christmas we can enjoy a traditional Christmas market in London with more than 60 wooden booths decorated to the last detail. This market is located on Queen's Walk, along the stretch of the south bank of the Thames that runs from London Bridge to The Scoop, and extends into Hay's Galleria. From different parts of the market, we can also enjoy the views, being able to see some of the iconic places in London, such as Tower Bridge, the Tower of London and the skyscrapers of the City of London. We can find numerous decorations and gift stalls, as well as some of the best street food.
Dates: 15 November 2022 – 2 January 2023.
Opening times: Sunday to Wednesday: 11:00 – 21:00. Thursday – Saturday: 11:00 – 22:00. 24th December:  11:00 – 17:00. Christmas Day: Closed. 1st January: 11:00 – 20:00. 2nd January: 11:00 – 17:00.
Location: See map.
Find out more: Christmas by the river
Trafalgar Square
Trafalgar Square hosts a fantastic Christmas Market with fantastic views. This market stands next to the  largest Christmas tree in London where different choirs sing Christmas carols every afternoon.
Dates: 2022 TBC.
Location: Trafalgar Square.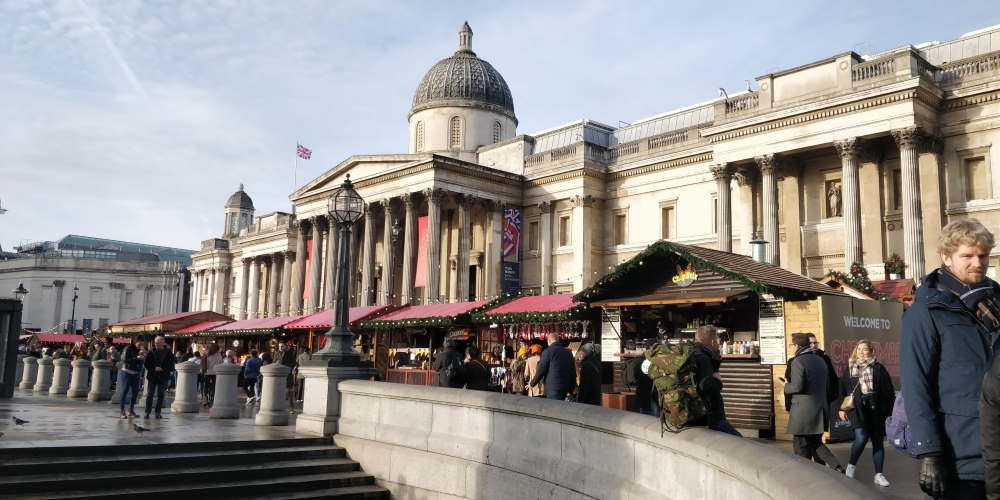 In addition to these Christmas markets, the markets we can find throughout the year in the British capital will also offer stalls with Christmas items during these dates, and of course, neither the Mulled Wine nor the Mince Pies will be missing!
Some of these markets are: