If you are visiting London this Christmas, you probably can´t wait to see all the wonderful Christmas lights and the Christmas markets. But one of the things you should also consider is going to see a Christmas show.
We already know about London´s fantastic West End Musicals that run throughout the whole year, but in addition to these, during the Christmas period we can also enjoy during a few weeks some of the most spectacular Christmas shows in London.
Take the children to a pantomime or hold your breath at the circus. There is a Christmas Show in London for everyone!
Christmas Shows in London for Kids
Below we've rounded up the best Christmas shows in London for kids.
The Snowman
The Snowman is one of the UK's most famous Christmas stories, and without a doubt, it is one of the most famous Christmas Shows in London during the festive period. The story consists of a snowman that comes to life and takes the boy who created him on an adventure he will never forget. Highly recommended if you have little ones. Children under two years of age are allowed in for free as long as they don´t occupy a seat.
Dates: 19 November – 31 December 2022.
Tickets: The Snowman
Peppa Pig´s Best Day Ever
Although it is not specifically a Christmas play, I think it is worth mentioning this show as if your little ones are anything like ours they will absolutely love this show. This is a play that is being performed in local theatres throughout England, and we are very lucky to be able to enjoy it in the West End during the Christmas season. Children under 18 months can go in for free as long as they sit on an adult´s lap.
The Smartest Giant In Town
Musical adaptation of the famous book by Julia Donaldson and Axel Scheffler. George wishes he wasn't the scruffiest giant in town. When he sees a new shop selling giant clothes, he decides it's time to buy some new clothes: some fancy pants, a fancy shirt, a lovely striped tie, and some shiny shoes. Now he's the best-dressed giant in town. . . until he runs into some animals that desperately need his help – and his clothes!
This heartwarming tale of friendship and helping those in need is brought to life in a puppet-filled musical adventure, following Little Angel Theatre's best-selling adaptations.
A Christmas Carol
Adaptation of the novel by Charles Dickens "A Christmas Carol" in which Ebenezer Scrooge, a greedy and selfish man is visited by ghosts from the past on Christmas Eve. I have to say that we went to see this play a few years ago and we loved it!
Demon Dentist by David Walliams
Strange things are happening in Alfie's town! The kids are leaving their teeth for the tooth fairy and wake up to find horrible things under their pillow! Alfie and his friend Gabz are determined to get to the bottom of the mystery, but no one could have dreamed what they will discover when they come face to face with the evil dentist!
Don't miss this electrifying story from the West End producers of David Walliams' Gangsta Granny and Billionaire Boy, both nominated for an Olivier Award.
Pantomime: Jack and the Beanstalk
Christmas pantomimes across the UK are one of the most anticipated family Christmas events. And this year a GIANT pantomime is coming to London at the London Palladium.
Famous British actors Dawn French and Julian Clary will perform in this pantomime at the famous London Palladium. Spectacular costumes and humor for the whole family. Definitely a Christmas show worth seeing!
Pantomime: Rumpelstiltskin
This year in London the pantomime Rumpelstiltski will make the whole family laugh… A new backwards version of the classic fairy tale by the Brothers Grimm.
It is a completely reinvented fairy tale with a new script. A 21st-century morality tale of adventure, Rumpelstiltskin is full of cheeky humour, magical music, and a cast of fantastic characters.
The Nutcracker
The Nutcracker, starring the English National Ballet. One of London´s Christmas favourites. It is no surprise that tickets to see this wonderful ballet at the Coliseum sell out very quickly every year. A magical ballet featuring over 100 live dancers and musicians, and it's certainly one of the most Christmassy things to do in London at Christmas!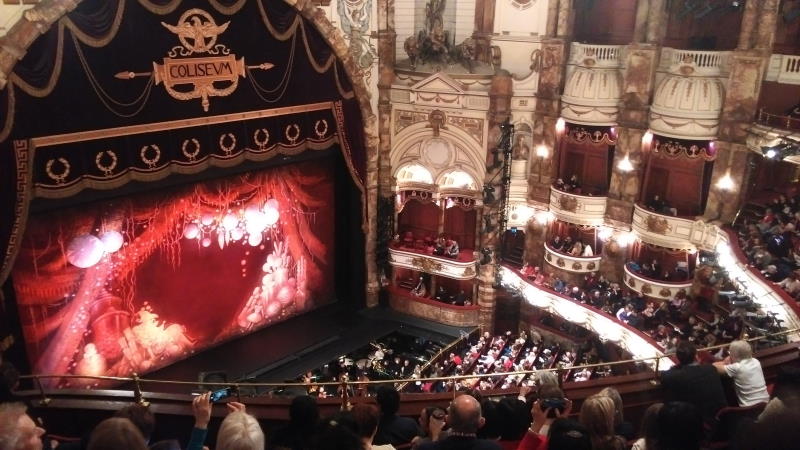 Disney on Ice
A wonderful Christmas Disney ice skating show is taking place at the O2 stadium this Christmas. Disney characters such as Moana, Maui, Anna, Elsa, Rapunzel, Ariel, Belle, Beast, Mickey Mouse, Minnie Mouse, Donald Duck and Goofy will make an appearance. A Christmas experience that little ones will not forget!
Circus 1903
Circus 1903 is a spectacular theatre experience that premiered in London a few year´s ago, and it is ideal if you would like to see an impressive live show live. It is a circus show that will transport you to the Golden Age of the circus, specifically, to the beginning of the s. XXI.
The show features sensational life-size elephants astonishingly created by War Horse puppeteers, who bring elephants back into the ring like never before. It also features acrobats, contortionists, jugglers, trapeze artists, and high-performance artists, among many others. We saw this show a few years ago and absolutely loved it.
Dates: 15 December 2022 – 1 January 2023.
Tickets: Circus 1903
Zippos Circus and Cirque Berserk
At Winter Wonderland in Hyde Park, we can go and see the travelling circus with the largest circus tent in the United Kingdom. Here we can find two very different shows: Zippos Circus and Cirque Berserk.
Zippos Circus is the ideal show to go with the family, whereas Cirque Berserk is ideal if you want to see an authentic circus show, with impressive acrobatics.