London is an impressive city to visit as a family, due to a large number of free attractions, events and places available to visit with children. One of the best things to do in London is undoubtedly to visit a museum, and in this article, we are going to tell you which are the best museums to visit in London with kids.
As good Londoners, we spend our weekends taking our children to different places, and the truth is that the list of places that we can recommend to visit with children in London is very long!
Visiting a museum in London is one of the best plans if you are planning a family trip to the city. You'll find that most museums have been designed with children in mind, and have interactive rooms as well as play areas and restaurants with children's menus.
10 Best Museums in London for Kids
London Transport Museum
Located in the heart of London, in beautiful Covent Garden, the London Transport Museum is one of the first museums I always recommend when someone asks me about museums to visit with children.
By visiting this museum you will take a fascinating journey through the evolution of the different methods of public transport throughout the history of London. On display here, you will find the first horse-drawn carriages used for public transport as well as the first double-decker buses. You will also learn about the evolution of the London Underground, the first method of underground public transport in the world that is currently more than 150 years old.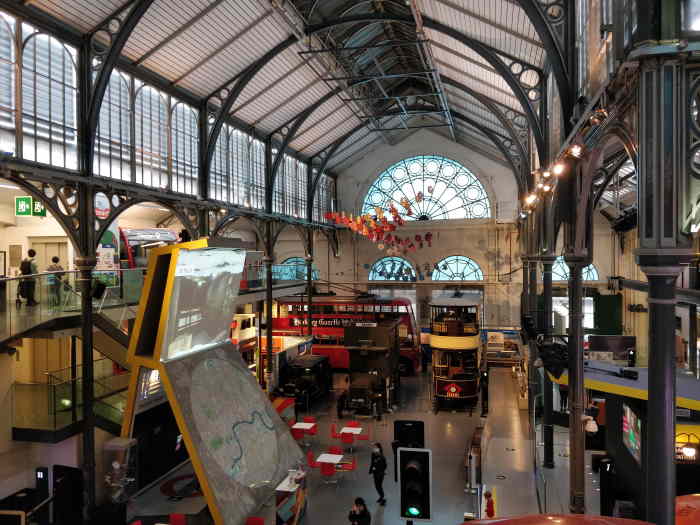 This museum is perfect for kids because they can climb up many of the exhibited vehicles, which is an attraction in itself! They can also participate in numerous interactive experiences, such as becoming the driver of an underground train in a simulator that goes through tunnels and stations, or sitting in the driver's seat of a bus and pressing all the different buttons…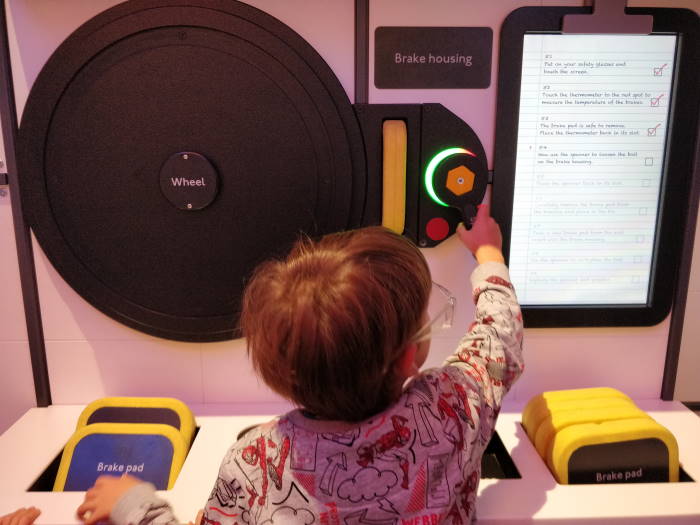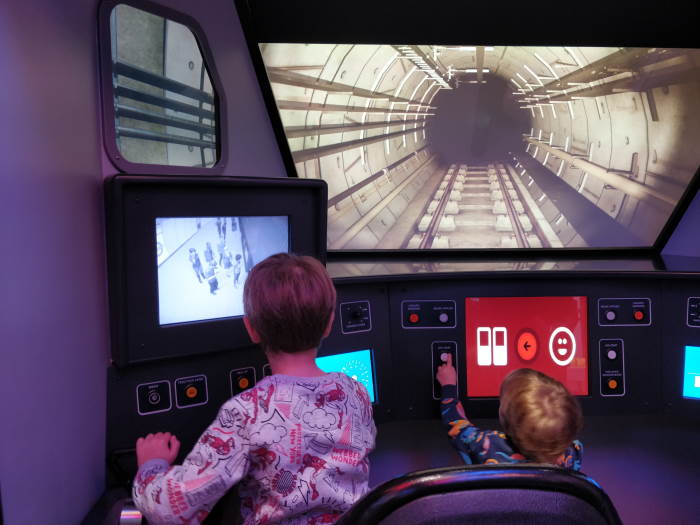 It has many facilities for children, such as changing rooms, playground and picnic area, cafeteria… And during the weekends and the holidays, there are usually workshops and activities.
Address: Covent Garden, The Piazza, London WC2E 7BB.
More information: London Transport Museum.
Price: £17 for adults, free entry for those under 18s and free entry with the London Sightseeing Pass.
Tickets: Tickets for the London Transport Museum.
Science Museum
The Science Museum is one of the most famous and most visited museums in London, and both adults and kids will be very entertained here. It is one of the most recommended museums to visit with children in London.
For children, this museum is perfect because it has numerous interactive exhibitions, as well as entertaining and educational. Children will be able to learn about space, and experience flight simulators in high definition with 3D effects. They will also be able to see British and international aircraft models from all eras, and explore the room that is solely dedicated to the well-known space mission «Apollo».
On the ground floor, there is a super entertaining play area, with areas for children of different ages.
Address: Exhibition Road, Kensington, London SW7 2DD
More information: London Science Museum.
Free entry.
Natural History Museum
The London Natural History Museum is one of those places that you should include in your London itinerary, and even more so if you are planning a trip to London with children.
For children, the Natural History Museum in London is simply fascinating. Kids absolutely love the dinosaur skeletons and the huge T-Rex. The skeleton of a 25.2-meter blue whale (called Hope!) will capture your eyes as soon as you enter the museum and leave you speechless. In addition to the dinosaur fossils, you will be able to see different species of stuffed mammals that have already become extinct, a piece of rock from Mars, and thousands of rocks and precious stones among many other things.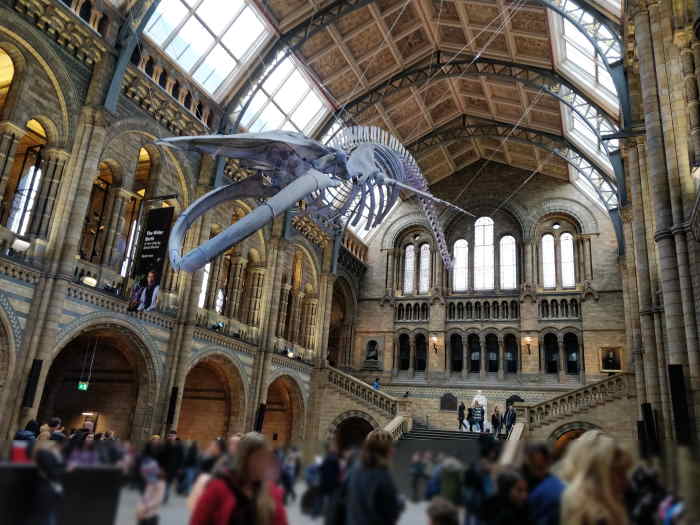 You can easily spend a whole day at the Natural History Museum of London, but if you are hoping to make the most of your trip you could explore the most important areas of the museum in one morning. There is a restaurant with a children's menu and high chairs which is perfect for families. The bathrooms also have changing facilities for those of you travelling with younger children. You can also walk around the museum with a buggy but there is also a buggy park at the entrance.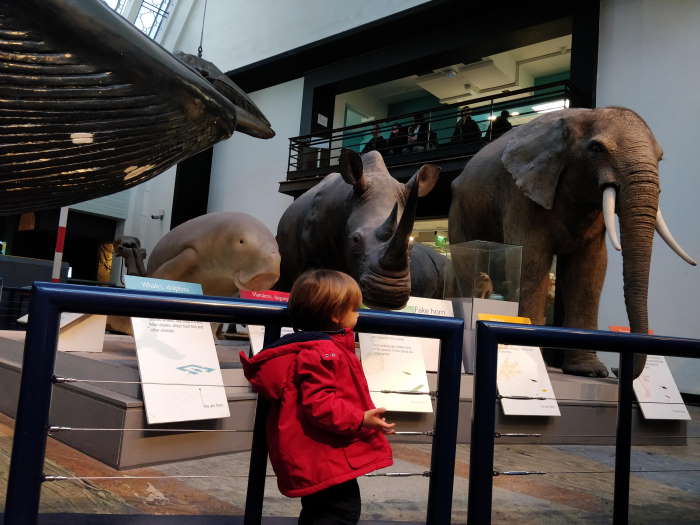 Address: Cromwell Road, London SW7 5BD
More information: Natural History Museum.
Free entry.
HMS Belfast
The HMS Belfast is a warship located on the River Thames, near London Bridge. It is a fascinating experience and would recommend it to anyone visiting London with older children. Explore the 9 decks of the ship and discover how the crew lived on this giant warship.
You can visit the engine room and the boiler room as well as walk through the narrow corridors to see the different rooms, including the kitchens, the infirmary, the operating room, the dentist's room, the cabins…
The only thing to consider is that there are many stairs, and some of these are very narrow and steep and I would not recommend it if you are planning to visit with very young children. Some areas of the ship require a minimum height of 1.20 m. There are free audio guides available, which include a children's version.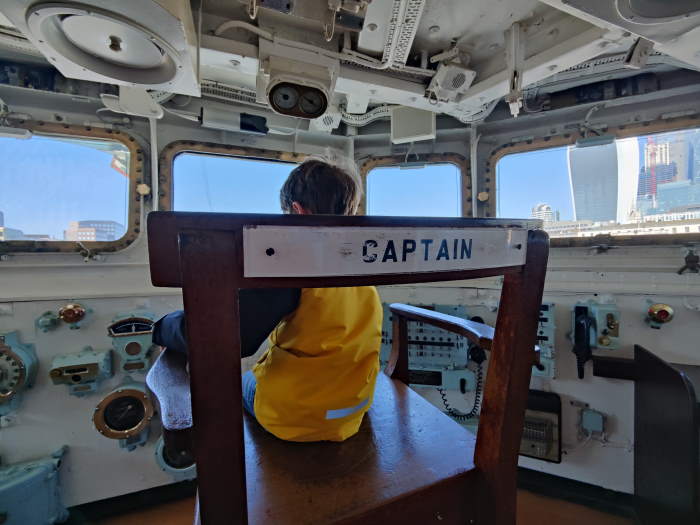 Address: The Queen's Walk, London, SE1 2JH.
More information & Tickets: HMS Belfast Museum in London.
Included with the London Pass
The Postal Museum
The Postal Museum is a little-known museum in London but highly recommended if you're visiting with children. It is highly interactive with drawings, games, costumes, explanatory tablets and questions throughout the visit. Here you will discover the history and evolution of the Royal Mail, you will learn about the creation of the first stamp, postal codes, why mailboxes are red and what the postmen's uniforms were like. Kids here will have a blast as it is super interactive and they can dress up, answer questions, design their own stamp with their own face and send a letter in a capsule that comes through a tube to the other side of the room.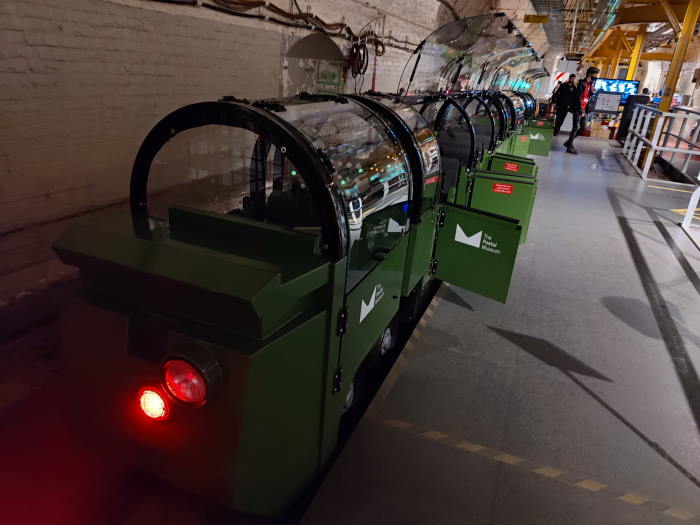 In one part of the museum you can go on a little underground train (check the photo above), and discover the underground route that was created in central London to connect different post offices and circulate 4,000 million letters a day quickly. The train was once used to transport mail, but now it is no longer used for that purpose and has been adapted to carry people. This is a very very small train, so not for the claustrophobic! but children will absolutely love it.
There is also a very nice little cafe and terrace, and a role play area which is absolutely fantastic. Our kids had the best time ever here.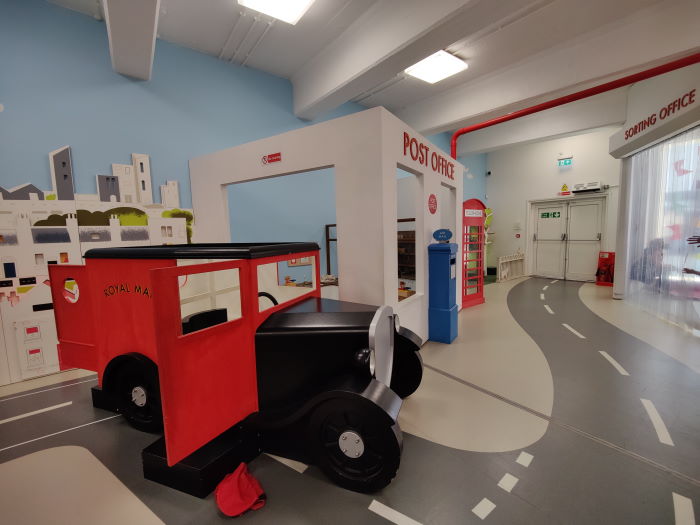 Address: 5-20 Phoenix Pl, London WC1X 0DA
Official website: The Postal Museum
Included with the London Pass
Horniman Museum
The Horniman Museum is usually one of the most recommended museums to visit with children, but it is not very central so not really handy if you're planning a three-day visit to London. If you are planning to stay in London for more days or it is not your first trip to London, then I would highly recommend this museum.
In the Horniman Museum in London, you will find exhibitions on natural history, anthropology and musical instruments. This museum houses one of the most comprehensive collections of fossils and archaeological finds that can be visited in the UK.
This museum is located in the Forest Hill neighbourhood, from where there are also spectacular views of London. You can stroll through the extensive gardens and visit the aquarium, the Victorian greenhouse and the butterfly garden. The museum is inside an impressive exposed brick building with a clock tower.
Address: 100 London Rd, London SE23 3PQ
More information: Horniman Museum and Gardens
Tickets: The museum is free, but tickets are required to visit the butterfly house, aquarium, and cat and dog exhibit.
Imperial War Museum
The Imperial War Museum is one of the museums that are part of 5 military museums that can be found in the United Kingdom. The museum is mainly about World Wars I and II.
Here you will be able to see a wide exhibition of military costumes and weapons, but what stands out the most for visiting this museum with kids is the high number of planes and tanks on exhibition. It is also an interactive museum for children, with different activities to keep them interested and entertained.
Address: Lambeth Rd, London SE1 6HZ
Official website: Imperial War Museum.
Free entry.
London Docklands Museum
The London Docklands Museum explains the history of the River Thames, the growth of the Port of London and the docks' historical link to the Atlantic slave trade. It is a fascinating museum located in the Canary Wharf area.
For children, we recommend this museum because it is very interactive and entertaining. With workshops during school holidays, it is one of those visited frequently by Londoners.
Address: 1 Warehouse, West India Quay, No, Hertsmere Rd, London E14 4AL
More information: Docklands Museum
Free entry.
Golden Hinde
Located in the South Bank area, you'll come across this full-scale reconstruction of The Golden Hinde.
The Golden Hinde was a galleon captained by Francis Drake on his circumnavigation of the world between 1577 and 1580. By boarding this galleon, you will learn about the history of the first English ship to circumnavigate the world.
Address: St Mary Overie's Dock, Cathedral St, London SE1 9DE
Official website: Golden Hinde of London.
Young Victoria and Albert Museum
The V&A Museum of Childhood is an extension of the Victoria & Albert Museum, dedicated to childhood. In this museum, children will have a fantastic time, and in my opinion, it is one of the best museums to visit in London with kids.
In this museum, there are interactive play areas, including dressing up costumes. For adults, visiting the museum will bring back memories of their childhood due to the large collection of historical toys that it houses. It is located in East London, in the Bethnal Green area.
Address: Cambridge Heath Rd, Bethnal Green, London E2 9PA
More information: V&A Museum of Childhood
Free entry.
Other museums to visit in London with kids
Pollock´s toy museum
Air Force Museum
National Army Museum
Roald Dahl Museum
Grant Museum of zoology
Greenwich planetarium
The old operating theatre
Tate Modern
Map: Best museums in London for kids
YOU MAY ALSO LIKE