One of the best things you can do in London with children is visit the world-famous theme park Legoland in London. It's a great way to combine kids' passions for Lego bricks with this thrill-seeking children's theme park. Legoland in London is so popular it has more than 2 million visitors every year.
The Legoland Theme Park in London is is just on the outskirts of London on Winkfield Road, Windsor, SL4 4AY. Below we will go through the various tickets and transfer options from the city centre.
Adults and children alike will be astounded by the impressive park that is made up of more than 47 million Lego pieces.
Legoland in London: What to expect in this amazing theme park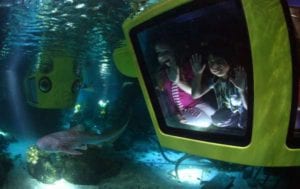 Legoland in London is a theme park that is famously built with pieces of Lego. You'll find huge figures and scenes created with thousands of lego bricks. The park is aimed at children aged between 3 and 10 years old. However, there are some rides that you'll be able to take younger babies on and a few that are suitable for older kids.
One of the most popular attractions in the park is MiniLand – a miniature reconstruction of London (which is really big!) All intricately built from Lego, you can walk through some of the most iconic buildings and places in the city such as Big Ben, the London Eye, Tower Bridge, City Hall, St.Paul´s Cathedral and Westminster Abbey. Another one of the biggest attractions at the park is the submarine, where you take to the Lego seas to explore the deep sea.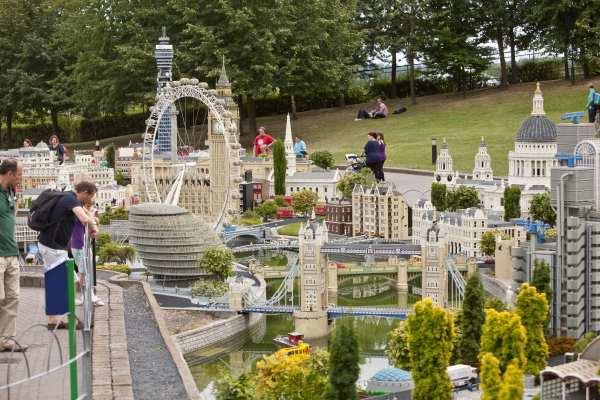 The theme park is full of green spaces and several restaurants. If you wanted to take a picnic with you, there are tables and chairs to eat at. Some of these are reserved for restaurant guests, but you shouldn't have a problem finding somewhere to have your own picnic. There is also a huge playground with swings and slides where kids can blow off some steam.
Legoland in London: Opening times
Legoland is open from 9.30am – 6pm. The attractions open at 10am.
If you are planning on visiting London in the summer and you are going to spend a couple of days at Legoland, we would advise bringing swimwear for the kids. There is an area in the park with water attractions and fountains that they can run through, and it´s great fun!
If you are planning on visiting Legoland Windsor during the Christmas holidays, kids will be amazed by all the Christmas decorations and festivities. There is a cabin where little ones can meet Santa, perfect for when you are visiting London with children at Christmas.
Beat the queues with Q-Bot
As you can imagine, Legoland theme park is very popular especially at the weekend and during peak seasons when the kids are off school. So, like many theme parks the queues can be quite long during these busy times. But there is a way to save time and beat the queues, with a device called the Q-bot. This means you can book yourself onto a ride at a certain time, without having to physically wait. So you call relax and enjoy the park and a leisurely pace without wasting your time in lines. When it's your time to go on the attraction, you can make your way straight to the front of the line. There is a charge for this device.
⇒ More information about Q-Bots Legoland London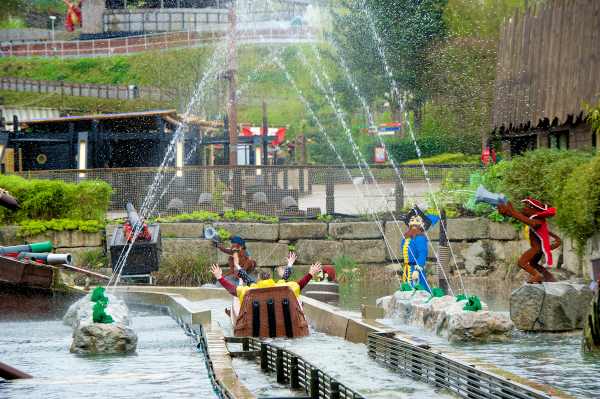 More Things to do in London with kids
How to get to Legoland Windsor
The Legoland theme park in London is located on the outskirts of the city, more specifically in Windsor. The park is about 15 minutes from the centre of Windsor, so it´s not a bad idea to combine a trip to Legoland with the famous Windsor Castle.
Reach Legoland by public transport
Getting there by train
To get to Legoland Windsor by train you have two options:
From London Paddington Station: There is a direct train to Windsor and Eton Central which takes around 30 minutes.
From Waterloo Station in London (behind the London Eye: There is a train to Windsor and Eton Riverside (which is a 10 minute walk from the Windsor and Eton Central train station.) This journey takes about 1 hour.
From both stations (Central and Riverside) there is a shuttle bus that takes you to Legoland Windsor. The bus ticket is not included in your park entrance ticket, so you will need to pay for this. As it´s out of the London´s transport zones, you can't use a travelcard or Oyster card for this bus ticket.
It is possible to buy train tickets at the train station on the day or online using Trainline. Buying tickets online in advance are normally cheaper than buying tickets on the day.
Getting there by bus
There is a direct bus that goes to Legoland Windsor from London (Victoria), and you can buy a combined ticket that includes the round trip and park entrance.
⇒ Bus Tickets and Entrance to Legoland
Getting there from the airport
Heathrow Airport is just 12 miles away from Legoland Park, which is just a 10-minute drive. So a great option when you visit London is to fly to Heathrow Airport and then get a taxi straight to the park and spend a few days there, then you can take the train into London to spend a few days there.
Gatwick Airport is located in the south of London, and is 45 miles from Legoland, so would take you roughly 45-minutes to drive there.
Staying at Legoland Windsor
One of the most popular options when you spend a couple of nights in Legoland is to stay in one of the park´s themed hotels. Or you can stay a little further away in a hotel in the town of Windsor.
Legoland Windsor has two themed hotels, The Castle Hotel and the Legoland Windsor Resort Hotel. Both hotels are a child's paradise with interiors that are all Lego themed and a master builders dream. By staying at these hotels, you can enter the park 30 minutes before the doors open to the public and enjoy the park before everyone else arrives. Both hotels have restaurants and bars and there is even an indoor pool. Breakfast is included in the price and you have the peace of mind that you can leave your luggage at reception if you arrive before the check-in time or if you need to check-out but still want to enjoy the park on the last day. Legoland hotels are only available to book on their official website and they usually have an offer where you can get free entry to the park for the 2nd day for free if you stay at one of the hotels.
Legoland Windsor Resort Hotel
The Legoland Windsor Resort Hotel has a dragon at the entrance that welcomes you by blowing smoke through its nose at you. In the reception you will also be greeted by many lego characters. The adventure starts in the rooms, where the kids have to look for the treasure that is hidden somewhere in the room, by searching for clues to unlock a box where the hidden treasure awaits.
⇒ More information about Legoland Windsor Resort Hotel
Legoland Castle Hotel
The Castle Hotel is an impressive Lego castle where the rooms are awaiting little knights in amour. There is also a treasure hunt that little ones will need to work out in order to find their gifts. Each room also has an Xbox to keep them happy after a long day at the park.
⇒ More information about the Legoland Castle Hotel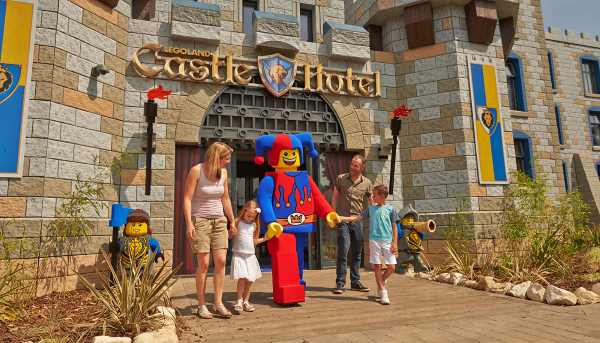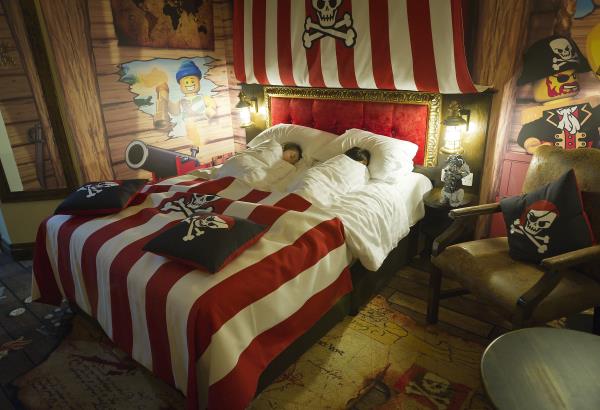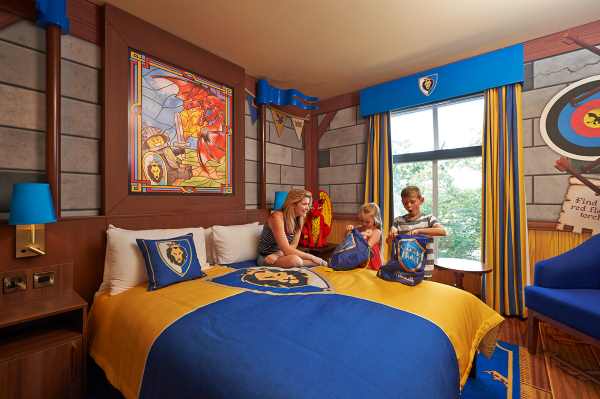 Hotels in Windsor
Another possibility is to stay in a hotel in the city of Windsor and then make your way to Legoland by bus. (Bus number 600 will get you to Legoland from central Windsor in just 15 minutes.) If you are visiting Legoland, it's worth spending a day in the park and then some time exploring the city as well as Windsor Castle.
Here are a few options for where to stay: