For die-hard Harry Potter fans visiting the British capital, the 'Warner Bros. Studio Tour – The Making of Harry Potter', is bound to be top of your list of things to do. And of course, there's also the opportunity to see several real locations in London where they filmed scenes from the Harry Potter movies.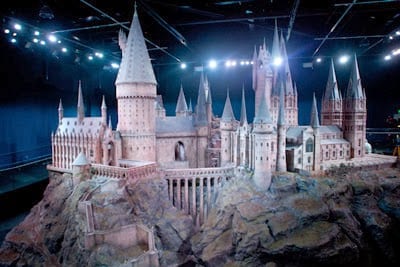 Through her Harry Potter books, JK Rowling has given us an insight into some of the lesser-known wonders of England, including hidden corners of London that probably wouldn't have been on your list to see otherwise. Can you believe that some of the incredible places, such as Diagon Alley, were actually filmed at real locations in London rather than a film set?
Getting to experience the Harry Potter studios in London is a dream come true for Harry Potter fans. But don't worry, no wizardry is needed to make this happen! Find out how to buy Harry Potter Studio Tour tickets and how to get there. We've also compiled a list of places in London where they filmed scenes because it's pretty magical to visit these too.
Warner Bros. Harry Potter Studios in London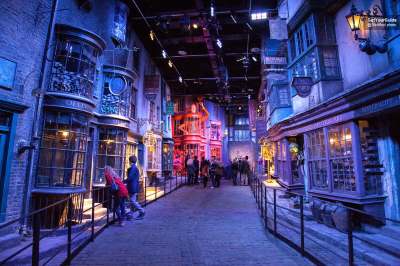 At the end of March 2012, Warner Bros. opened the doors to their Harry Potter tour in London. 'The Making of Harry Potter'.
It's here where they filmed the Harry Potter movies and luckily for us, Warner Bros. decided to conserve the original sets and open them to the public as a tour. The Harry Potter Studios has now become one of the most visited attractions in London with tickets selling out several weeks in advance, all year round.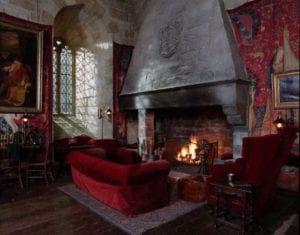 On the Harry Potter Studio Tour, you'll see the original sets from the films, including Dumbledore's office, the Great Hall and Hagrid's cabin. It also features the original Hogwarts Express, a scale model of Hogwarts, an exhibition of incredible costumes, and you can even buy a butter beer in the café.
As it's located outside of central London, getting to Harry Potter Studios can be a little confusing, so often it's more convenient to buy the ticket option, which includes transfers, especially if travelling with children.  However, we will explain both ways to get there.
Buy tickets for Harry Potter Studios Tour
If the date you want is already sold out, you can also try buying tickets here: Warner Bros Studios Tour
Buying Tickets and How to get to the Harry Potter Studios in London
It's important to remember that you MUST buy tickets for the Harry Potter Studios well in advance. We really wouldn't recommend going in the hope of being able to buy tickets on the day.
The studios are located 30 km from the centre of London, and there are two main ways of getting there.
Harry Potter Studio tour tickets with transfers from London included
The easiest way to get to the Harry Potter Studios is to buy the ticket which includes coach transfers from central London.  This way, you can get a coach from the centre of the city which takes you to the studios and back again.
⇒ Tickets to Warner Bros. Harry Potter Studios with transfers
Another nice option that we think is worthwhile, is to combine your trip with a visit to the city of Oxford. This organised tour provides direct transport to and from the centre of London.
⇒ Warner Bros. Harry Potter Studios and Oxford
Getting to the Harry Potter Studios by public transport
You'll need to take a train from central London to Watford Junction Station which is in London travel zone 9. From there you can take a shuttle bus straight to the Warner Bros. Studios.
There are 2 options to get to Watford Junction:
By London Overground: (similar to the tube but doesn't go underground) From Euston Station in London zone 1, the journey is 17 stops and takes approximately 50 minutes. It's a direct line so you won't need to change. You can use an Oyster Card for this journey but being in zone 9, the cost of each journey is usually between £5-9 for an adult depending on the time of day. As it's still in a London zone, children under 10 travel free. The advantage of travelling to Watford Junction this way is that Overground trains depart every few minutes and you don't need to book in advance.
By Train: From Euston Station you can also take an express train operated by West Midlands Railway which only takes around 15 minutes to Watford Junction. You can also use an Oyster Card for this journey (same price as using the Overground above), or you can also buy train tickets at the station or online in advance. As this train line isn't operated by the transport network of London (TFL), it is necessary to buy tickets for children over 5 years. You can buy train tickets in advance and see the timetables at Trainline. 
Choosing between the Overground or the mainline train really just depends on your preferences.  The Overground will take longer, but whilst the train is quicker, it can work out more expensive, and you'll need to buy tickets for children over five years old.
From Watford Junction Station, there is a shuttle bus direct to Warner Bros. Studios, which departs every 20 minutes and costs £2.50 per person (round trip). This takes 15 minutes to reach the studios and to get on this bus you must show your Harry Potter Studio Tour tickets.
We advise that you carefully calculate the travel time needed for the train and potentially wait for the bus so that you don't arrive late and miss your slot. It's recommended that you arrive at Watford Junction 45 minutes before the time of your Harry Potter tour.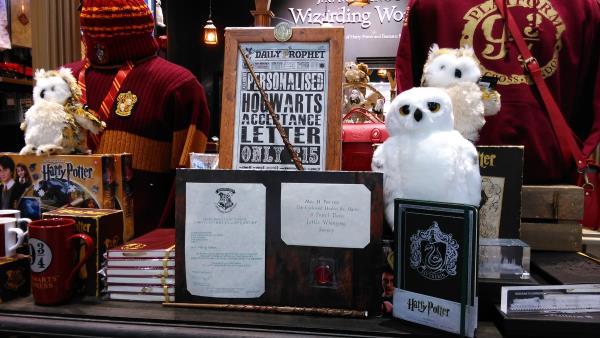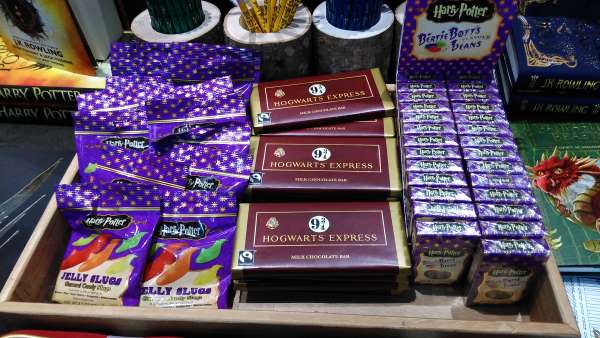 10 must-see places for Harry Potter fans in London
As mentioned above, some of the scenes from the Harry Potter films were filmed at real places in London. You can easily visit these places, so why not create your own Harry Potter Tour of London? Alternatively, you can book a Harry Potter walking tour of London here.
We have put together a list of 10 places where they filmed scenes from Harry Potter in London:
Leadenhall Market
Leadenhall market is a beautiful, Victorian market used to film some Harry Potter scenes in London, including Diagon Alley.  This place already has a special atmosphere, but we're sure you'll feel your bit of Harry Potter magic as you pass through. Although it's not far from the centre of London, it's not a popular destination with tourists, but if you're a fan of Harry Potter, pop by and take a look for yourself.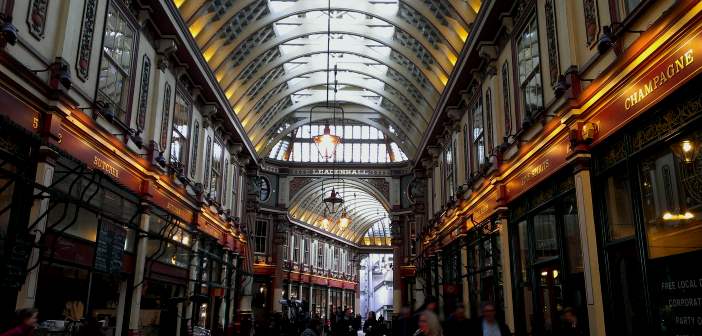 Cecil Court
Although Leadenhall market was where they filmed scenes for Diagon Alley, it could be said that Cecil Court is a real-life Diagon Alley. Cecil Court is situated close to Charing Cross Station and is a small alley lined with quaint shops selling antiques and books. Another small corner of London that you can add to your own Harry Potter Tour of London.
Platform 9 ¾
No Harry Potter fan would turn down the opportunity to have their photo taken at the most famous train platform in the world, and when you visit London, you can make this a reality. Kings Cross Station is home to the famous Platform 9 ¾, the departure point of the Hogwarts Express. It's a delightful scene with a plaque on the wall saying Platform 9 ¾ and the luggage trolley disappearing through the wall – a Harry Potter photo opportunity at its best! The facade of St Pancras Station next door was also used as the exterior of the train station in the Harry Potter movies.
⇒ Find out more about Platform 9 ¾ in London here
Lambeth Bridge
Lambeth Bridge crosses the River Thames and is featured in the famous Harry Potter scene where the Knight Bus had to squeeze between 2 red London buses. Okay, we can't provide the magic of the Knight Bus, but seeing this familiar bridge in real life is fun.
Borough Market
Located next to London Bridge, Borough Market is one of the must-see places in London. The entrance to the dripping cauldron of Harry Potter was filmed here, in one of the shops in Borough Market, which was a florist until recently. See if you can recognise it as you explore this famous market.  
Millennium Bridge
London's Millennium Bridge is the bridge that was destroyed in the 6th saga of the Harry Potter films. In real life this bridge is the most famous pedestrian bridge crossing the River Thames, designed by architect Norman Foster. Luckily for us, this fantastic bridge is still standing, and you can enjoy beautiful views as you walk across it from the Tate Modern to St Paul's Cathedral on the opposite side. In the film, the London City Hall building workers next to Tower Bridge witness the dementor's attack on Millennium Bridge.
Reptile House at London Zoo
It's in the reptile house of London Zoo where Harry discovers he can talk to snakes in the first film Harry Potter and the Philosopher's Stone. If you want to see if you can also speak to snakes, put London Zoo in Regent's Park on your personal Harry Potter Tour of London.
Piccadilly Circus
Ron and Hermione are transported to Piccadilly Circus in the first part of Harry Potter and the Deathly Hallows. Piccadilly Circus is also one of the most famous places in London, so you're bound to find yourself there, just like Ron and Hermione.
St Pancras Renaissance Hotel
Situated next to Kings Cross Station is the St Pancras Renaissance Hotel with its stunning neo-gothic architecture.  It is from this hotel that Harry and Ron take the Weasley family's flying Ford Anglia after missing the Hogwarts Express in the second film – Harry Potter and the Chamber of Secrets.
Other Harry Potter film locations in London
In Harry Potter and the Order of the Phoenix, some characters fly on broomsticks over iconic London landmarks like Tower Bridge, HMS Belfast, the Houses of Parliament and Trafalgar Square. In the same film, Ron Weasley has problems with his ticket at Westminster tube station.  You're bound to see most of these famous places on your trip to London.