Take one of the best sightseeing London Tours to discover all the secrets that this wonderful city has to offer. London is one of the most fascinating cities in the world, with many tours available to explore nearly anything that you can imagine… London Tours range from terrifying scary night tours to fun afternoon tea tours…
Walking tours in London are one way to discover London's unique secrets. You will be given the chance to learn about London's important landmarks as well as London's hidden secrets. One of the advantages of taking a tour is that you don't need to worry about looking at a map. Simply enjoy the views and listen to the amazing history and anecdotes you would have never discovered by yourself.
Hop On Hop Off Bus Tour in London
The Hop-On Hop-Off Bus Tour is one of the best ways to explore such a big city as London, especially if it's your first time in London. You can easily access London's top landmarks and take in the best views from the top deck. Being able to hop on and hop off as many times as you want during the day is a great advantage.
Sightseeing bus tours in London also include a free river cruise on the Thames. This is a wonderful experience that you just can't miss during a trip to London. The ticket for the sightseeing bus tours normally include free guided walking routes around London which is a bonus.
You can buy combined tickets for the HO-HO Bus Tour and another London Attraction, such as the London Eye or the famous Madame Tussauds Wax Museum. Combined tickets means you can save some money, which is not bad idea when you are planning on visiting one of the most expensive cities in the world!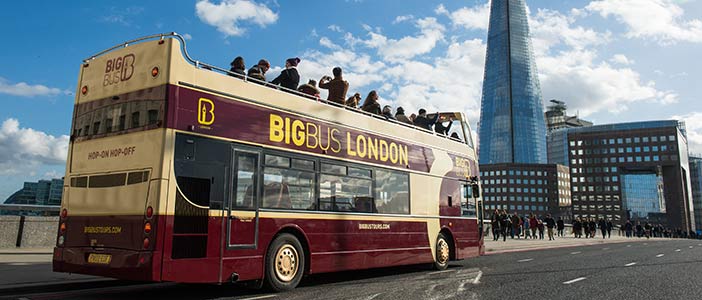 Guided Walking Tours in London
If you like to explore a city by walking, there are loads of guided walking tours in London for you to choose from. A guided walking tour in London is undoubtedly one of the best ways to learn more about the history and secrets of the most famous streets and landmarks. You will also have the opportunity of learning about those less well-known hidden corners.
For a classical London tour, don't miss the Westminster Abbey & Changing of the Guard Guided Tour, two must-see attractions when planning a trip to London.
Guided Walking Tours in Camden Town are also one of the most popular London Tours available. Discover where music icons such as Amy Winehouse, Jimi Hendrix or The Rolling Stones contributed to making Camden into the fascinating neighbourhood that it is today. And speaking of street markets and neighbourhoods, another neighbourhood in London about which you may want to explore with a guided tour is Notting Hill.
If you would like to see some of the world's best street art, then don't miss this Street Art Guided Tour in London's East End, enjoying street art from artists such as Banksy or ROA. You may however like to hear about Sweeny Todd (the barber of Fleet Street) or Jack The Ripper… If that's the case, you can join the London Ghost Walk or the Haunted London and Jack the Ripper Tour. Just don't blame us if you can't sleep afterwards!
If hidden London is what you are after, and it's the unknown London that you would like to learn more about, then I would recommend the Hidden London Walking Tour.
Some of the most popular and best London Tours are:
River Cruises
A Thames River Cruise has to be one of my favourite things to do in London. During the day, sightseeing cruises cruise the Thames from Westminster to Greenwich, and the scenery is just amazing. From the river cruise you will be able to admire famous London landmarks, such as the Big Ben, the London Eye, the Tower of London, St. Paul's Cathedral and Shakespeare's Globe… And the photo opportunities will be fantastic.
For something a bit more special, you can book an afternoon tea cruise, or a dinner cruise for an unforgettable experience.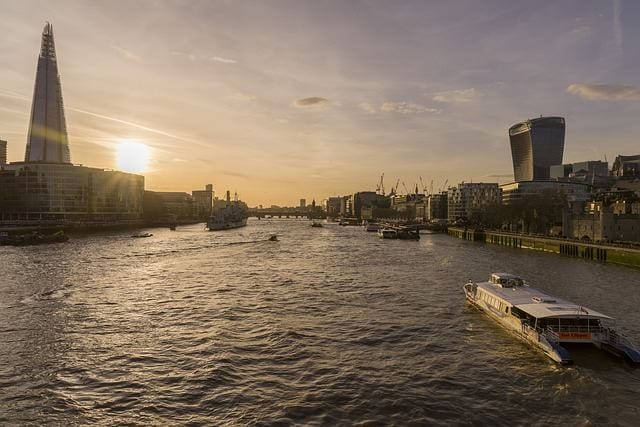 Guided Bicycle Tours
Another option is to take a guided bike tour, a faster and enjoyable way to explore London. On your way you will be able to stop to see the most important landmarks in the city such as Buckingham Palace, St James's Park, the Changing of the Guard, Soho, Chinatown, Big Ben, London Eye, St. Paul's Cathedral…
Football Stadium Tours
If you are a British football fan a tour round one of London's football stadiums is probably also on your list of attractions to see when visiting London. Entry to some of these football stadiums are included with the London Pass.
Harry Potter Tours
Harry Potter fans will not want to leave London without visiting one of the most popular and one of the best tours in London: The Warner Bros Harry Potter Studio Tour in London. Tickets tend to sell out several weeks in advance, so make sure you book your tickets well in advance.
You can also take a Harry Potter Locations Walking Tour in central London, and check out some of the places where different scenes of the Harry Potter films were filmed. And, if you're a real fan, you do not want to miss the chance to get your photo taken entering the famous Platform 9 and 3/4 at King's Cross station.
London Black Taxi Tours (Black Cabs)
Another option that lots of people find quite interesting is booking a London Taxi Tour. This is a good option if you are visiting London with a group of people as you only need to pay per taxi but up to 6 people can join.

These tours can be booked for 3, 4 or 5 hours and your driver will pick you up from any location in central London and then, at the end of the tour, he will bring you back to your hotel or any other address in central London.
There are different tours (Best sights of London, Harry Potter, etc.) but they will be happy to adapt the route to take to see all the things that you want to visit.
Helicopter Tours
For something truly spectacular, how about a helicopter tour?  Enjoy panoramic views of London flying over the city centre, and seeing historic landmarks from a unique perspective.
Day Trips from London
Day Trips from London are very easy, as some of the UK's best-known cities, such as Oxford, Cambridge and Stratford Upon Avon are only an hour away from London.
Some of these cities can easily be reached using public transport, and it can be very easy to just get on a train and spend the day somewhere. The other option is to take a coach tour, and this way you can make the most of the day and visit a couple of different places on the same day, which is also a good option. We have created a guide which explains how to get to these places by public transport and a self-guided walking tour of these cities. Check it out here: