London is like a chameleon; it is the master of adaptability.
Yes, that's right. The Queen's capital is a city of extreme weather; one day it's sunny, and the next it's raining. The good news is there are plenty of fun things to do in London no matter the weather.
Are you planning your next trip to good ol' London Town? Are you looking for things to do in London?
In this ultimate guide, discover what to do and see in London rain, hail or shine.
Shop Till You Drop at Harrods
What is it? Harrods is London's most famous department store located on Brompton Road in Knightsbridge. Home to 5000 brands, Harrods is the ultimate destination for designer clothing, luxury gifts, food and accessories.
Why go? When the website labels itself as the "world's most famous department store," it's hard to argue otherwise. Harrods is worth visiting once for the experience, if anything else. Wear comfortable shoes as the store covers more than one million square feet (90,000 m²).
Any tips? If you're a non-shopper, head straight to the Food Court; the architecture will blow your mind! Stop at The Deli for a ready-to-eat dish before making your way to the Roastery & Bake Hall for a flaky Millie-Feuille.
Have a Cuppa at Claridge's
What is it? Claridge's is a 5-star luxury hotel in the heart of Mayfair. Since the 1850s, Claridge's has embodied grand English style, timeless glamour, and impeccable hospitality. Every afternoon, Claridge's offers an Afternoon Tea in the Foyer & Reading Room.
Why go? Expensive but worth every penny. The food is prepared and served fresh every day, with savoury and sweet options. As it's very popular, ensure you make a reservation to avoid missing out.
Any tips? An afternoon tea simply isn't an afternoon tea without a cup of tea. Try Claridge's blend; a bespoke blend recreated exclusively for Afternoon Tea at Claridge's. Enjoyed without milk, Claridge's blend is best partnered with a warm scone instead.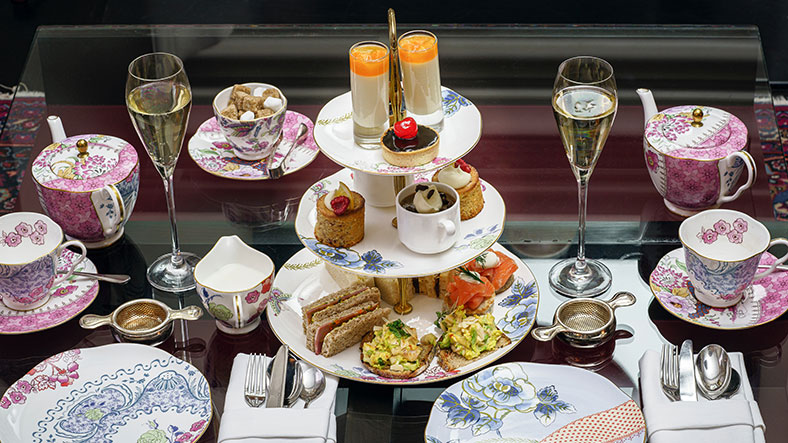 Explore the Natural History Museum
What is it? The Natural History Museum is a world-class attraction and a leading science research centre. The museum exhibits many unique collections, including life and earth science specimens. Its collection has over 80 million items and offers private informative guided tours.
Why go? The NHM is one of the many free things to do in London (although donations are greatly appreciated) for children and adults alike. For those interested to learn more about natural history, it's a no-brainer to schedule a visit. The museum offers a wealth of knowledge and a fun experience with interactive exhibitions and five separate collections.
Any tips? A trip to the museum is not without gawking up at the ceiling at the blue whale skeleton in the central hall. Nicknamed "Hope," the NHM blue whale specimen is just over 25m long and weighs 3 tons.
Find Your Way Out of an Escape Room
What is it? Escape rooms aren't new, but they're still mega fun. A locked room, a series of challenging puzzles, and a group of friends trying to unlock the riddle before time runs out. The good news is London is home to a diverse range of escape rooms suited for everyone.
Why go? When it's a rainy day in London and things to do outside seem bleak, close up your brolly and bring out your inner geek. Escape rooms are a whole new way of experiencing interactive storytelling. Rather than passively watching a movie, you can spend time actively solving a puzzle and, in the process, stimulate mental activity.
Any tips? Hidden City's Moriarty's Game: The Professor's Invitation is a must-do. Unlike traditional escape rooms, Moriarty's Game sends you to the streets of Marylebone, where you will need to solve clues, make split-second decisions, and solve physical challenges. When it's a sunny London day, this is a must-do attraction.
Buy Tea at Twinings Tea Shop
What is it? Twinings Tea Shop on The Strand in London is a mecca for tea lovers worldwide. It's also one of the narrowest stores in London. For over 300 years, this little tea shop has supplied tea to Londoners, including the Queen herself.
Why go? Highly recommended for tea lovers. Learn the history of tea drinking and try different teas, including white, yellow, green, oolong, and black. The staff are incredibly knowledgeable and will offer plenty of samples to taste.
Any tips? Keep your eyes peeled because this little store is a "blink, and you'll miss it" kind of place. Book a unique Twinings tea tasting experience and embark on a journey following the tea leaf from bud to cup.
Feel the Magic at House of MinaLima
What is it? House of MinaLima is a quirky gallery and retail store in the heart of Soho. It's also one of London's top Harry Potter sights. It was founded by Miraphora Mina and Eduardo Lima, the artists behind the graphic props of the Harry Potter and Fantastic Beasts films.
Why go? House of MinaLima is a must-visit attraction for any Harry Potter fan, young and old. The store features all kinds of graphic artworks that appear in these successful movie franchises. MinaLima is free to visit with merchandise available for purchase.
Any tips? Take as many photos as your phone storage allows. Photos are encouraged, which is often rare in galleries. Just don't forget to hashtag #houseofminalima on Instagram.
Visit the Famous Residents of Highgate Cemetery
What is it? Highgate Cemetery is a place of burial in north London. At least 850 notable people are buried in Highgate, including 18 Royal Academicians, six Lord Mayors of London, and the father of Communism himself, Karl Marx. Due to its famous clientele, Highgate Cemetary is considered one of London's "Magnificent Seven" private cemeteries.
Why go? Highgate Cemetary is an ideal attraction for history buffs and the architecturally inclined. The West Cemetary (compared to the East) is more historically and architecturally fascinating. Because it is a graveyard, it's important to stay on track and act respectfully.
Any tips? Karl Marx's tomb attracts many visitors per day from all over the world. Skip the crush of tourists and roam the West Cemetery in search of Thomas Sayer, the bare-knuckle prizefighter. His faithful dog 'Lion' watches over his master's grave in statue form.
Immerse Yourself in Nature at the Sky Garden
What is it? Sky Garden is London's highest public garden, with 360-degree views of the city skyline. It celebrates the diversity of plants with exquisitely landscaped gardens, observation decks and an open-air terrace (when it's not raining).
Why go? Sky Garden is the ultimate "bring the outside inside" retreat. Even when it's rainy outside, you can feel at one with nature without getting wet. Access to the Sky Garden is free (win!), but spaces are limited, so book in advance.
Any tips? While you take in the awe-inspiring views, pull up a seat at Sky Pod Bar – a relaxed indoor bar serving all-day dining options, with a great selection of cocktails and nibbles.
Find out more: Sky Garden London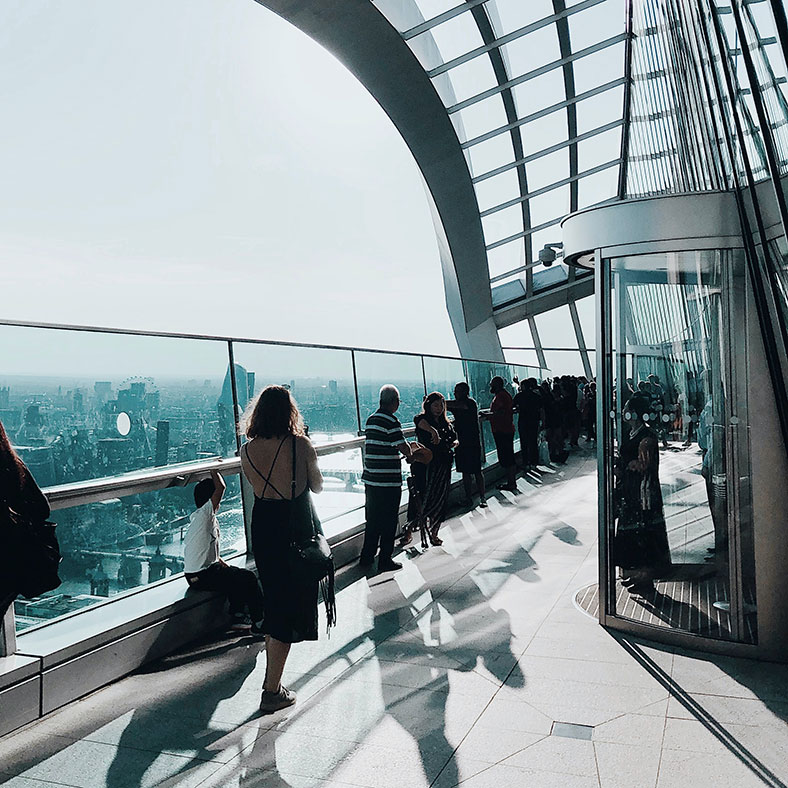 Check Out a Must-See Show at West End
What is it? No list of things to do in London, England, is complete without mentioning West End. West End is also known as Theatreland and covers a large proportion of central London. The theatre-loving area is home to more than 40 historical and contemporary theatres.
Why go? UK customs refuse to let you leave the country until you can sing at least one line of "I Dreamed A Dream" from Les Misérables. On a more serious note, even if you don't enjoy musicals, a trip to West End is a must. West End boasts an intricate design, and its buildings are a sight to behold.
Any tips? Yep, you guessed it; you must see a show or two while you're in West End. While you could see Wicked, why not try something different as well? There are plenty of funny and off-beat comedies to check out!
Release Your Inner Child at the LEGO Shop
What is it? The LEGO Store at Leicester Square is the biggest in the world. Discover two massive floors of colourful plastic bricks, complete with a life-sized London Underground train car.
Why go? If you're looking for a new LEGO set, this is the place to go. While there is often a line to get in, it's well worth it for what's inside. Ideal place if you have kids, but just as fun for adults.
Any tips? The Minifigure Factory is an excellent chance for kids (and adults) to create a custom LEGO Minifigure with endless combinations to mix and match. Sound like a dream come true? It is.
Pop in for a Pint at a Pub
What is it? Visiting a pub on a trip to London is almost a rite of passage. The oldest pub in London is the Seven Stars in Holborn. Built in 1602, the Seven Stars is one of the few buildings that escaped the Great Fire of London in 1666.
Why go? There's nothing better than escaping a wintry London day into the warmth and relaxed atmosphere of a traditional British pub.
Any tips? If you're travelling to London from abroad, remember that beer and cider are served in pints and halves (half pints). Try The Royal Oak, The Harp, and the Newman Arms for the best pubs in London.
Of course, if you're after something a little more romantic, you should check these restaurants out on your next trip.
Visit the Vibrant Neighbourhood of Camden
What is it? Not only is Camden the best place to live in London, but it's also the friendliest place to visit. Camden Town is a vibrant, eclectic mix of markets, food, and live music venues. It's artsy, creative, and buzzing with positive energy.
Why go? Camden Town is a famous marketplace with a picturesque canal lined with restaurants and coffee shops. In the evening, Camden refuses to go to sleep. If you like a bit of a boogie and a pint, there are plenty of typical English pubs and nightclubs.
Any tips? Hunt for treasures in Camden's markets, take a walk along Regent's Canal, and sample cuisine worldwide. Have you got kids? Head to the nearby ZSL London Zoo and come face to face with Asiatic lions and furry penguins.
Party the Night Away in Soho
What is it? Soho is part of the West End of London. It's a snazzy little place to find live entertainment, unique cuisine, and pulsating nightlife. In the past few decades, Soho has transformed itself from the seedy glory of the 1960s to one of London's trendiest areas.
Why go? Soho attracts a broad mix of people. It has a great vibe with plenty of shopping, restaurants, and bars. Soho is also home to world-class theatres and "Be At One Piccadilly Circus," a popular bar notorious for getting the party started.
Any tips? The "Seven Noses of Soho" is an artistic installation found on buildings in London. For a unique challenge, try to spot all seven (without Googling how!).
Enjoy Authentic Asian Food in Chinatown
What is it? Chinatown is a vibrant part of the West End close to key attractions like Leicester Square and Soho. It is home to authentic Chinese food, bakeries, Asian cosmetics, and Chinese-inspired trinkets.
Why go? A trip to Chinatown is well worth the visit. You can spend hours wandering around its many streets and dipping in and out of delicious restaurants and supermarkets. Food is reasonably priced, and the restaurant staff are very welcoming as they vie for your attention.
Any tips? While Chinatown is a great destination year-round, there is no better time than during the Chinese New Year. Before COVID-19, the Chinese New Year Parade was a free event with parade floats and a lion dance performance. When it does return, it's a must-see attraction.
Take a Walking Tour
What is it? Experiencing London is best done on foot. There are plenty of walking tours that will show you the sights of London and the history behind them. Many walking tours are cheap, or sometimes free, and will take you to see some well-known and lesser-known destinations.
Why go? On a sunny day, a walking tour provides intimate encounters with destinations. It's also a great way to burn off the French pastries you had with your morning cuppa.
Any tips? One of the most popular walking routes starts in London's famous Oxford Street and goes through Hyde Park before ending your trip at Harrods. Many tour operators offer "name your price" tours. This is a good option when you've got limited time (and cash, but don't cheap out).
Cruise Along the River Thames
What is it? The River Thames is the longest river in England, stretching over 300 km from Gloucestershire through London and into the Thames Estuary. From there, it flows into the North Sea. The best way to explore the River Thames is on board a Thames River cruise.
Why go? When you cruise along the Thames, it doesn't matter what the weather is. If it's raining, you can take the Tube, jump under a covered pier and step onto a City Cruises boat. On a sunny day, you can go on top of the boat and see the city.
Any tips? The best time for Thames River cruises is from March to the end of October. Summer months are the warmest, but sunny days aren't always guaranteed.
Buy Fresh Produce at the Borough Market
What is it? Borough Market is London's premier food market, priding itself on high-quality food and sustainable production. The market consists of three areas: Three Crown Square, Green Market, and Borough Market Kitchen. There are also some wonderful pubs, cafes and restaurants here too.
Why go? The Borough Market is the perfect spot for you if your stomach is grumbling for fresh fruit and vegetables. Open seven days a week; Borough Market is a great way to sample locally produced fruits, vegetables, cheeses, and meats. On a sunny day, you can walk there, but you can also take the Tube and stop off at London Bridge station.
Any tips? Visit Kappacasein for a comforting cheese toastie, Comptoir Gourmand for sweet Choquette, and Bao Borough for the fluffiest bao buns you've ever tasted. Try their exclusive chicken nuggets bao – yes, it's weird, but it's out of this world (in a good way).
Visit the Museum of Brands
What is it? The Museum of Brands in Notting Hill is a quirky place for groups to explore how brands shape our world. Since the early 1980s, the Museum of Brands has collected brand packaging and adverts from the past 200 years, presenting them in a series of entertaining and nostalgic exhibitions.
Why go? Go for a nostalgic (and inexpensive) journey through years of consumer culture from Victorian times to the present day. Relieve favourite childhood memories on a self-guided visit that can last between one to two hours. Afterwards, stop by a quant Notting Hill cafe and have a bite to eat.
Any tips? Take your time roaming through the Time Tunnel, which reflects how daily life has transformed, from the arrival of cinema, radio and television to the takeover of self-service at grocery stores.
"Mind the Gap" on the Underground
What is it? The London Underground rail network, also called "The Tube," is a transit system serving Greater London and some surrounding areas. It's a great way to travel to, from, and around central London. Visitors can buy an Oyster Card, a quick and easy way to pay for journeys on the Tube.
Why go? While it sounds strange to include public transport on a list of cool things to do in London, you have to ride the Tube at least once! Not only is it an efficient way to get around London, but it's also a chance to rest your feet after a long day of walking.
Any tips? Peak hours on the Tube are from 7:30–9:30 am and 5:30–7:00 pm. The people catching the Tube at these times aren't in London for a holiday; they're most likely commuters on the go. For a more comfortable ride, avoid these times.
Rest Up in Kew Gardens
What is it? Kew Gardens is a botanical garden in southwest London. It spans over three hundred acres and lies on the south bank of the Thames River. Kew also functions as a botanical research centre and has one of the largest plant collections in the world.
Why go? Kew Gardens is the most biodiverse place on Earth. With over 50,000 plants, Kew is not short on things to see and do. If you enjoy nature and are interested in the study of botany, you'll very much enjoy Kew.
Kew Gardens is open in summer and winter, no matter the weather (pack a brolly during the latter).
Any tips? Don't miss the lilypads behind the greenhouse; they are an attraction in themselves! Also, it is highly recommended that you arrive early to give yourself enough time to explore. Plus, you can avoid the crowds who generally arrive around mid-early afternoon.
Best Things to Do in London
Whether you're in The Big Smoke for one, two, three or more days, you're guaranteed never to get bored. With so many things to do in London, you'll wish you extended your trip!
If you need more London activities and trip ideas, be sure to check out our blog for some of our favourite attractions and our tips and tricks on the best places to stay and dine in the city.
Are you visiting London soon? Before you pack your bags, you need a curate the perfect itinerary!
Plan your trip with our suggested itineraries to get the most out of your London holiday.