Easter in London is a great time to explore the city. This year, Easter Sunday falls on the 9th of April, 2023. Friday the 7th of April and Monday the 10th of April are both Bank Holidays in the United Kingdom.
Most of the biggest events related to the Easter holidays in the UK take place in London the week before the Easter Weekend and the week after, as most schools in the UK break up for two weeks for Easter.
Easter is a good time to explore London, as the days are lighter and longer during this time of the year. This means that you can enjoy many activities. In the UK, Easter is celebrated in style, with many Easter egg hunts and children's activities across London.
Index of Contents:

> What is open during Easter in London
> Weather in London at Easter
> British Easter Traditions
> Special Events during Easter in London
> Easter in London with kids
> How to Plan a Trip to London this Easter
What is open during the Easter Holidays in London
Most places in central London, such as museums, markets, shops and tourist attractions, will open as normal during Easter, including the weekend and the bank holidays.
If you are planning on visiting some of the most famous attractions in London during the Easter holidays, such as the London Eye, hopping on a London Signthseeing Bus Tour, visiting Madame Tussauds or exploring the incredible Tower of London, don't worry because they will all be open normal hours during Easter.
However, there are a few exceptions you need to have in mind:
The British Museum is normally open on Fridays until 8.30 pm but on Good Friday, 7th April, it will close slightly earlier at 6 pm. The last tickets can be booked for 3.30 pm through their website.
Westminster Abbey will open on Friday 7th of April but only for the event "Solemn Liturgy of the Passion and Death of Our Lord", not visitors.
St Paul's Cathedral is open on Friday the 7th and Sunday the 9th of April but only for mass, not visitors.
Camden Town market: Usual opening times.
Portobello Road market in Notting Hill is open on Good Friday, except for the antique galleries. Find out more: Notting Hill Guide.
Weather in London during Easter
Easter falls this year in mid-April, so we're hoping for nice weather during Easter. During April we get longer daylight hours, and although you'll still need a jacket, the weather will hopefully be rather enjoyable!
British Easter traditions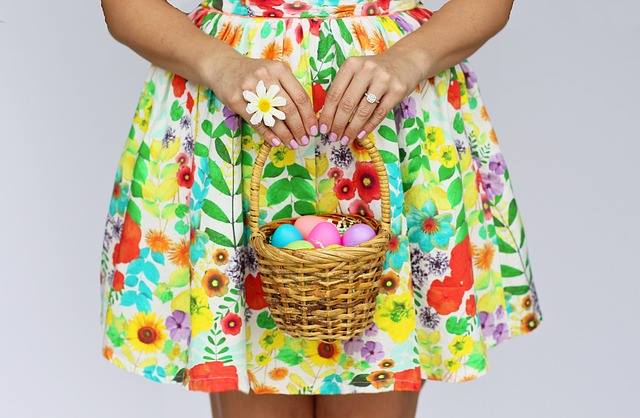 Although there will be plenty of religious festivals available, in the UK, Chocolate Easter Eggs, Egg Hunts and chicks and Easter bunnies take centre stage.
Pop into any supermarket, and you'll find shelves piled high with chocolate eggs, which range considerably in size and price. You'll also find that brits go crazy for a hot cross bun – and you'll find these traditional buns in stores and coffee shops all over the UK during the Easter Holidays.
There are many activities available for kids during the Easter break. Especially in the parks and gardens in London where there are always plenty of events and activities organised for little ones. You'll find games like egg and spoon races, workshops to paint Easter eggs, and the famous Easter egg hunts, where kids have to search for hidden chocolate eggs.
These events are normally free, and children can take home prizes or at least a lot of chocolate. Families and friends in London often host their own egg hunts in the gardens of their homes or around parks in London.
Special events during Easter in London
If you are going to spend Easter in London, you should definitely go in search of the best Easter eggs: To see some of the most spectacular Easter eggs, we recommend that you make your way to the famous department stores of Harrods or Fortnum and Mason.
> Passion in the Square 
On Good Friday, April 7th 2023, there will be an outdoor theatrical performance in Trafalgar Square on the crucifixion of Jesus to celebrate the Holy Week in London. It will last about 90 minutes and will take place twice, at noon and at 3.15 pm. This is a FREE event.
For more information: Passion in the Square
> Easter at Fortnum & Mason
The impressive Fortnum & Mason store is located on Piccadilly Street, where the famous Ritz hotel is also located in London. Throughout Easter, there will be demonstrations of the best-decorated Easter eggs of all sizes. Check out some of the Fortnum and Mason Easter eggs on their website: Fortnum and Mason.
During the Easter weekend in London, Fortnum & Mason usually organise events for children from 5 to 12 years old.  There are normally workshops for children to design their own Easter Bonnet (an Easter hat, usually decorated with eggs, chicks and flowers), and there are normally workshops for children to paint ceramic Easter eggs – perfect for an Easter souvenir to take back home. Please do check their website as no workshops have been published yet for this year though.
> Easter Afternoon Tea
Those looking for something more special this Easter can enjoy an Easter Afternoon Tea. Many luxury hotels in central London offer a themed Easter Afternoon Tea. You can enjoy a variety of sandwiches, cupcakes, sweet treats, and a wide variety of teas. We would advise booking in advance as spaces can fill up quickly!
> Easter Eggstravaganza
During the Easter period, there are several skating events across the city that anyone can participate in. And it's FREE! People from all over London get together to skate and dress up as Easter bunnies or wear bonnets. So, don't be surprised if you bump into some skating bunnies whilst you're in London this Easter!
Easter in London with kids

During Easter, England is filled with events designed for kids, so if you are going to spend Easter in London with children, we suggest looking at the following special events.
One of the most popular things to do during the Easter Holidays is to take the children to one of the best Easter Egg Hunts in London where they must search for hidden chocolate Easter eggs.
Egg Hunts are usually held in London's largest parks, so all you need to do is make your way to a park and join one of them. Also, in most stores and supermarkets in England, you will find Easter egg hunt kits, which include an Easter bucket and eggs (chocolate or plastic!) to create your very own Easter egg hunt.
You will also find that many museums, zoos and attractions have special events for children during these dates. Here are a few of the best ones:
> Kew Gardens
From the 2nd to the 18th of April, the Royal Botanical Garden of Kew in London celebrates Easter with numerous family events and workshops. Special events and workshops are included in the normal entrance to visit Kew Gardens, so buying special tickets or booking anything specific is unnecessary. Don´t forget that entry is free for children under 16.
This Easter at Kew Gardens, join Superworm for a new adventure with all the heroes from the best-selling book by Julia Donaldson and Axel Scheffler. Set out on a journey through the plant and animal kingdoms, against the magical backdrop of our Gardens in spring.
Follow the trail and discover familiar scenes from the story, dig deep into the importance of soil, and find out all about the different garden creatures of Superworm. Alongside the trail, see colourful spring plants bursting into life in the Gardens.
Whatever your age, you'll have fun learning more about the vital role that animals and plants play in the natural world.
Easter at Kew Gardens:
When: 1 – 16 April
Buy Tickets for Kew Gardens: Tickets
> London Zoo
From the 2nd to the 18th of April 2023, London Zoo, located in Regent's Park, will celebrate Easter with an Easter event for children.
Head to London Zoo for an Easter egg trail with a difference! Someone (we're looking at you, Easter Bunny) has hidden very special Easter eggs around the Zoo. But they're no ordinary eggs! With birds, reptiles, fish and butterflies amongst the amazing egg-laying creatures at the Zoo, we've got eggs of all sizes and colours.
Not only that, but clues have been left to the location of a secret golden egg! Can you help us crack the code?
For the most eggcellent day out this Easter, join the Zoonormous Egg Hunt – a fun family trail starting in the heart of the Zoo. Solve riddles to guide your path, collect all the clues and (if you can unscramble them…), you'll make it to the secret golden egg while learning about some incredible animals along the way.
With Easter craft activity too, and opportunities to get really up close to animals throughout the Zoo including amazing walk-through exhibits, make sure to book your Easter Zoo tickets today.
The Easter experience is included in your Zoo ticket at no extra cost.
Easter at London Zoo
When: 1 – 16 April
Buy Tickets for London Zoo: Tickets
> Battersea Park Children's Zoo
The small urban zoo in Battersea Park, south of the River Thames, organizes a yearly Egg Hunt for children.
The Golden Bunny Easter Trail: Purchase a trail sheet upon entering the Zoo and use it to help you solve the clues to find the Golden Bunny! Claim your prize for completing the trail at our Gift Shop when exiting the Zoo.
Face Painting: On selected dates throughout the Easter Holidays Jenny Sunshine and her team will be on hand to transform your little ones with some Easter face paint designs!  *Small fee applies*
Rabbit's Warren: Join us in the Rabbit's Warren for a range of Easter themed crafts! You can also take part in the 'Eggs Factor' and take a look at some real life animal eggs!
Easter at Battersea Park Children´s Zoo
When: 3 – 16 April
More information and Tickets: Battersea Zoo
> Hampton Court Palace
Hampton Court Palace is in our opinion one of the best places you can choose to take the kids for an Egg Hunt this Easter.
The Lindt GOLD BUNNY hunt is back this Easter! Find the Lindt GOLD BUNNY and discover the stories of fascinating people who visited, lived and worked at Hampton Court Palace.
Use the trail map to explore the palace gardens and find the Lindt GOLD BUNNY statues that are hiding there. Match up the name of the important palace character on the trail to the red ribbon on the bunny statue at each location.
With each Lindt GOLD BUNNY you find, a fascinating story will be revealed about that important palace character. Can you find them all? When you have finished, you can collect a Lindt GOLD BUNNY (10g) chocolate* reward from the Clore Learning Centre!
The hunt is designed for children aged 4-12 years old and their families. Please allow 1 hour 30 minutes to complete the trail. This event is included with your palace admission ticket that you buy by following the link below. We advise pre-booking your tickets to avoid disappointment.
Easter at Hampton Court Palace
When: 1 – 16  April
Buy Tickets for Hampton Court Palace: Tickets
> More Egg Hunts for children at Easter in London
There will be different events held for children related to Easter in London in many other places, we recommend checking out the official websites for more information:
Plan a trip to London this Easter
If you're planning a trip to spend Easter in London, take a look at our guide to plan the perfect trip. You will find itineraries to make the most of your trip to London as well as walking routes with maps that we have designed.