Easter in London is a great time to explore the city. This year, Easter weekend falls on Friday 10th and Monday 13th April 2020, both days being Bank Holidays in the United Kingdom. Most of the biggest events related to Easter holidays in the UK take place in London the week before the Easter Weekend aas well as the week after, as most schools in the UK break up for 2 weeks for Easter.
Easter is a good time to explore London, as the days are lighter and longer during this time of the year. This means that you can enjoy many activities. Here in the UK, Easter is celebrated in style, with many Easter egg hunts and children's activities across London.
Index of Contents:

> What is open during Easter in London
> Weather in London at Easter
> British Easter Traditions
> Special Events during Easter in London
> Easter in London with kids
> How to Plan a Trip to London this Easter
What is open during the Easter Holidays in London
The majority of places in central London such as museums, markets, shops and tourist attractions will be open as normal during Easter, including the weekend and the bank holidays.
If you are planning on visiting some of the most famous attractions in London during the Easter holidays, such as going on the London Eye, hopping on a tourist bus, visiting Madame Tussauds or exploring the incredible Tower of London; don't worry because they will all open normal hours during Easter.
However, there a few exceptions you need to have in mind:
The British museum is normally open on Fridays until 8.30pm but on Good Friday (April 10th) it will be open until 6pm.
Westminster Abbey opens on Friday 10th April but it's only open for mass, not visitors.
St Paul's Cathedral is open on Friday 10th and Sunday April 12th but only for mass, not visitors.
Camden Town market is open normal hours.
Portobello Road market in Notting Hill is open on Good Friday, except the antique galleries. Find out more: Notting Hill Guide.
Weather in London during Easter
When Easter falls this year in England it will be almost the end of April, and you'll find that during this time the weather can be very pleasant. Normally during this time of year, we start to see longer daylight hours, and although you'll still need a jacket, the weather will probably be rather nice.
British Easter traditions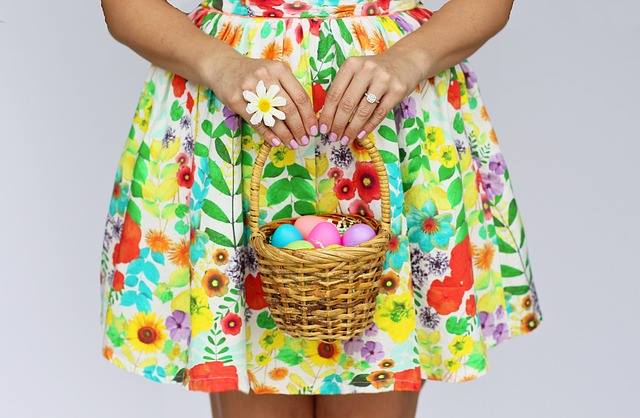 Although there will be plenty of religious festivals available, in the UK the Easter Holidays are known for many other things. One thing that stands out is chocolate! In the UK, we love Chocolate Easter Eggs as well as the many decorations of little chicks and the Easter bunny. Just head into any supermarket and you'll find shelves piled high with chocolate eggs. And they range considerably in size and price. You'll also find that brits go crazy for a hot cross bun – and you'll find these traditional buns in stores and coffee shops all over the UK during  the Easter Holidays.
There are many activities available for kids during the Easter break. Especially, in the parks and gardens in London where there are always plenty of events and activities organised for little ones. You'll find games like egg and spoon race, workshops to paint Easter eggs, and the famous Easter egg hunts, where kids have to go in search of the hidden chocolate eggs. You can usually join these events for free and children can take home prizes or at least a lot of chocolate. Families and friends in London often host their own egg hunts in their gardens of their homes or around parks in London.
Special events during Easter in London
If you are going to spend Easter in London, you should definitely go in search of the best Easter eggs: To see some of the most spectacular Easter eggs, we recommend that you make your way to the famous department stores of Harrods or Fortnum and Mason.
> Passion in the Square 
On Good Friday, April 10th 2020, there will be an outdoor theatrical performance in Trafalgar Square on the crucifixion of Jesus to celebrate the Holy Week in London. It will last about 90 minutes, and will be shown twice, at 12 noon and at 3.15pm. And the best news, it's FREE to watch.
For more information: Passion in the Square
> Easter at Fortnum & Mason
The impressive Fortnum & Mason store is located on Piccadilly Street, which is also where the famous Ritz hotel  is located in London. There you will enjoy demonstrations throughout Easter of the best decorated Easter eggs of all sizes. Check out some of the Fortnum and Mason Easter eggs on their website: Fortnum and Mason.
During the Easter weekend in London, Fortnum & Mason usually organise events for children from 5 to 12 years old.  There will be workshops for children to design their own Easter Bonnet (a hat decorated with eggs, chicks and flowers.) There is also a workshop during the weekend where children can paint ceramic Easter eggs – perfect for an Easter souvenir to take back home.
> Easter Afternoon Tea
Those looking for something a little more special this Easter can enjoy an Easter Afternoon Tea. There are many luxury hotels in central London that offer a themed Easter Afternoon Tea. You can enjoy a variety of sandwiches, cupcakes and sweet treats, as well as a wide variety of teas. We would advise to book in advance as spaces can fill up quickly!
> Easter Country Fair
If you want to leave the city with the family to experience the outskirts of London, head to the Easter fair in Lee Valley. This traditional British Country Fair will be held over two days, Sunday 12th and Monday 13th April. You'll enjoy live performances, and there will also be animals to entertain the little ones, such as birds of prey, goats and ponies. There is also an impressive medieval village with live shows, and of course, plenty of places to buy gift items and crafts; as well as food and drink.
More information: Easter Country Fair
> Easter Eggstravaganza
During the Easter period there are several skating events across the city that anyone can participate in. And it's FREE! People from all over London get together to skate and dress up as Easter bunnies or wear bonnets. So, don't be surprised if they pass you during your visit to London in Easter.
Easter in London with kids

During Easter England is filled with events designed for kids, so if you are going to spend Easter in London with children, we suggest taking a look at the following special events.
One of the most popular things to do during the Easter Holidays is to take the children to an Egg Hunt where they must search for hidden chocolate Easter eggs. Egg Hunts are usually held in London's largest parks, so all you need to do is make your way to a park and join one of them. Also, in most stores and supermarkets in England you will find Easter egg hunt kits, where you have your own bucket and eggs to create your very own Easter egg hunt.
You will also find that many museums, zoos and attractions have special events on for children during these dates. Here are a few of the best ones:
> Kew Gardens
The Royal Botanical Garden of London celebrates Easter with numerous family events and workshops that will take place from the 66th to the 22nd of April. Special events and workshops are included in the normal entrance to visit Kew Gardens, so it is not necessary to buy special tickets or book anything specific. Don´t forget that entry is free for children under 16 years of age.
There will be an interactive trail through Kew Gardens, as well as games to identify vegetables and plants. On Sunday (Easter Sunday) there is usually an Egg Hunt in the gardens of Kew to go in search of Easter eggs, and hand out chocolate eggs when entering the gardens. Kew Gardens is a great place to visit with children, as it is full of activities for them even when there are no special events planned for children.
Easter at Kew Gardens:
When: 4 – 19 April
Buy Tickets for Kew Gardens: Tickets
> London Zoo
From the 6th to the 21st of April, London Zoo located in Regent's Park will celebrate Easter with its event "Mini Keepers", where children will have the great opportunity of being zoo keepers for a day. Upon arrival, the Zoo will give them a special uniform and perform group tasks for a few hours learning about the care of Zoo animals. They will also have the opportunity of participating in food preparation and feeding the monkeys as well as the meerkats, amongst other activities. You don't need to buy any special tickets, as this event is included in your standard fare.
Easter at London Zoo
When: 4 – 19 April
Buy Tickets for London Zoo: Tickets
> Battersea Park Children's Zoo
This event is yet to be confirmed for 2019. This small urban zoo in Battersea Park, south of the River Thames, organises a yealry Egg Hunt for children. Visitors just need to complete a questionnaire and hand it in at the end of the experience to get a prize. You can also take the kids to Easter Bunny Day, a day dedicated to Easter rabbits with workshops to make your own rabbit ears and meet the rabbits that live in the Zoo.
The small urban zoo in Battersea Park, south of the River Thames, organizes a yearly Egg Hunt for children. To participate, they need to get a questionnaire upon entrance, and go in search of the Eggs which will be hidden around the Zoo. Once they have completed the questionnaire, they will have to hand it in at the end to get a prize. There is a cost of £1.50 per child in addition to the normal entrance fee.
Battersea Park Children´s Zoo usually celebrate Easter Bunny Day, a day dedicated to Easter bunny with workshops to make your own rabbit ears and meet the rabbits of the park, but the date for this day has not yet been announced.
Easter at Battersea Park Children´s Zoo
When: 28 March – 13 April
More information and Tickets: Battersea Zoo
> Hampton Court Palace
Hampton Court Palace is in our opinion one of the best places you can choose to take the kids for an Egg Hunt this Easter. From the 1st to the 22nd April Hampton Court Palace celebrates Easter with the Easter Lindt Gold Bunny Hunt. This event is recommended for children from 3 to 12 years old.
To participate, simply ask for the trail map and follow the clues to find the Lindt gold bunnies that are hidden around the Palace and its magnificent gardens. You don´t need to pay anything extra to participate, as this event is included with the standard fare.
Easter at Hampton Court Palace
When: 4 – 19  April
Buy Tickets for Hampton Court Palace: Tickets
> More Egg Hunts for children at Easter in London
There will be different events held for children related to Easter in London in many other places, we recommend checking out the official websites for more information:
Plan a trip to London this Easter
If you're planing a trip to spend Easter in London take a look at our guide to plan the perfect trip. You will find itineraries to make the most of your trip to London as well as walking routes with maps that we have designed.