The London Borough of Notting Hill was made famous by the 90's film of the same name starring Julia Roberts and Hugh Grant. This small neighbourhood located in the northwest corner of Kensington Gardens is well-known for its colourful houses, large street market and being home to the world-famous Notting Hill Carnival which takes place every August.
We have put together this complete Notting Hill Guide, which includes a walking tour to help you discover all the best things in the area. Our suggested Notting Hill tour starts with Portobello Market and takes you to other must-see places in this trendy neighbourhood, including some iconic Notting Hill film locations.
To get a true taste of Notting Hill's buzzing atmosphere, we recommend visiting on a Saturday as that's the day Portobello Market is fully open. In addition to the famous flea market, wander around the neighbourhood to take in the colourful residential mews and other locations from the Notting Hill film, see the place where Jimi Hendrix died or discover the area's history through visiting an original 19th century pottery kiln.
Portobello Road Market, the famous Notting Hill street market
A visit to London's famous Portobello Road Market is a must when exploring Notting Hill.  As the name suggests, the market is located on Portobello Road, reaching up to Golborne Road and is made up of several different street markets and shops offering everything from vintage clothing to food. Saturday is the best day to visit Portobello Road Market as it's when the most sections of the market are open.
Exploring Portobello Road Market
Most people head to Notting Hill Gate underground station and enter the market from here. However, it's possible to enter the market from the other end by Ladbroke Grove station, but you will be walking in the opposite direction to the majority of visitors. Therefore, the route we describe below is starting from Notting Hill Gate and heading north.
The most famous and in our option, most interesting part of Portobello Road Market is as you first arrive. Here you will find a combination of antique street stalls and permanent galleries. Often the entrances to these galleries are just tiny doors on the pavement, so be sure to keep your eyes peeled outside of the market stalls. Once you have passed through the antique area, you'll head into the section of Portobello Market which sells a bit of everything, including clothes, accessories, jewellery, gifts and handicrafts.
Carry on walking and you'll reach the traditional fruit and veg stalls, then an area dedicated to street food and take-aways. This is a great place to grab a quick bite to eat if you want to get something on the go.  With a huge variety of stands offering freshly prepared food from all over the world, it's a fun and cheap way to try a new cuisine. On Fridays and Saturdays, there's an additional market area called Portobello Green, specialising in vintage clothes on Fridays or a wider range of clothes on Saturdays.
In addition to the market stalls, you'll find a numerous restaurants, cafes and traditional pubs on both sides of Portobello Road and its surrounding streets.
Exploring Portobello Road Market is a great way to spend a Saturday in London. We recommend heading there in the morning but be prepared to amble along with the crowds. Due to its bustling atmosphere, Portobello Road is hugely popular with tourists and locals alike so be prepared to go with the flow.
Portobello Road Market Opening Times and what's on
| | | | | | | | |
| --- | --- | --- | --- | --- | --- | --- | --- |
| Day of the week | Opening Times | Antiques | Galleries | Bric a Brac | Clothes and Accesories | Fruit & Veg | Street Food |
| Monday to Wednesday | 9 am – 6 pm | X | X | Some stalls | Some stalls | Some stalls | Some stalls |
| Thursday | 9 am – 1 pm | X | X | Some stalls | Some stalls | Some stalls | Some stalls |
| Friday | 9 am – 7 pm | ✓ | X | ✓ | ✓ | ✓ | Some stalls |
| Saturday | 9 am – 7 pm | ✓ | ✓ | ✓ | ✓ | ✓ | All stalls |
| Sunday | Closed | X | X | X | X | X | X |
Portobello Market is closed on Bank Holidays except for Good Friday (Easter Weekend), where the usual Friday stalls and shops often remain open.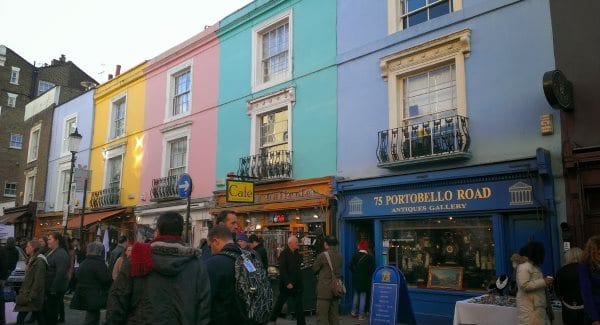 Exploring the area of Notting Hill in London
Many tourists tend to only visit the market but if you have time, we highly recommend exploring some of the surrounding area. To help you discover more of this charming neighbourhood, we've put together a small Notting Hill walking tour as seen on the map below, including:
The iconic colourful houses of Notting Hill: Although you will see some in the Portobello Road Market area, we think some of the most picturesque houses are found in the neighbouring streets.
Authentic London mews: Notting Hill is home to some of the most charming London mews where you'll feel like you have stepped back in time. Don't miss the opportunity to take a picture or two.
The famous recording studios of Sarm West: Bob Marley, Madonna, The Rolling Stones, Lighthouse Family, Boyzone and the Pet Shop Boys are just a few of the famous artists to have recorded songs here.
Historic pottery kiln: One for history fans… In the 19th century, Notting Hill was an area of ​​pig farms and more importantly, pottery. Discover one of the original kilns used to produce bricks and tiles which still stands today.
The building in which Jimi Hendrix died: The hotel where Jimi Hendrix died is in Notting Hill.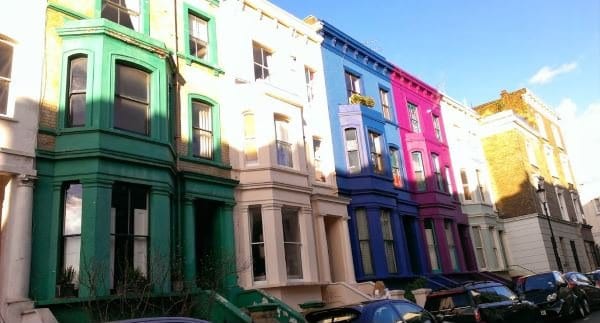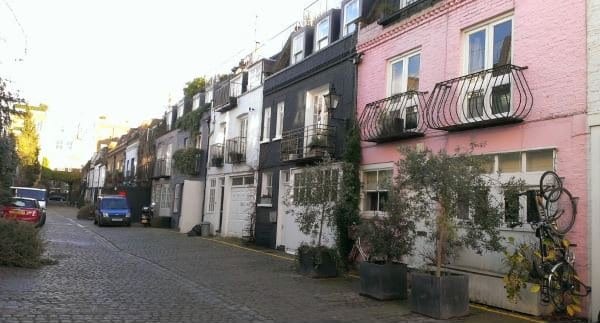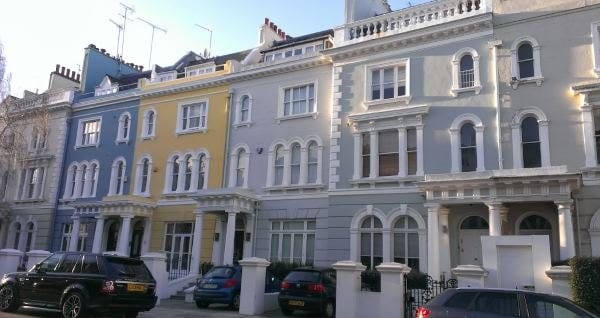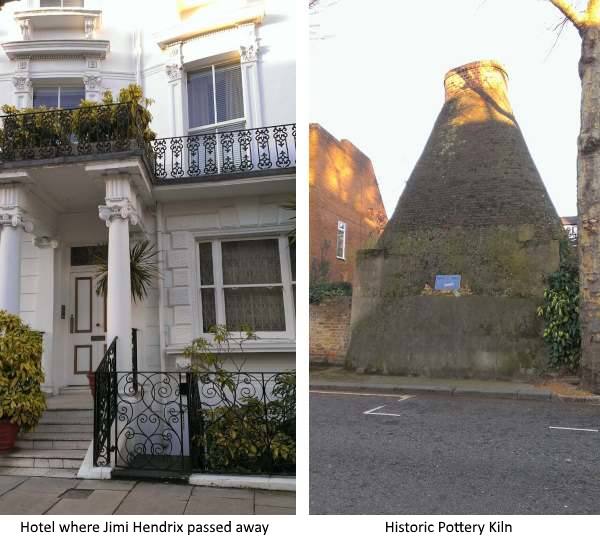 Notting Hill Film Locations
If you're a fan of the Notting Hill movie, you'll probably want to go in search of some of the places that appear in the film, just as we did. Finding the blue door to William Thacker's house or locating the secret garden is sure to be on your list of places to see. To help you along the way, we've also included the following Notting Hill film locations on our map below:
The famous blue door: Although located in an obvious place, many people miss it. The first time we visited, the door was still blue but unfortunately it has since been painted black so it's not as obvious anymore.
The private garden: The scene we all love when they jump the gate to enter the private garden.
William's family home where they celebrate with the birthday dinner.
The bookstore: Although this once was a real book shop, unfortunately it closed a few years ago, but you can find its location on our map.
The corner where they collide: Now home to a coffee shop.
The cinema where William goes.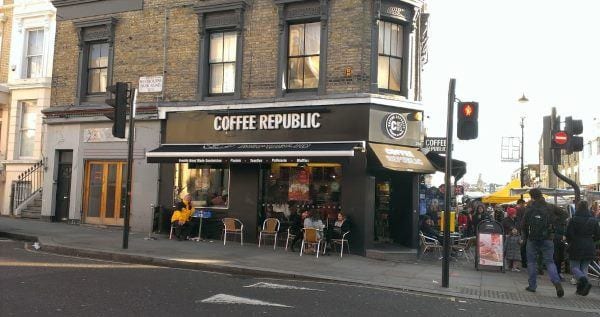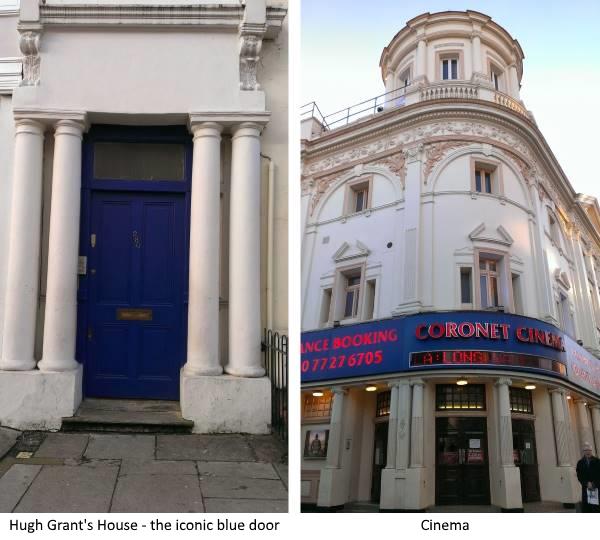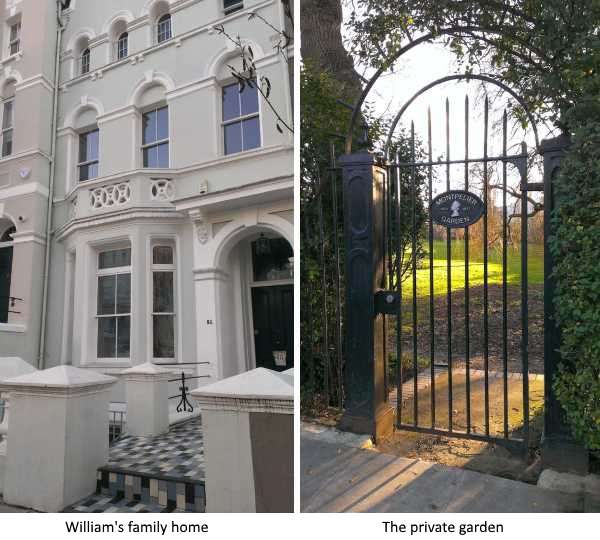 Notting Hill Walking Tour and Map
More information on this Notting Hill walking tour route can be found in our London Itinerary 5 article.