There are so many things to do on a Saturday in London that planning a weekend in the city will definitely be an easy task. Choose from an array of Saturday Markets in London, explore the different shopping districts, dine in the best restaurants that the city has to offer or enjoy some of the best events in London.
Saturdays in London are obviously filled with excited tourists, and even though the streets may be a little crowded some weekends it's still a great opportunity to explore all that London has to offer. Although London is normally packed on a Saturday, you may want to avoid the office areas such as Farringdon, Bank and Moorgate as they are very quiet during the weekends with most shops and restaurants even closing.
If the weather is nice we would highly recommend a stroll around one of the beautiful parks of London and in summer there are even public pools that people flock to! And not to mention the vast amount of museums and shopping centres to explore.
However, there are also some things that are only available to do on a Saturday – so we are going to tell you about those too.
Saturday Markets in London
If you are planning a trip to London, it's worth planning your trip knowing that some of the best street markets in London are only open on Saturdays, so don't forget to include this in your itinerary.
Portobello Road
The iconic Notting Hill flea market. Even though parts of Portobello Road Market are open on other days of the week, there is a full market on Saturdays, and therefore, this is undoubtedly the best day to visit this famous London market. On Saturdays Portobello Road Market in Notting Hill is open from 9 am to 7 pm.
Find out more: Notting Hill Guide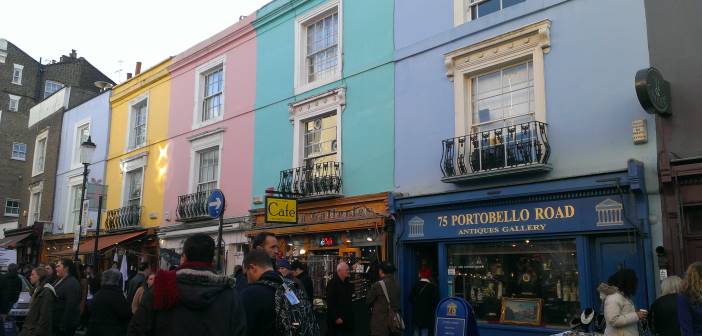 Borough Market
The oldest market in London, and a must-see when visiting London. Borough Market is located next to London Bridge Underground Station. There is a full market from Wednesdays to Saturdays, and on Saturdays Borough Market is open from 8 am to 5 pm.
Camden Market
Another very famous London Market, and even though it's open every day of the week, there is a full market on Saturdays, with all of the shops and stalls open. It is probably also one of the busiest places to visit in London on a Saturday. Camden market is open daily from 10 am to 6 pm (except Christmas Day).
Broadway Market
A wonderfully charming street market next to Regent's Canal in Hackney that only opens on Saturdays. It's not a popular tourist spot, but frequently visited by locals. Broadway Market is open from 9 am to 5 pm on Saturdays.
Spitalfields Market
Another market in London worth checking out. Spitalfields Market is open every day of the week, and on Saturdays their opening times are from 11 am to 6 pm. If you are planning on visiting Spitalfields Market we would suggest visiting on a Sunday, as Brick Lane Market and Petticoat Lane Market are right next to Spitalfields Market and the three of them are open on Sundays.
Maltby Street Market
A hidden gem located in south-east London. Maltby Street Market is open during weekends, and on Saturdays is open from 10 am to 5 pm.
Brixton Market
A combination of outdoor markets located on pedestrianized roads and a beautiful covered market. The outdoor markets are located on Electric Avenue, Pope's Road and Brixton Station Road. Brixton Village and Market Row are covered market arcades, but are also connected to the outdoor markets. On Saturdays the outdoor markets and the covered markets are all open, and there is also a themed market on Brixton Station Road. Brixton Market is open on Saturdays from 10 am to 5 pm.
Tourist attractions that open on a Saturday in London
All tourist attractions in London open on Saturdays (except if it's Christmas day!). This includes London's most famous attractions like for example: the London Eye, The View from the Shard, Madame Tussauds, the Sea Life London Aquarium, the Tower of London, Shakespeare's Globe, St Paul's Cathedral and Westminster Abbey (just to name a  few!) which are all open on Saturdays.
Sightseeing bus tours and Sightseeing River Cruises also operate on Saturdays in London, and they can sometimes the best way to see London when the streets are crowded!
The Best Tourist Attractions in London
Museums that open on a Saturday in London
All the famous museums in London are open on Saturdays, such as the Natural History Museum, the Science Museum, the Victoria and Albert Museum, the British Museum and the Tate Modern, just to name a few!
Shops and restaurants that open on a Saturday in London
Shops and restaurants in central London are always open on Saturdays (except if it happens to be Christmas Day!) and you can walk, shop and dine in the most popular tourist spots in London such as Regent Street, Oxford Street, Soho, Leicester Square and Piccadilly Circus, just to name a few.
Famous big department stores such as Harrods, Fortnum and Mason and Liberty are open on Sundays. Westfield shopping centres (White City and Stratford) also open on Sundays.
Guided tours available on Saturdays
Walking tours are available mostly during the weekends in London, some famous walking tours include Jack the Ripper walking tour or Changing of the guard walking tour or the famous Harry Potter locations walking tour.
On Thursdays and Saturdays, you can enjoy some arts and culture with a free guided tour of Somerset House, yes FREE! Located in the heart of the city, between the Strand and the River Thames is Somerset House, an incredible neo-classical building. You'll see 55 fountains dancing in the courtyard, and during the winter months you can even ice-skate. They often host open-air concerts, films, contemporary art and design exhibitions.
Do something a little different
If you've done all the most popular tourist spots in London, then maybe it's time to explore an area that you're not as familiar with. For example, you could make your way to the beautiful Richmond neighbourhood, where you can visit the farmer's market on a Saturday or the stunning Greenwich, where you will also find the Royal Observatory. The district of Hampstead has plenty of trendy bars and restaurants as well as Hampstead Heath, a stunning park to explore – and you can see the spectacular London skyline from the highest point in the park.
Our suggestions to spend the perfect Saturday in London
Personally, we think the best way to spend a Saturday in London is to spend the morning at one of the amazing  Saturday markets in London before heading to Covent Garden to see the street entertainers, do some shopping and go to one of the restaurants. And as the sun goes down, head to the South Bank, for a walk along the River Thames – taking in the sights of the London Eye, Westminster bridge and Big Ben.