You have probably heard it before, but London never stops! London at night offers endless possibilities; whether you're a foodie, want to go dancing or experience some live music in Soho, or want to continue exploring London's history, there's something for everyone.
Walking around London at night means you can enjoy London's skyline at its best, with all the skyscrapers illuminated and the light reflections over the River Thames, a wonderful and romantic experience for those that don't want to stop visiting the city when the sun's gone down. There are numerous buildings and key tourist spots in London that I recommend seeing illuminated at night, such as Big Ben, the London Eye, St. Paul's Cathedral or the famous London Tower Bridge.
When does it get dark in London?
This does vary according to the time of year. Generally speaking, it gets dark at 4 pm in the winter and 9 pm in the summer. The dark afternoons and evenings in winter are filled with Christmas lights in central London, and the light evenings during the summer are filled with events and walks in the park. Knowing when it gets dark in London can be useful for planning a trip to London.
Special Plans to See London at Night
Take a cruise on the Thames at night
One of the best ways to see London lit up at night is on a Thames River Cruise on the Thames. This offers great and unbeatable views of the city's skyscrapers and key tourist spots from the river. If you are searching for a special experience, you can book a River Thames Evening Cruise with Bubbly and Canapés,  or enjoy a fantastic River Thames Dinner Cruise.
⇒ See all River Thames Cruises available
See one of London's Top Musicals
Seeing one of the best musicals in London is something I would recommend you consider if you are planning a trip to London. A session starts at approximately 7.30 pm each evening and lasts about 2.5 hours. Most of the theatres are located around Covent Garden and Leicester Square. There are numerous restaurants and bars in these areas of London to dine or have a drink, either before or after going to the theatre.
Dine in one of London's Restaurants with a view
Central London is full of restaurants, with cuisines from around the globe, so going out for dinner in London at night is always about choosing where to go given all the options available. Still, if you want to go somewhere exceptional, I'd look at those restaurants with a view in London. The Sky Garden or the Shard stand out when talking about restaurants with a view in London, but in addition to these two famous skyscrapers in London, many more restaurants offer great views of London.
⇒ Restaurants with a view in London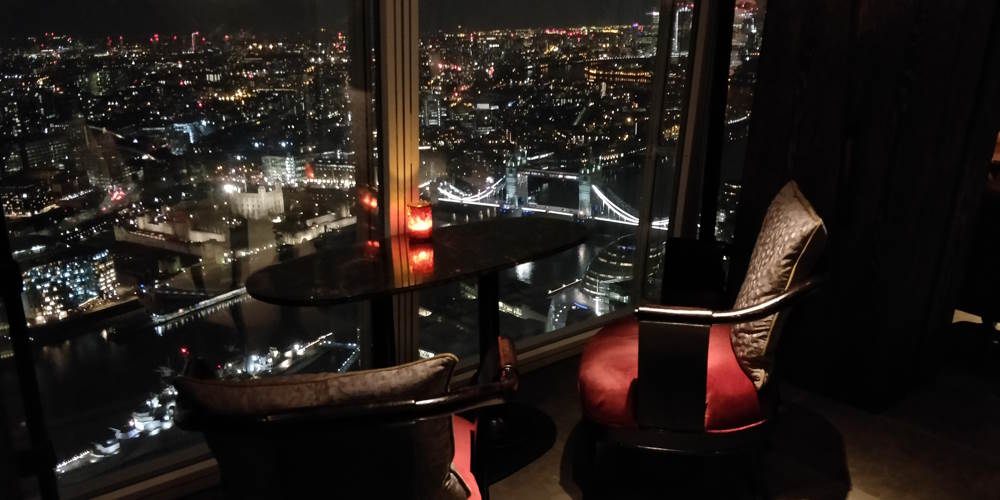 Recommendations for visiting London at night
Attend the Ceremony of the Keys at the Tower of London
The mysterious ceremony of the keys of the Tower of London is surely the oldest in the world, and it has taken place every night for the last 700 years. This ceremony is held every night to close the doors of the Tower of London, where the British crown jewels are kept. And best of all, it is possible to attend for free.
To attend the Ceremony of the Keys at the Tower of London, you must book in advance on the Tower of London's official website. You must normally book months in advance, as tickets sell out quickly!
Attend a Twilight Tour at the Tower of London
The Tower of London also offers the possibility of joining a night tour, during which the guide tells us many historical facts and curiosities about the Tower of London. These night tours do not include entrance to the crown jewels or the towers; they take place some Sundays of the year at 7:00 pm, and buying tickets in advance at the Tower of London's official website is necessary.
Join one of the many London Night Tours
In addition to the many day-time tours available in London, many tours take place at night. One possibility is to do un a Nighttime Open-Top Bus Sightseeing Tour. This is a great way to see London at night without missing any of the most important sites and take beautiful photos. Some tours, such as the Jack the Ripper Tour, are probably better at night.
Visit The Shard at night
The Shard is the tallest building in London and has an observation platform on its 72nd floor, one of London's most famous tourist attractions. The Shard is beautifully illuminated at night, standing out in London's skyline. One of the times we visited the Shard, we went in the afternoon and saw the sunset, which was spectacular. The Shard is open until 9 pm, and you must book tickets in advance. Entry is free with the London Pass, and we always recommend visiting the Shard with your London Pass once the rest of the attractions have closed to make the most of your London Pass.
⇒ The View from the Shard in London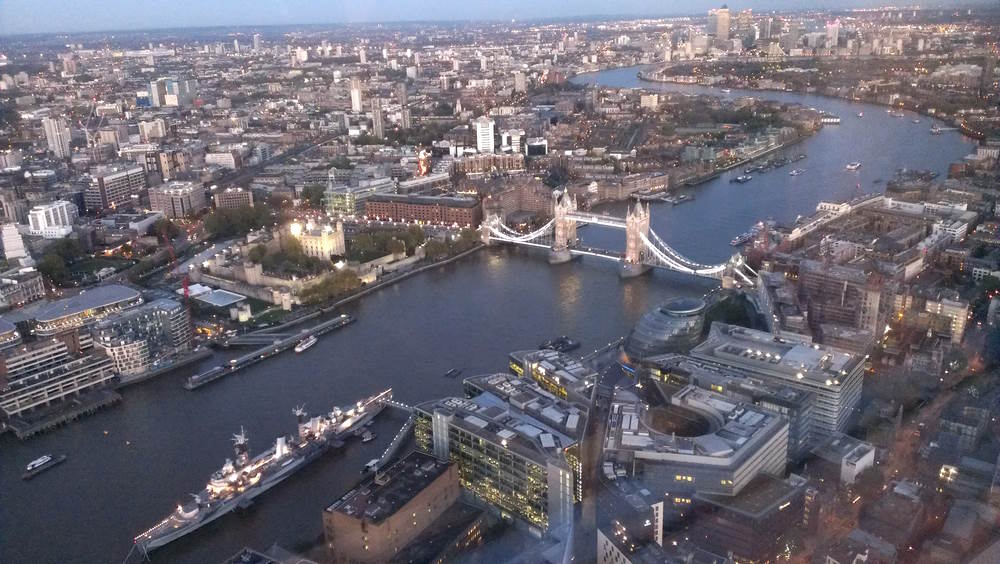 Visit the Sky Garden at night
The Sky Garden is located on the 35th floor of another skyscraper in London and has a viewpoint from which you get spectacular views of the city. Going up to this viewpoint is free, but you must book tickets in advance to guarantee entry. It's usually open until late during the weekends.
Museums open until late
Most of the museums in London close around 5 or 6 pm, but there is usually one day a week that each museum is open later. Keeping in mind which days each museum is open later can make planning a trip to London easier. Usually, Friday is the day of the week when various museums in London are open late.
Many museums in London also often hold events, guided tours or talks in the evenings. These events are called "Museum Lates", and you can find specific information about each of them on the official website of each museum.
⇒ Museums in London open until late
Recommended bars and restaurants to go to in London at night
In addition to the restaurants with views mentioned above, I have to say that there are some restaurants or bars in London that, even if they do not have views, are worth considering if you are looking for something different to do in London at night.
One of the restaurants that I personally absolutely love is Sarastro. We have compiled a list of restaurants in our article Where to eat in London with information on some of our favourite restaurants in central London. You can also check out our selection of romantic restaurants in London.
As for bars, there are millions of bars in London! But there are a couple of places in Soho that need special mention: The first one is Cahoots, a 1920s-themed bar that simulates underground carriages in Carnaby street and Ronnie Scott, London's most famous Jazz venue.
Pub crawls are also a good way to see London's nightlife, this consists of going from pub to pub and having a drink in each one of them. You can join a pub crawl tour, visiting the most authentic places in London on the way. An example of a pub crawl tour is the one that takes place in Camden: Pub crawl in Camden
⇒ See pub crawls and bar tours
Go shopping in London at night
Shops usually close at 5 pm in the UK, but in some cities in England, shops normally close at 5.30 pm or 6 pm at the latest. In central London, luckily, shops tend to close later, something that tourists certainly appreciate.
Most shops on Oxford Street and Regent Street, London's most famous shopping streets, are open until 9 pm Monday to Saturday and 6 pm on Sundays. Westfield shopping centre in Shepherd's Bush is open until 10 pm. Harrods department store is open until 9 pm Monday to Saturday and until 6 pm on Sundays. Fortnum and Mason department store on Piccadilly Street is open until 8 pm Monday to Saturday (or 9 pm some days in the summer months) and until 6 pm on Sundays.
The Lego Store in Leicester Square is normally open until 10 pm Monday to Saturday and until 6 pm on Sundays, and the M&M's store is open 10 am – 9 pm Monday to Saturday and until 6 pm on Sundays.
We'd recommend checking opening times on their official websites before planning an evening trip!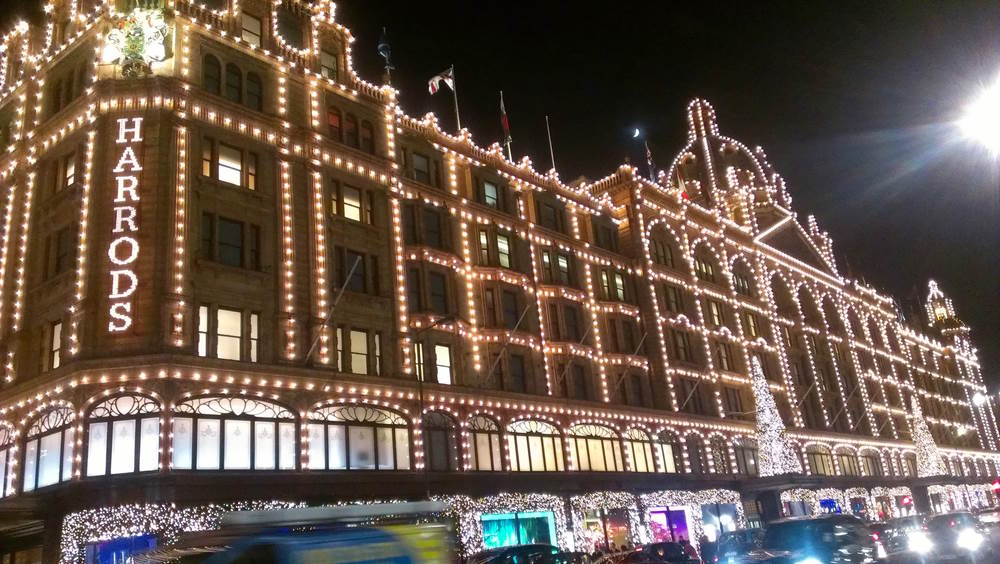 Walking around London at night
If you want to take in the sights at night, then just strolling around London once it's dark is something you might want to consider. We have walked until quite late along the South Bank or in Central London and have never felt unsafe, as there are always plenty of people walking around, especially during the weekends. But as in any city, this will also depend on the time and the exact area!
Walking through central London at night
Walking through some of the most tourist places in central London is something you might do, especially if your hotel is in Central London. Covent Garden and Leicester Square at night are normally buzzing at night due to the high number of restaurants and bars that there are around here. This is where most of London's theatres are, and as the theatre shows or musicals normally end at around 10 pm, you'll see lots of people leaving the theatres at this time and looking for somewhere to eat.
London's Soho is where many bars, clubs and nightclubs are concentrated, which is why it is usually one of the most popular areas to go to if you fancy a drink. There are also plenty of great restaurants in Soho, so I would encourage you to check out this area if you want dinner. In particular, I would recommend Bill's restaurant, Ping Pong or Dishoom, as they are some of our favourite restaurants in London.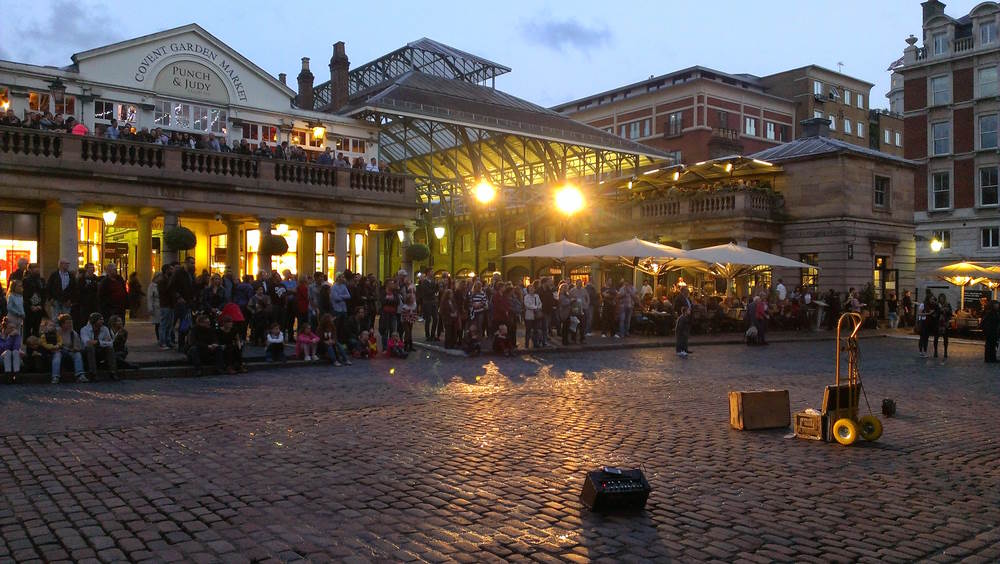 Stroll along the Southbank
Just opposite the London Eye, on the north bank of the River Thames, you can take some beautiful photos of the London Eye, and Big Ben illuminated at night. This is one of the places we used to visit the most at night the first year we came to live in London. From here, we can cross Westminster Bridge to reach the south bank of the Thames. This area is known as Southbank, and from here you can walk all the way to Tower Bridge in London with fantastic views of London's skyline.
We love this walk, which is one of our favourites at nighttime. Once you walk past the London Eye you will find the Royal Festival Hall. There are several restaurants and cafeterias here, so there are usually many people here, even at night. From here, you can continue walking until you reach the Millennium Bridge. This is the best place to take a photo of the millennium bridge with St Paul's Cathedral in the background, which is beautiful at night. I have to say that some specific areas are poorly lit, but in general, I do not consider it a dangerous place to walk at night, although we have spotted a fox at nighttime here!