Choosing where to eat in London can be a daunting task and not because British food has a bad reputation. On the contrary, we think London is one of the world's gastronomic capitals due to the incredible variety of restaurants on offer. You could easily try cuisine from 30 different countries without travelling more than 30 minutes. So, if you're prepared to be adventurous, you can sample Indian, Turkish, Lebanese, British, French and Italian… and that's just for starters!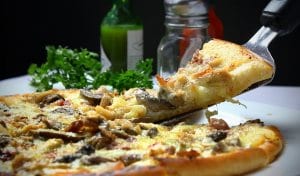 With food venues ranging from street markets to Michelin-Starred restaurants, dinner in London can cost a couple of pounds to a couple of hundred pounds.
Dine in a modern restaurant overlooking the London skyline or in a vintage basement with no windows at all, the choice of restaurants is endless. Those after a unique experience can have dinner whilst watching a live show or on a boat cruising the Thames.  And if that's not adventurous enough, you could always try eating in the dark or at the top of a crane!
As you can see, there's certainly no shortage of places to eat in London. The biggest issue is that you won't have time to try them all. But don't worry, we have visited a fair few now so we hope our guide on where to eat in London will make it a bit easier….
Bon appetite!
Fast Food Restaurants in London
London's fast food restaurants are a popular choice with tourists looking to reduce the cost of having to eat out every day or simply because they want to grab a quick bite, so they have more time to explore the city.  You will of course, find all the recognizable fast-food chains like McDonald´s and KFC, but you'll be missing out if you only eat at these places.  Over recent years, a wide range of healthier and more diverse fast-food places have sprung up all over the city so be sure to check these out instead.
Chain Restaurants in London
Chain restaurants are a great choice when looking for places to eat in London as most offer affordable lunch and dinner deals, making them popular with locals and tourists alike. You'll find plenty of chain restaurants in all the touristy areas of London so you'll never have to spend too long looking for somewhere to eat.
Head to a Byron´s, for delicious yet affordable burgers, whilst Wagamamas is a great option for noodles and tasty Asian dishes. Bella Italia, Strada, Ask, and Prezzo are popular Italian chains.
Finally, we couldn't leave out  Nando´s, the well-known restaurant chain offering chicken, chicken and more chicken at various spice levels and a choice of sides. A great option when looking for cheap restaurants in London.
Traditional London Pubs
No trip to the city would be complete without visiting a traditional London pub and trying at least one typical British dish. Many people think pubs are just for having a drink, but on the menu, you'll usually find tasty 'pub grub' consisting of a Sunday Roast, meat pies and bangers and mash (sausages and mashed potatoes).
Street Food Markets
London's famous food markets have become increasingly popular with tourists and city workers looking for more interesting places to have lunch. London's food markets are a great way to try fresh food from different countries and tend to be cheaper than eating in restaurants.
Traditional British Afternoon Tea
The traditional afternoon tea has grown in popularity over recent years and is a fun way to tick something typically British off your list.  Usually served from 12 pm, afternoon tea includes a selection of sandwiches and cakes served with tea or champagne.
British Restaurants
In addition to traditional London pubs, you'll also find a large selection of 'gastropubs', serving top-quality food in a more contemporary atmosphere.  Traditional British food is also found in famous restaurants like Rules and Browns.
Special Occasion Restaurants
If you're looking to book a special restaurant or fine dining experience, look at our guide on London restaurants with a view or the best romantic restaurants in London. We also think London's famous Hard Rock Café near Hyde Park is still worth visiting.  Another great option for a special occasion is a Thames dinner cruise, where you can take in some of London's top sights from the river as you dine.
Where to Eat in London with Children
There are plenty of options when looking for places to eat in London with children, including family-friendly pubs and venues especially designed with kids in mind. Kids even eat free in some restaurants. We have a whole handy section with more information.
Our Personal Recommendations for Where to Eat in London 
Having lived here for many years, it's impossible to name all our recommendations for places to eat in London. However, here are some of our favourites:
Sarastro: Whenever someone comes to visit us, we try to take them to the Sarastro for an unforgettable experience
Poule au pot and Maggie Jones: Two unique restaurants for their decor and food
Spaniard's Inn: Historic pub located in Hampstead
Ping Pong: Dim Sum and cocktails
Dicken's Inn: Historic pub in St Katharine's Dock
George Inn: Traditional pub next to Borough Market
Pho: Vietnamese, healthy food that will have you licking your lips
Bill's: Chain of British restaurants with a large venue in Soho
Best Areas to Eat Out in London
Although no parts of London are short of restaurants, a few areas stand out for having the widest choice.
When having lunch or dinner in London, we recommend heading to these central areas:
Southbank (south side of the River Thames)
Covent Garden
Soho, including Carnaby Street
Victoria
Notting Hill
Between Goodge Street and Warren Street underground stations, you'll find many traditional pubs serving food.