The switching on of the different Christmas lights in London marks the beginning of Christmas in London. Some of the capital's biggest shopping destinations, such as Oxford Street, Regent Street, Covent Garden and Carnaby Street celebrate the switching on of the Christmas lights with live music, free events and sometimes even fireworks!
London celebrates Christmas like no other city. Every little street in London is neatly decorated to the smallest detail with the largest display of Christmas decorations and lights that one can imagine. In addition, the ice skating rinks and Winter Wonderland in Hyde Park open in November, and many Christmas markets start to appear in London. The Nutcracker ballet opens its doors to the public as well as many Christmas musicals and pantomimes.
Most of the dates for the switching on of the Christmas Lights in London this year have already been announced. Most Christmas lights in London will be on until the 5th or 6th of January 2023.
One way to see the best Christmas lights in London is on an Open Top Vintage Bus Sightseeing Tour.
The switching on of Oxford Street's Christmas Lights in London will take place on Wednesday 2nd November 2022 (confirmed date). The Oxford Street Christmas lights will be turned on until January 5, 2023.
More than 5,000 stars light up London's Oxford Street for Christmas, consisting of 300,000 tiny state-of-the-art LED bulbs, creating unique Christmas lighting. These stars, in addition to lighting up Oxford Street during the Christmas season also light up London's West End.
Over the past few years, we have seen various Christmas lights on Oxford Street, including the green and blue hues that simulated the Aurora Borealis over the London sky and the 1,778 white balls that floated above Oxford Street every Christmas for the past few years. The Christmas lights of Oxford Street are usually sponsored by different charities, such as NSPCC or sky cinema to raise money for charity.
Oxford street normally celebrates the Christmas lights switch on with a huge event every year, with live music on a stage. Due to COVID this hasn't been the case for the last couple of years, but we are hoping that this year a special event will be announced again. The stage is usually located in front of Parks House, next to Marks and Spencer, which is specifically located on the stretch of Oxford Street between Oxford Circus and Marble Arch. Most shops offer 20% ​​off on this day, so it is also a good opportunity to start Christmas Shopping!
The switching on of the Christmas Lights in London on Carnaby Street will take place on November 8th, 2022 (confirmed date). Carnaby´s Christmas lights are undoubtedly one of the most anticipated events of Christmas in London since the Christmas decorations of Carnaby Street are usually nothing less than spectacular.
This year Carnaby Street celebrates  25 years of lights and installations. To celebrate this, Carnaby will decorate the streets with the most-loved pieces from the past. Throughout Carnaby, visitors will see an exciting element of historic installations, including neon lyrics from Queen's Bohemian Rhapsody, glittering Rolling Stones tongues, fan favourites such as oversized robins, a giant snowman, colourful palm trees from Carnaby Carnival as well as underwater scenes from the unforgettable Under The Sea.
The installation will illuminate Carnaby Street, Foubert's Place, Ganton Street and Newburgh Street. The iconic Carnaby arches will be adorned with silver shimmer discs embellished with carnival decorations and a dazzling globe will be brought back to celebrate that 'Carnaby Welcomes The World'.
The project is in collaboration with charity partner Choose Love, to highlight and support the urgent need to raise funds for refugees around the world. Choose Love will have a shop at 15-17 Foubert's Place selling a collection of limited edition products, along with refugee gifting packages, with a constant stream of celebrity guests popping in to serve customers.
Carnaby Christmas Shopping Party will also be taking place this day from 5 pm to 9 pm. More than 100 shops, bars and restaurants in the 13 streets of the Carnaby area will offer a 20% discount on most of their products. There will also be live music, competitions and giveaways. If you just want to see the Christmas lights switch on, then you can just show up on the day, but if you want to take advantage of the Carnaby Christmas Shopping Party discounts, you need to register in advance on their website.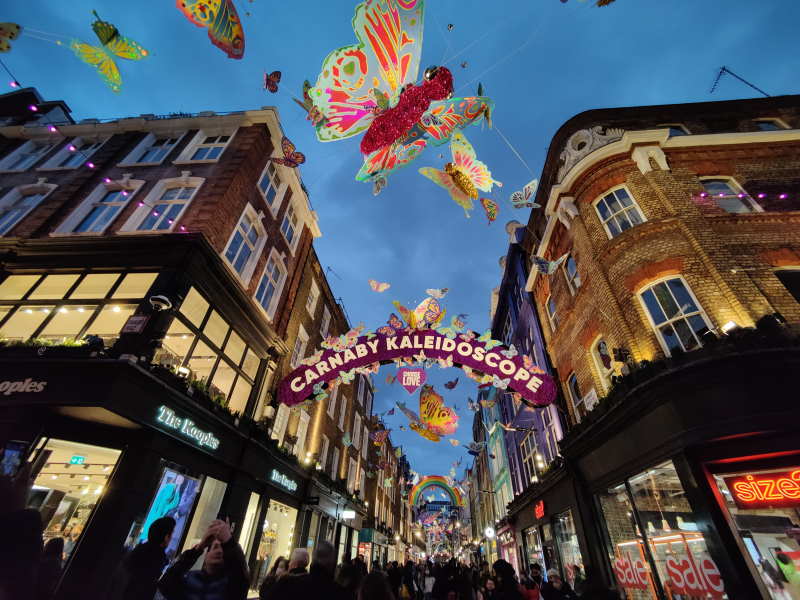 Regent Street
The big switch-on of the Christmas Lights on Regent Street will take place on the 9th of November 2022 (confirmed date). The lights will be on every day until January 3, 2023.
Every year, the switch-on of the Regent Street Christmas lights in central London is celebrated in style. Traffic tends to be closed throughout the day, and Regent Street is filled with numerous stalls with activities for all ages from early in the morning. From 4 pm there's a show on a stage at one end of the street (usually the Piccadilly Circus end) hosted by celebrities and featuring live music. The switching on of the Christmas lights on Regent Street usually takes place at around 5 pm and is often accompanied by a fantastic fireworks display. But we still don't know what the plans are for 2022!
Magical Covent Garden is even more magical at Christmas, and you cannot visit London at Christmas without visiting this wonderful place. The Christmas lights in Covent Garden will be switched on on the 8th of November 2022 (confirmed date).
Inside the piazza, the Christmas decorations and lights that hang from the ceiling are usually one of the most photographed places during Christmas in London. Outside the piazza you´ll find a huge Christmas tree. There are also free events that run during December to get into the festive spirit.
The switching on of the Christmas tree in Trafalgar Square will take place on the 1st December 2022 (confirmed date) at 6pm. The Trafalgar Square Christmas tree is the latest Christmas detail to take place in London. It is the tallest Christmas tree that is installed each year in London.
The Trafalgar Square Christmas tree switch-on will take place at 6 pm, and there is usually a choir singing Christmas carols until 7 pm. From December 9 to 24 there will be different choirs singing Christmas carols at the foot of this gigantic tree.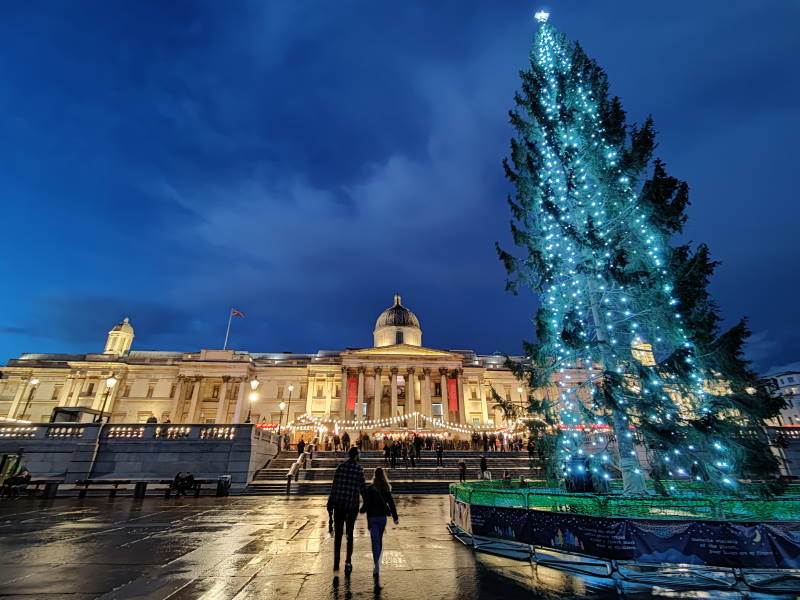 Planning a trip to London for Christmas
By mid-November, all the Christmas lights in London have been switched on except the Christmas Tree in Trafalgar Square. All the ice rinks are normally open too, and many Christmas markets have already opened too.
Most shops will also have their Christmas shopfronts installed. Harrods, Selfridges and Fortnum and Mason´s are well worth visiting. Every single shop in the most famous shopping areas, such as Oxford Street, Regent Street and Covent Garden will also have amazing shopfronts installed.