Visiting London with kids is an unforgettable experience, and when planning a trip to London with children, you will want to make the most of the long list of things to do with kids that London has to offer for your little ones.
Keep this list with the top things to do in London with kids handy, and make sure to capture their smiles when you surprise them with all the lovely things they will discover in the most fantastic city of all.
30 things to do in London with kids
1. Hamleys
This has to be our number one plan on our list of things for children in London. No matter how old they are, surprise them with a visit to London's most famous toy store. This renowned toy store was established in London over 250 years ago, and it's a kid's paradise. With six whole levels of interactive fun and hundreds of toys to choose from, we know they will not leave empty-handed.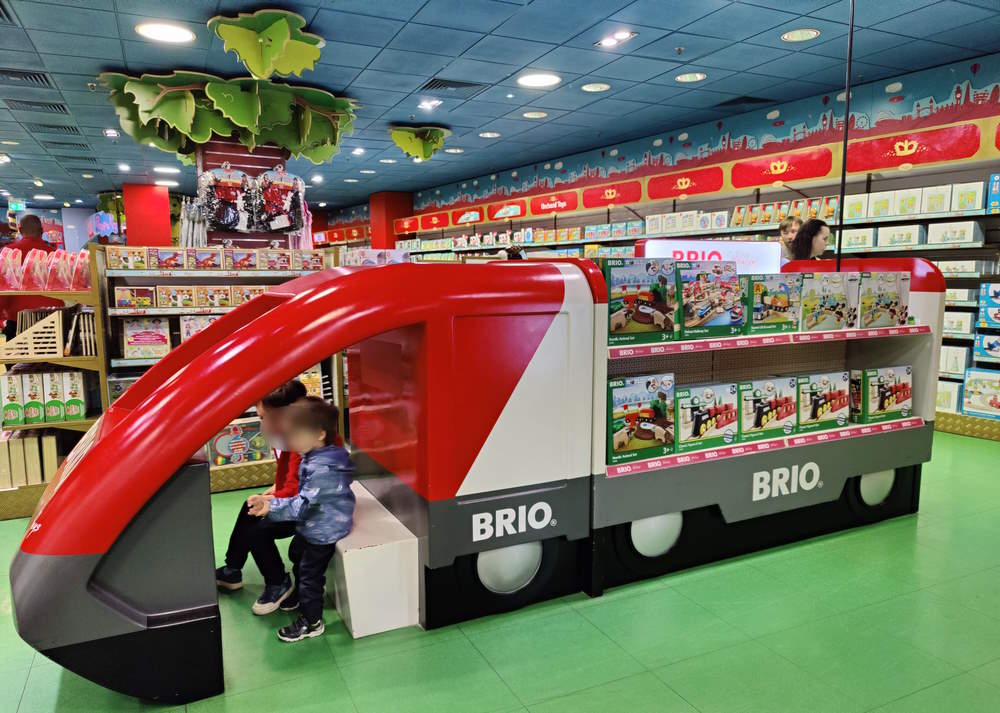 2. Diana's Memorial Playground in Kensington Gardens
Hyde Park and Kensington Gardens offer many possibilities to spend a few hours in London with kids. You can look for the statue of Peter Pan, and visiting Princess Diana's playground is a must when visiting London with kids. There is a giant wooden pirate ship surrounded by sand, ideal if you need them to burn some energy.
The friendly squirrels in London's famous parks always want something to eat, so make sure you take something suitable, such as peanuts. They will most likely eat out of children's hands, but for safety reasons, we advise that you ask your kids to throw the food on the floor just in case!
3. Take them to one of London's Best Museums
Who said museums were boring? Most of London's museums are super child friendly, and the most likely thing is that they won't want to leave. Try the Natural History Museum for dinosaur fun or the Science museum for a whole interactive world. These two museums are located right next to each other in South Kensington. Still, you can easily spend an entire day wandering around one of these museums, so make sure you have plenty of time in one of these fascinating museums.
Another highly recommended museum to visit with kids is London Transport Museum in Covent Garden, it is a fascinating and interactive museum ideal for kids.
» More information: London's Best Museums for Kids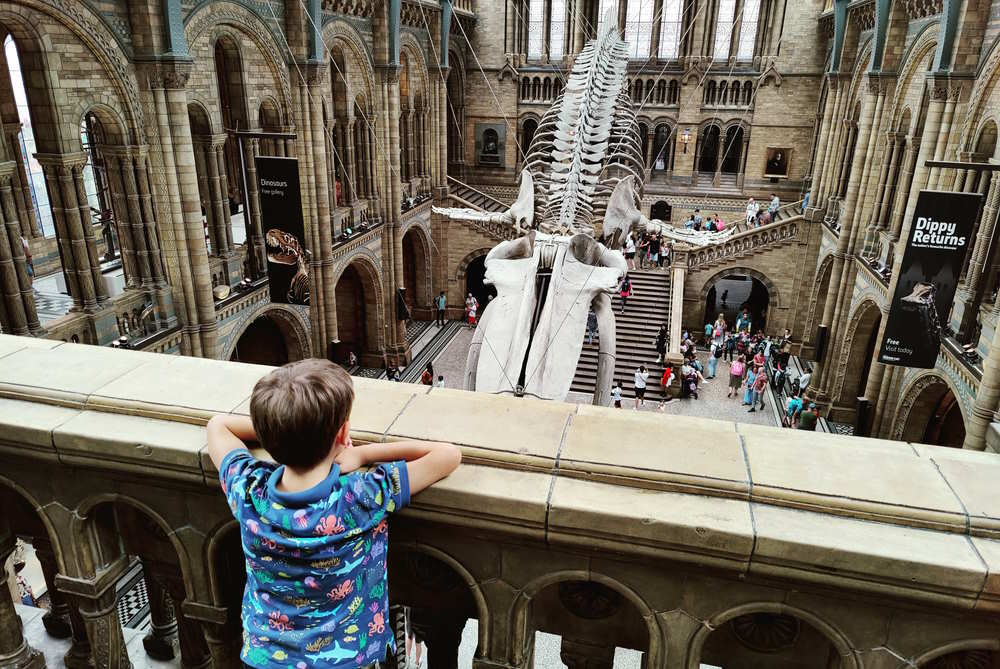 4. Kew Gardens
If you say to your kids, "We are visiting The Royal Botanic Gardens of London today", they will most likely say that they don't want to go, as it sounds like this place could be boring for children. Still, it's one of the best places to take the kids in London, and it's one of the places where Londoners take their children frequently for the day out. Not only can you tell them about all the different species of plants and look at all the different flowers, but there are several playgrounds for children and a fantastic treetop walk, making Kew Gardens a fantastic day out in London with kids. Cafes and restaurants facing a beautiful park are ideal for a picnic if the weather is nice.
» More information: Kew Gardens
5. HMS Belfast
Anchored on the Thames is the HMS Belfast, a fantastic ship museum that participated in World War II. It's wonderful, and I can guarantee it will blow their minds even if they're not into boats. It is more suitable if you have slightly older children though, as some places can get narrow and there are many steps. And the best thing? Children under 16 enter for free.
» More information: HMS Belfast
6. Tower of London
The Tower of London is undoubtedly one of London's must-see attractions, and it's a good place to take the kids too. There's so much to show them here; they will undoubtedly love the royal armour collection and don't forget to tell them the scary stories that the bloody tower has to offer or show them the Crown Jewels… The legend of the crows is also another interesting to talk to them about.
» More information: Tower of London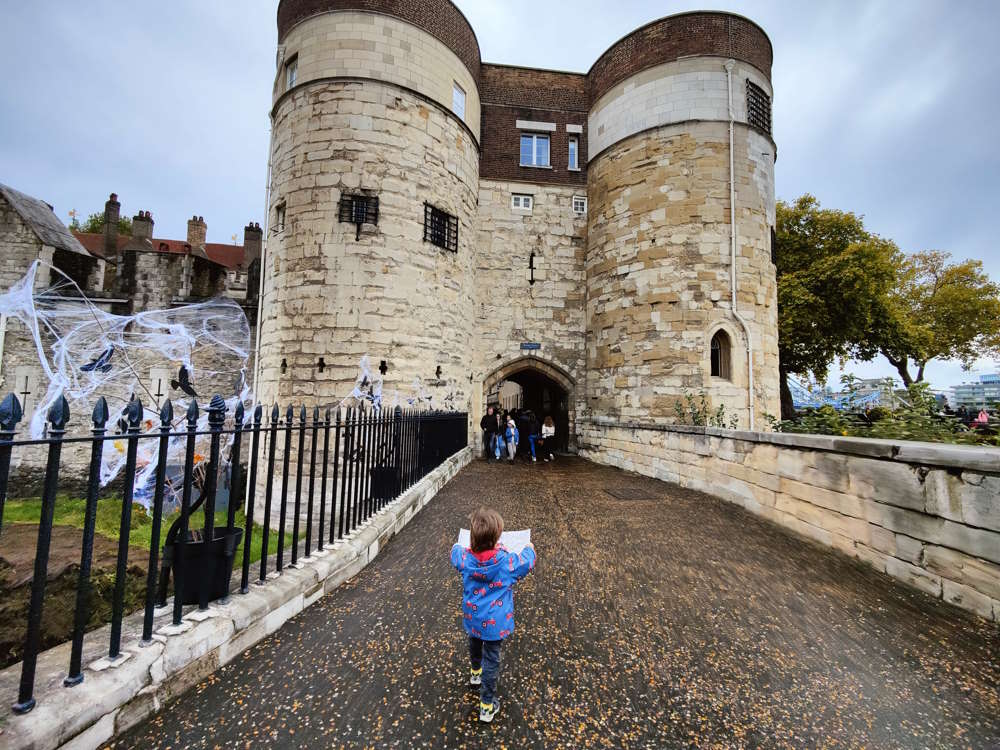 7. Go to a Musical
London's theatres always have something on for kids, and in our opinion, this is probably one of the best things to do in London with children. Some of the best musicals in London are fantastic for kids, such as The Lion King or Wicked, and they are on all year round. Adults will also love going to a musical, and with two sessions a day, it's really easy to pick what time suits your family best. During the Christmas period, there are also pantomimes dotted around in different theatres in London, and who doesn't love a Christmas panto?
» More information: Top Musicals in London
8. London Eye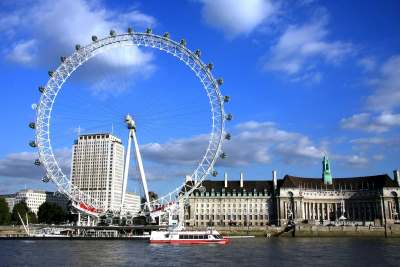 If you visit London with the kids, you must go to the London Eye. It is one of London's most famous attractions, and you know they will ask to go on it when they see it. At its highest point, 135 meters, the views over London are simply spectacular, and you'll undoubtedly be able to take some of the best photos of your trip from here.
We highly recommend buying your tickets in advance to avoid the queues.
» More information: London Eye
9. Shakespeare's Globe
When you visit the Shakespeare's Globe Theatre, there is a fantastic exhibition which is great for kids, and they often have different activities available for children. It's located on the Southbank, so it can be a very entertaining visit for children during a pleasant walk alongside the River Thames.
» More information: Shakespeare's Globe
10. Legoland Windsor
The Legoland theme park is definitely an option if what you want is an unforgettable day for your little ones. A fun-filled day with more than 55 rides and attractions in one place, where the incredible LEGO models cannot be missed! As it's out of London, travelling by coach from the city centre is often the easiest way.
» More information: Legoland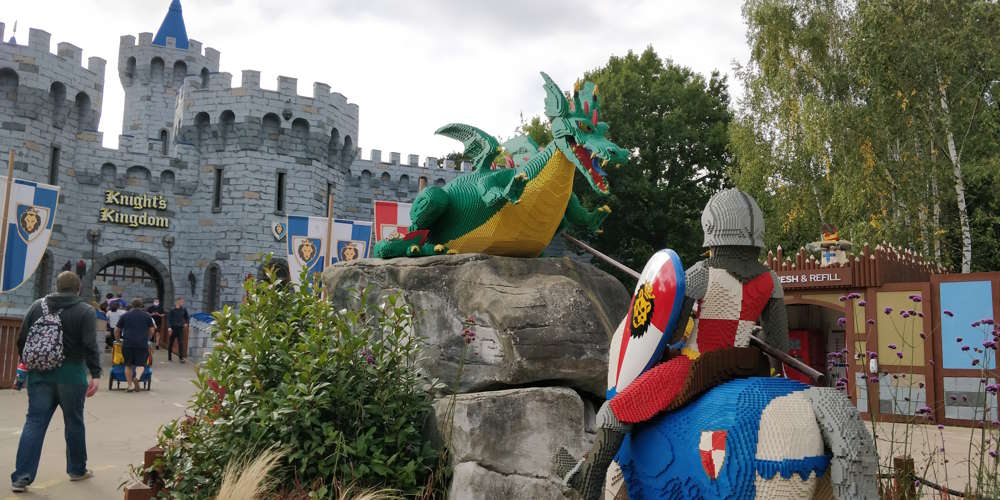 11. Harry Potter Studios
Harry Potter fans should not miss the opportunity of visiting the Warner Brothers Studios. A magical tour through the scenes of the Harry Potter films, and the chance to see the costumes worn by Harry, Ron and Hermione. You can walk along Diagon Alley and ride the Hogwarts Express at Platform 9 ¾.
» More information: Harry Potter Tours
12. London Dungeons
Experience the darkest side of London at the London Dungeons… A 1.5-hour tour will take you through London's past and allow you to enter Sweeney Todd's barber shop or discover the truth about Jack the Ripper… You may have to run at some point, so make sure you wear good shoes! This is the perfect plan to get your kid's adrenaline rushing!
» More information: London Dungeons
13. KidZania London
Let your kid become a firefighter, a surgeon, or the next acting sensation at KidZania London on this half-day experience. This is the UK's first educational entertainment experience where children can learn real-life skills in a child-sized city.
» More information: KidZania London
14. Greenwich
Spending the day at Greenwich is a perfect plan for all the family, with many things for children to enjoy. First, you can explore Greenwich and its market, then go for a pleasant walk along the river, where you will find the famous Cutty Sark and numerous restaurants.
Afterwards, we recommend visiting Greenwich Park and the Royal Observatory, the home of space and time, and seeing the Greenwich Meridian Line.
» Find out more: Royal Observatory Greenwich
15. Sea Life London Aquarium
London's Sea Life Aquarium is located right next to the London Eye, and it is the place to admire one of Europe's largest collections of marine life. The whole family will have a whale of a time seeing the sharks, turtles and tropical fish, including the famous clown fish, the children's favourite!
» More information: Sea Life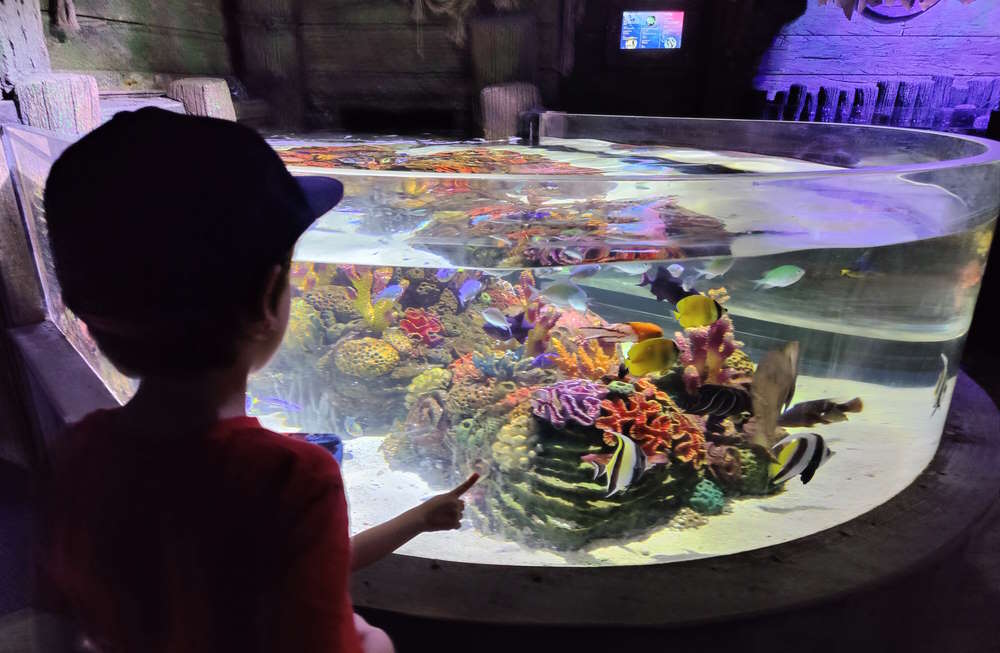 16. Visit London Zoo
London Zoo is another great thing to do in London with kids; you can spend a whole day among tigers, penguins, giraffes, and elephants, exploring the reptile room or having your face painted.
» More information: London Zoo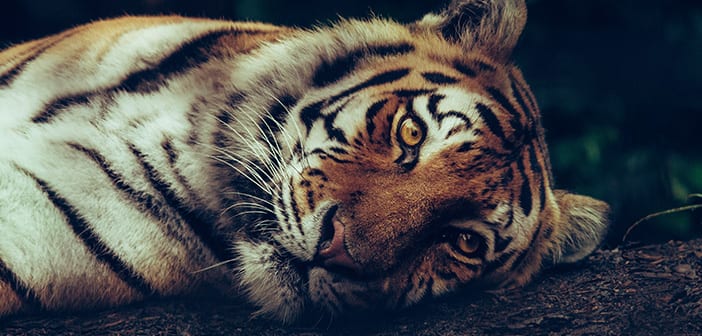 17. Visit Richmond-Upon-Thames
Richmond Upon Thames is a fantastic place to take a break from London's city centre. Many shops, restaurants and cafes will keep parents happy, but also a lovely surprise when you get to the river, with boat rides and ice cream vans in nice weather. Richmond Park is a must if you're in the area, as deer-watching is bound to keep them entertained!
18. Walk around Covent Garden
This central London square is often filled with street entertainers and live music, making it a very fun place for the whole family. Covent Garden is also home to the London Transport Museum, one of the best places, in my opinion, to take the kids in London!
19. Hard Rock Cafe
The Hard Rock Cafe in Piccadilly Circus is one of our favourite places to take our little ones to lunch in London.  With a lively family-friendly atmosphere, a fantastic children´s menu and lots of cool things to look at and talk to the children about. The waiters will sing happy birthday at your table if you´re celebrating!
» Find out more: Hard Rock Cafe
20. M&M's and LEGO Stores
The giant M&M's store is located in Leicester Square, with 3 colourful levels of fun and M&M's with the possibility of buying anything you could think of, and also of taking photos of your kids sitting in an M&M's car, next to some of the most famous M&M's… They will certainly not be able to leave empty-handed! And when they do leave the shop, prepare yourself, as the largest LEGO shop in the world is right opposite the M&M's store!  So… how much time do you think you will need when you visit Leicester Square?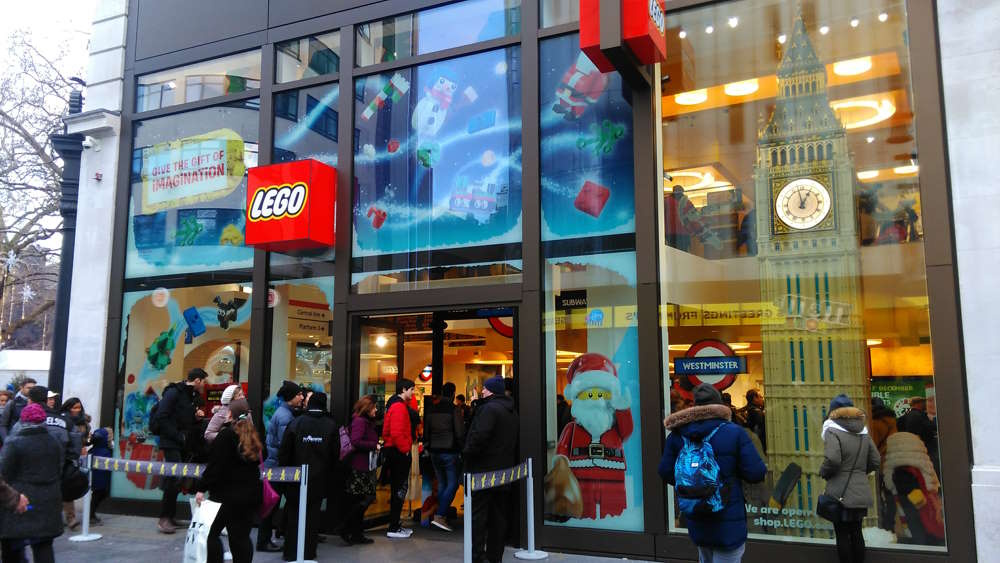 21. Southbank
Walking along the South Bank is one of the best ways to do some sightseeing in London as well as keep the children entertained. From the London Eye, you can walk all along with the South Bank of the River Thames to Tower Bridge. As mentioned before, the Sea Life Aquarium is located next to the London Eye, as well as Shrek's Adventure and the London Dungeons. Seasonal events, such as markets and funfairs, also take place next to the London Eye. Several child-friendly cafes and restaurants along the way will also keep you fuelled if you're spending the day out.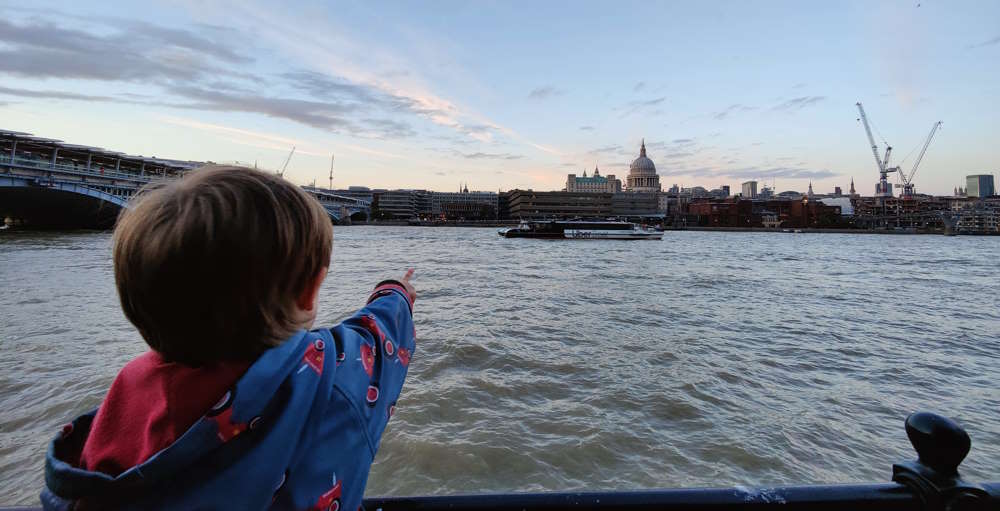 22. Winter Wonderland
During the Christmas period, Winter Wonderland is a place that cannot be missed, especially if you're looking for an authentic Christmas Spirit. There is something for every age range in Winter Wonderland, there are Christmas Markets, a beautiful Ice-Skating rink, a special Santa-themed park for smaller children and rides and funfair attractions for older children (and adults alike!). Several food stalls will serve you anything from a filled Jacket potato to a hot chocolate or a beer, and the restaurants and bars are a success for adults and office Christmas parties. You'll also be able to get tickets for the Circus or for an Ice Sculpture exhibition. All of this, in Hyde Park.
23. Shrek's Adventure
Take your children to the kingdom of far far away (next to the London Eye!) for a fun-filled day with Shrek and all his friends. With great reviews, this new attraction in London is already becoming one of London's favourites.
» More information: Shrek's Adventure
24. Open Top Bus Tour and River Cruise
If it's your first time in London with kids, an open bus tour is a good way to easily see London's most important landmarks and keep the children happy, especially if they have a camera of their own! You can hop-on and hop-off as many times as you wish to do so on any of their routes, and you'll get a free river cruise for everyone, one of the best things you can do in London with kids.
» More information: Bus Tour and Free River Cruise
25. Regent's Canal: Cruise and Puppet Barge
For a relaxed day, take a stroll along Regent's Canal and discover Little Venice. You can take the kids on a boat ride to Camden Lock, and explore Camden Lock Market, or take them to a puppet show on the Puppet Barge. Definitely, something different to do in London if you want to escape the crowds.
26. Hire a bike
If your kids are over 14 years old, you can hire Santander bikes for all the family and go for a ride around Hyde Park for example.
27. Thames River Cruises
Why not cruise the River Thames, a fascinating way to see London. Little ones will love getting on the boat and spotting the famous landmarks.
» Find out more: Thames River Cruises
28. Free workshops at Somerset House
On Saturday afternoons the iconic Somerset House offers free workshops for children aged 6 to 12, a perfect plan if you're in London with kids during the weekend.
» Find out more: Somerset House
29. Take the cable car
The London Cable Car crosses the Thames at the famous O2, offering some impressive views over the capital. You can use your normal oyster card too, so you don't need to get special tickets.
30. Urban farms
We all know that children love farms, but who thought visiting a farm was possible in London? Well, as it turns out, London has several urban farms dotted around, especially for children. Their aim is for children to have a great time, but also to teach the importance of animals and agriculture. With fun workshops and activities for little ones, it's an option to have in mind if you'd like some farm animal time.
If you are visiting London with kids, check out these articles: