If you plan to visit London in one day, you want to make the most of it and not miss any of London's most important attractions and sights, especially if it's your first time in London.
London has a long list of iconic places and attractions that every visitor wants to see and visit, but if you only have one day to spend in London, you need to plan your day correctly to see as much as possible. We have prepared two options for you to consider, two different itineraries for you to have two possibilities and make the most of your one-day trip to London.
One Day in London: Option 1 – Hop on Hop Off Bus Tour + River Cruise + London Eye
To be completely honest, if you are only spending one day in London and want to see as much as possible, I would highly recommend that you go on a hop-on hop-off bus tour, do a Thames River Cruise and go on the London Eye.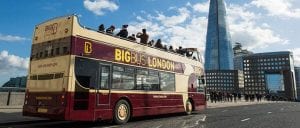 The first time we visited London, we travelled from Norfolk, where my mum lives and only had one day in London, and this is precisely what we did.
We went on the bus tour, which very easily takes you around the most important places in London. With the bus tour, you get a free river cruise, which I enjoyed the most as the views are amazing, and we also went on the London Eye to round it all up. And this is exactly what I recommend you do if you spend one day in London, as I've realised it's the best way to get the most out of London since we have been living here.
The open-top bus tour takes you to all the essential places, such as Big Ben, London Eye, Tower of London, St Paul's Cathedral, Oxford Street, Regent Street… And you can just stay on the bus or get off at any stop and then get back on the bus whenever you want to. It´s an easy way to explore London, and not worry about public transport.
The free river cruise is fantastic, in my opinion, one of the best things to do in London if you just have one day. From the river, you'll be able to see the houses of parliament, the London Eye, Shakespeare´s Globe, St Paul's Cathedral, famous bridges such as London Bridge, millennium bridge, and the most famous of all: Tower Bridge. The river cruise will also get some amazing views and perfect photos of Tower Bridge and the Tower of London.
If you are arriving at King´s Cross St Pancras Station to visit London in a day, then the open-top bus tour would be ideal, as there is a bus stop to hop on the bus as you exit the station.
We recommend that you get fast-track tickets for the London Eye online beforehand, so you avoid the long queues and go directly to the prepaid tickets queue; this way, you'll make sure you make the most of your day in London.
One Day in London: Option 2 – Walking Route + London Eye
We have designed a walking route which will enable you to discover London in a day if you would rather walk to see the sights of the city. With our walking route, you will see some of London's most important landmarks, and you will probably have time to see the Changing of the Guard, visit Westminster Abbey and go on the London Eye.
Walking route to see London in One Day step-by-step:
Our walking route starts at Green Park Underground Station. From here we will walk towards Buckingham Palace, where the famous changing of the guard ceremony takes place at 11.00 am on certain days. Make sure you check the exact dates to avoid disappointment. After seeing Buckingham Palace and the Changing of the Guard, we will walk across St James´s Park and walk along Whitehall, heading towards Westminster Abbey, Big Ben, and the London Eye.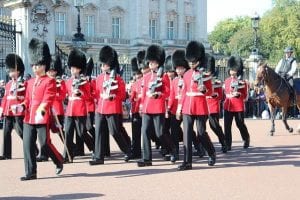 After a short walk along London´s beautiful South Bank, we will cross the Thames again and walk until we get to the famous Trafalgar Square. This is where the National Gallery (free entry) is. From Trafalgar Square, we can easily walk towards Piccadilly Circus.
From Piccadilly Circus, we will go along Regent Street to get to Carnaby Street. After a small walk through London´s Soho, we will reach Leicester Square and Covent Garden.
Itinerary to visit London in a day
Transport suggestions to see London in One Day
If you are going to spend just one day in London, it may be tempting to buy single fares if you're going to use London´s public transport, such as the underground or the bus, but we would encourage you to either buy an oyster card for the day or use contactless payment. If you can. You will pay a lot less for each journey this way than buying single fares or even a day travelcard, as the oyster card´s daily capping makes it cheaper to use than using a day travelcard.