The famous Thames River Cruises in London are definitely one of the best things you can do during your visit to the city. And we would highly recommend it to anyone who is planning on visiting London, especially if it's your first time in London.
By going on a cruise along the famous River Thames, you'll see London from a unique perspective as it passes through the centre of the city. You will get to see most of the iconic buildings and landmarks of London, such as Big Ben (Houses of Parliament), the London Eye, Shakespeare's Globe, St. Paul's Cathedral, Tower Bridge, The Tower of London, The City Hall of London, the Shard… and many more.
Before you book one of the Thames River Cruises available, it´s important to know that there are two types of routes that you can opt for:
Circular route: This route starts and ends at the same pier, so it goes up the river and then turns round to go back to where it started. It usually lasts approximately 45 minutes.
Hop-on Hop-off River Cruise: This options means that you can get on and off at different stops as many times as you like. If we're honest – this is our favourite option as you can really make the most of it. To enjoy a whole day out, we would suggest starting in the area of Big Ben or the London Eye and head over to Greenwich. Get off at Greenwich, explore the area, and then go back to Tower Bridge and disembark at Tower Bridge Pier to have a wonder around the area of the Tower of London. You could then get back on board, and take the boat back to Westminster (London Eye / Big Ben).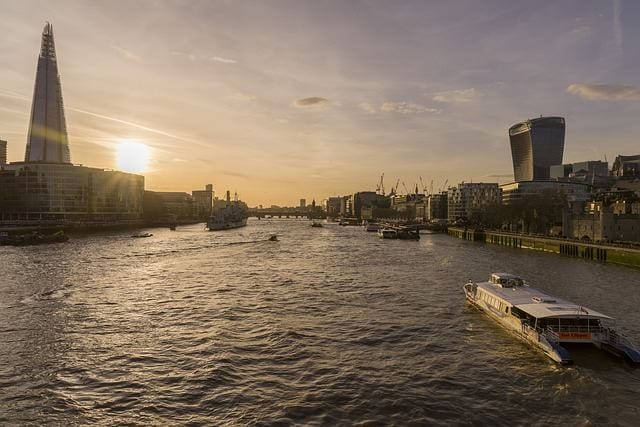 Thames River Cruises in London: Options, Offers and Available Routes
Index:
> Sightseeing Thames River Cruises
> Special Thames River Cruises
> River Bus cruises
1. Sightseeing Thames River Cruises
The best sightseeing Thames river cruises in London are the ones that are partly covered in our opinion, as you will be able to enjoy the cruise and the views in all weather conditions. Ideally, you want to be outside, to enjoy the cruise as much as possible, but if you know your cruise is partly covered you won't have to worry about the weather.
Sightseeing Thames River Cruises also include a tour guide, who will talk you through what you are seeing and what side of the river you need to be looking at. There are also headphones available to listen to the commentaries in different languages.
There are different sightseeing Thames river cruises available:
> Free Thames River Cruise when you buy Tickets for the Sightseeing Bus Tour in London
When you buy tickets for the sightseeing bus in London, you get given a ticket for a free Thames river cruise in London. The type of cruise included depends on the sightseeing bus tour that you choose. Some will include a round trip, whilst others will include a hop on hop off river cruise. There is time to go on a sightseeing bus tour and a river cruise in London in one day.
This is probably one of the best options if you are visiting London and want to get the most out of your trip to London.
⇒ More information on Sightseeing Bus Tour with Free River Cruise in London
> London Pass
A London Pass card is a tourist pass that gives you FREE entry to over 60 of London's most famous attractions. A one day access to a Hop On Hop Off Thames River Cruise is included in the London Pass. This is one of our recommendations on our suggested itineraries to make the most of the London Pass.
You can buy a London Pass for one day, two days, three days, six days or ten days. Making the most out of the London Pass isn't very difficult at all, considering the amount of attractions included.
⇒ Find out more about the London Pass
> London Eye + Thames River Cruise combined ticket
You can combine your London Eye ticket with a Thames River Cruise ticket. Purchasing a London Eye Experience with a 40-minute circular sightseeing cruise, will give you the possibility of seeing London from the sky and the river! It's always cheaper to buy combined tickets to different attractions in London rather than buying tickets for each attraction separately. 
⇒ Find out more about the London Eye
> Sightseeing River Cruise only ticket
You also have the possibility of only buying a ticket for the Thames river cruise to take in the best views of London. There are different options available too:
2. Special Thames River Cruises
If you want to do something really special, then why not consider lunch or dinner on board, maybe even with a show whilst you're cruising the River Thames. You can even take to the water for a very special traditional British Afternoon Tea.
Check out some of these:
3. River Bus Cruises
Another option to explore London by boat is to use the River Bus service in London, operated by Thames Clipper. These boats are part of London's public transport system and provide a regular services along the Thames. In this case you would use it as you would a bus or the tube – so you can use them to get from A to B. The downside, is that there is no tour guide to explain what you are seeing and no outdoor seating.
Prices and routes
The best route on the River Bus for sightseeing is the RB1 commuter service route, that covers the stretch of the river from London Eye to Greenwich. It has the following stops: London Eye – Embankment – Blackfriars – Bankside – London Bridge – Tower Bridge – Canary Wharf – Greenland – Masthouse Terrace – Greenwich – North Greenwich.
On this route you will pass iconic places like Big Ben, London Eye, Shakespeare's Globe, St Paul's Cathedral, Tower of London, Tower Bridge and Greenwich. You can buy a Thames Clipper Roamer Ticket to use on this sightseeing route of the River Bus, enabling you to hop on and hop off during the day at the different stops.
River Bus service: Buying tickets, prices and transport cards
In order to hop aboard a River Bus you can either buy your ticket online in advance or buy one at the ticket office. If the ticket office is closed you can buy a ticket on board. As the river bus is part of London's Transport system, you can also use your oyster card pay as you go to use the service.
> Thames Clipper Roamer Ticket Prices
A roamer ticket gives you the option to hop on and hop off the River Bus all day. The prices for this roamer ticket are:
Adult: £19.50
Child (5-15): £9.75
⇒ You can buy a Thames Clipper Roamer Ticket here
Prices for the hop on hop off sightseeing river cruise are £18.75 adult and £12 child. When comparing prices,  you'll see that the ticket prices for the river roamer ticket and the sightseeing cruise are actually very similar. But in my opinion, you get a lot more out of a sightseeing cruise. It is a much more enjoyable experience, as you have a tour guide explaining what you are seeing, and you also have the option to enjoy the cruise on the deck outside if the weather is nice.
You can also take a look at the city cruises website for more ticket options.
> Oyster Card and Travelcard
You can also use your Oyster Card on the River Bus services. When you use an oyster card, you will automatically get a 10% discount on the price of a single journey ticket bought at the ticket office. All you need to do is tap your oyster card on the yellow card reader when entering and exiting the boat. The price of the ticket will depend on the travel zones used (central, east and west)
If you have a travelcard (either added to your Oyster Card or as a paper ticket) you can get a third off the ticket price. To receive this discount you simply have to present your travelcard at the ticket office when buying your ticket.
Children aged 5-15 receive a 50% discount on the price of a ticket and children under 5 travel for free.
Price comparison
River Bus prices – including Central and East zones – from Westminster (London Eye) to Greenwich.
| | | | |
| --- | --- | --- | --- |
| | River Bus Adult single | River Bus Adult return | Child 5-15 |
| Ticket office River Bus | £10.00 | £17.00 | £5.00 |
| With oyster | £7.30 | n/a (use twice – £14.60) | £3.65 |