Visiting one of the best London Markets is a must if you plan a trip to London. London has many incredible and unique markets, some of which are only open during weekends, but others are open during the week too.
If it's the first time you're visiting London, the London Markets that I'd recommend that you try and visit first are Camden Town, Borough Market and Portobello Road. If you are staying in London for a longer period, I recommend you try and visit them all, as they are all unique and fantastic in their own little way.
Best Markets in London: Top 15
Portobello Road, Notting Hill
Portobello Market has to be the first market to make it to our top London Markets list, as it is one of London's most world-famous and vibrant markets.
Once you enter Portobello Road, you'll find yourself immersed in one of London's most picturesque scenes, with beautifully decorated colourful house facades and small boutique shops. You'll then have the chance to discover Portobello Road's famous antique shops, where you can expect to find the un-expectable. More than 2000 traders work in this famous market.
Although you can expect to find a large number of collectable items, as you explore the market, you will also find numerous stalls selling clothes and fashion accessories as well as plants, fresh fruit, hot food, snacks and drinks, household items and souvenirs of London and much much more!
» Visitor information: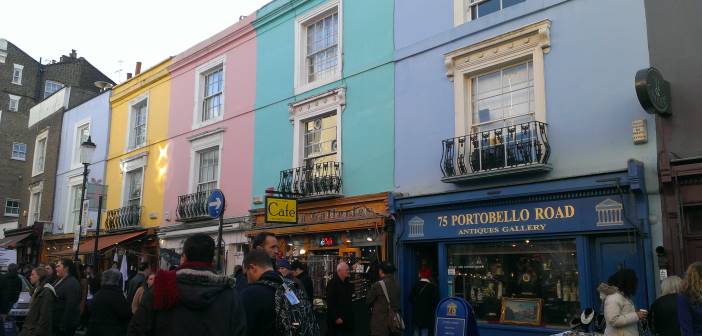 Camden Lock Market
Camden Lock Market is one of London's most popular visitor attractions in London, and once you've experienced its uniqueness, you will understand why.
As you exit Camden's Town underground station, you will immediately notice the distinctive shop fronts on the High Street, the shop's gigantic and unique signs will undoubtedly get your attention. As you wander across Camden Town and enter the market, the amusement just grows and grows…
Camden Lock Market has everything you can wish for, hundreds of stalls will keep you amused for a good couple of hours, but the best part of the Market is the Stables Market, which is located inside an old equine hospital that dates back to 1854.
This is the place to go for alternative fashion, but it´s also the place to get cheap London souvenirs. Many multicultural food stalls also allow trying something to eat from every corner of the world without leaving Camden Town.
Covent Garden
Covent Garden is another one of London's most famous tourist spots, a magical piazza in the centre of London near Leicester Square and Trafalgar Square, which is not to be missed if you are planning a trip to London.
Covent Garden is the perfect place for both Londoners and visitors, as there are many things to do and places to see. Explore the markets of Covent Garden, both the indoor jubilee market and the Apple Market; the numerous shops and boutiques; the cafes and restaurants and other places such as Benjamin Pollock's Toy Shop or the London Transport Museum.
This is also the site of the Royal Opera House, and around Covent Garden, you will also come across the West End Theatres, where you can watch the best musicals in London.
» Visitor information:
When to go: Any day of the week
Nearest tube station: Covent Garden
Borough market
With more than 1000 years of history, Borough Market is the oldest market in London. A vibrant food market in London Bridge, where you can wander around more than 100 food stalls. Most stalls specialize in produce from all over the UK, and some specialize in imported produce. Vegetables, fish, meat, cheeses, cakes, ciders, bread, coffees, flowers, plants… As well as the market stalls specialising in selling produce, some stalls and shops sell food on the go, anything from a Spanish Paella to a burger. The best way to see Borough Market is by wandering around the different passageways and open spaces.
» Visitor information: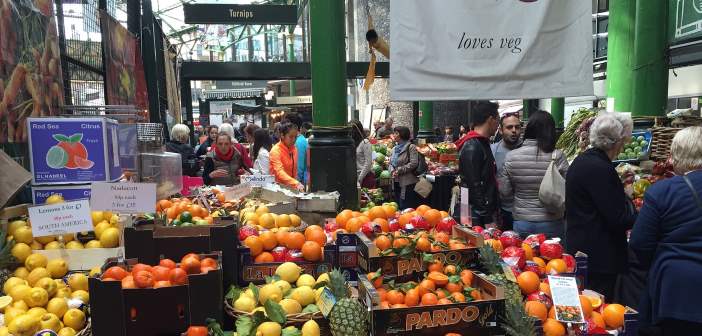 Spitalfields Market 
Spitalfields Market is one of London's most popular indoor markets, with many stalls and shops to keep you entertained for a good few hours. Located right next to Liverpool Street Station and next to Brick Lane and Petticoat Markets, it's advisable to visit this market on a Sunday when these other two markets are also open so that you can visit three London markets in one day.
In the Spitalfields market, you will find stalls selling anything from antiques to quirky, fashionable items, and there are also many well-known chain restaurants, cafes, and food stalls. The Ten Bells pub, where Jack the Ripper's last victim was last seen alive, is also one of its attractions that we recommend you don't miss.
Columbia Road Flower Market
Columbia Road in East London becomes the most colourful and fragrant road in London every Sunday when it becomes London's Flower Market and bucketfuls of beautiful flowers invade the whole road. This London Market is not only recommended if you like flowers, but I'd recommend visiting Columbia Road Flower Market to anyone who has no plans for a Sunday morning in London.
Not only will you see the most amazing flowers and plants you have ever imagined, but the beautiful shops on either side of the market, which sell anything from pottery to perfume, also add a special something to this gem in town.
Maltby Street Market
Maltby Street Market is a less well-known market in London but I have to say, it's one of my favourites. An unexpected quirky market nestled under the Victorian railway arches in Bermondsey, where cafes and eateries can be found inside the workshops, making it quite a unique place. Recommended if you are a food lover, but also great for antiques.
» Visitor information:
When to go: Saturdays 9 am – 7 pm.
Nearest underground station: Bermondsey.
Leadenhall Market
Leadenhall Market is one of London's oldest markets, dating from the 14th century. It is a covered market located in the heart of the financial district of the City of London, set in a beautiful historic Victorian marketplace. Full of restaurants, cafes, pubs, shops and stalls, this is a popular tourist destination frequented by local city workers for lunch or after-work gatherings.  Leadenhall Market was used to represent Diagon Alley in the Harry Potter films.
» Visitor information:
When to go: Open weekdays 10 am – 6 pm.
Nearest underground station: Monument / Bank.
More London Markets
A few other London Markets to consider if you are planning a trip to London are:
11. Broadway Market
12. Brixton Market
13. Greenwich Market
14. Real Food Market
15. Farmer Markets
London Markets: Map
Sunday markets in London
If you are looking for London street markets that open on a Sunday, then we would recommend visiting one of these:
Brick Lane Market and The Old Truman Brewery Markets
Brixton Village and Market Row
Camden Market
Columbia Road Flower Market
Covent Garden Market
Maltby Street Market
Flea at Vinegar Yard
Greenwich Market
Southbank Centre Market