You won't find many people that haven't heard about this famous London street market. Maybe because you watched the famous film Notting Hill or because you love authentic and traditional… Street Markets, Portobello Road Market is one of those places that you must visit.
Along an endless street, shops and stalls sell and display all kinds of products. From fruits, vegetables and bread to antiques, posters, vintage clothes, music instruments and some surprises. The market is well-known for its antiques. Coins, watches, furniture, stamps, jewellery and objects from the world wars are just a few examples.
Portobello Road Market will make for an exciting day out of your stay in London. We think it's one of the best markets in London.
Where is Portobello Road Market and how do you get there?
Portobello Road Market is located to the west of the city centre, in the Notting Hill district (Portobello Road, London W11 1LA, United Kingdom).
The market is packed with different stalls from Westbourne Grove all the way up to Golborne Road, and across under the Westway out to Ladbroke Grove.
Underground: Notting Hill Gate stop on the Circle, Central and District lines; Ladbroke Grove stop on the Hammersmith & City line.
Bus: 7, 12, 23, 27, 28, 31, 70, 94 and 328.
What days is Portobello Road Market open?
Portobello Market could be defined as a mix of different markets in one and each one of those markets have different opening times. Saturday is the "big day" at Portobello Market as it is the day that most of the stalls open.
If you visit Portobello Market on a Saturday, then you will experience a mile of hustle, haggle, colour and energy. The feature of Saturdays is the opening of hundreds of antique and specialist shops and stalls. You will also meet some talented and creative street performers.
The below times are a guide only, shops & cafes open 7 days a week.
09:00 – 18:00 Monday To Wednesday
09:00 – 13:00 Thursday
09:00 – 19:00 Friday Antique stalls
09:00 – 19:00 Saturday (Main day)
00:00 – 00:00 Sunday (closed) fashion under Portobello Green canopy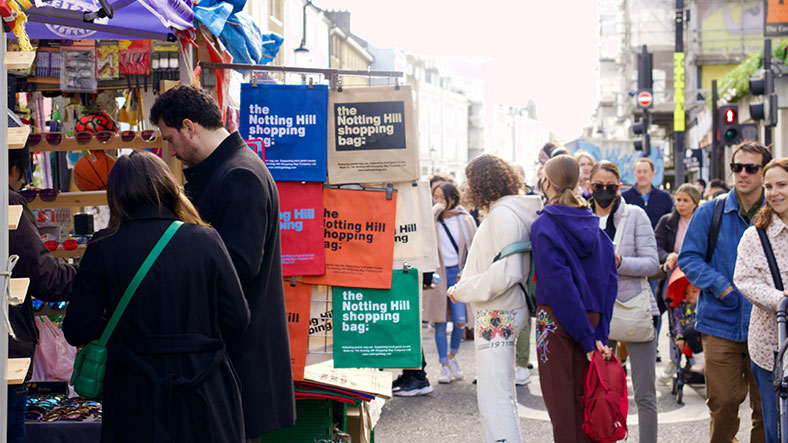 What is Portobello Road famous for?
Antiques & Miscellaneous objects
This is the main attraction of Portobello Road Market with 100's of market stalls. Located near Notting Hill tube station; in this part of the market you will find vintage teacups and small vases, compositions of feathers or wax flowers under glass domes, porcelain figurines, old paintings or even old photographs of London (and random people) in stand-up frames, and so on.
Where: Chepstow Villas – Elgin Crescent
When: Saturday is main antiques trading day and trading generally starts around 8:30-9:00am. We would recommend arriving before 11:30am to avoid the crowds.
Fruits & Vegetables
Where: From Elgin Crescent to Talbot Road
In this part of Portobello Road Market you will find a few bread stalls, cakes, fresh fish and a cheese stall. But, the most iconic stalls are the ones selling fresh fruits and vegetables. Originally all the products came from different regions in the UK but now you can also find some exotic fruits.
On Friday and Saturday – you can also find baked products, oils, olives, gourmet cheeses, meat, seafood and other delicatessen items.
Cheap things & Electronics
Where: From Talbot Road to Westway
We think that this is not the most exciting part of the market, but it's convenient if you need some batteries or a new charger for your phone or camera!
Fashion Market
Where: Westway Area
Vintage bags, lace and fur coats, some cool t-shirts, shoes… This is what Londoners know as the "Fashion Market". There are some really cool clothes here. From second hand clothes to some small stalls where young new designers sell their new creations.
Used & Vintage Goods
Where: From Westway to Golbourne Road
Although we wouldn't recommend buying a vintage desk or a chair while you visit London… unless you have a plan to bring it home with you… here you will find used and vintage furniture and different objects to decorate your home.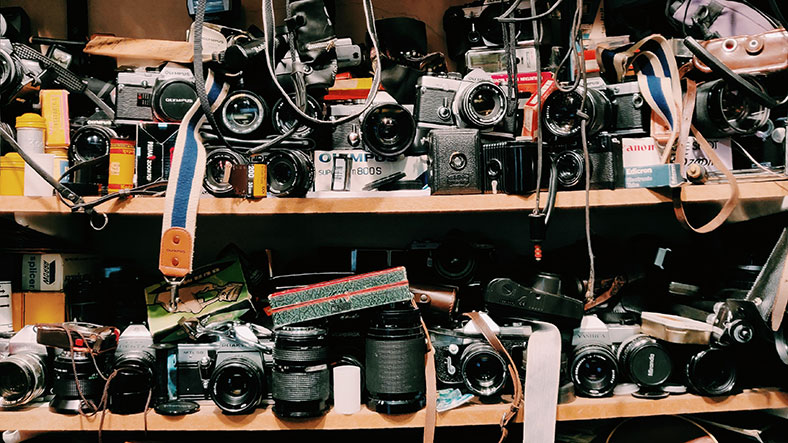 Street Food
On Friday and Saturday you will find hot food stalls where you can get from a traditional Fish & Chips to Sausages, Spanish Paella, or even some Caribbean dishes. Basically, it's like travelling around the world in under 10 minutes.