Camden Town, more commonly abbreviated to Camden, is located in North West London, within the London Borough of Camden.
Although the most famous area of ​​Camden is the stables market, Camden Town has much more to offer than the market. Considered the birthplace of London Punk, Rock and Britpop, Camden Town is an alternative oasis in North London.
In this article we are going to share some tips so that your visit to Camden Town becomes an experience.
How to get to Camden Town
Camden Town is in London Transport Zone 2. The best way to get to Camden Town is by Underground, using the northern line towards Edgware or High Barnet. You can use an oyster card, a travelcard or make contactless payments to pay for using London's public transport.
How long should I spend in Camden?
You probably need about 2 to 3 hours to walk around Camden Market. If you want to explore other areas of Camden, you may need a little longer.
When to go to Camden Town
As one of the things you need to visit is Camden Market, it´s useful to know that Camden Market is open seven days a week from 10 am to 6 pm, including bank holidays. The only day of the year Camden Market is closed is Christmas Day.
Most shops along Camden High Street are open daily, but some stalls in Camden Market only trade from Friday to Sunday.
Camden Town Itineraries
You can find our walking routes on our FREE London Travel App.
What to see in Camden Town
Camden Town is an area full of shops, markets and street food. It is also the go-to place for music venues and nightlife in the evenings. There is a beautiful canalside walk from Camden Town to Little Venice, which makes a fantastic day out.
Camden Town is one of the most alternative areas of London, mainly due to the high number of gothic, hippie, punk and vintage shops (among others!) in the area.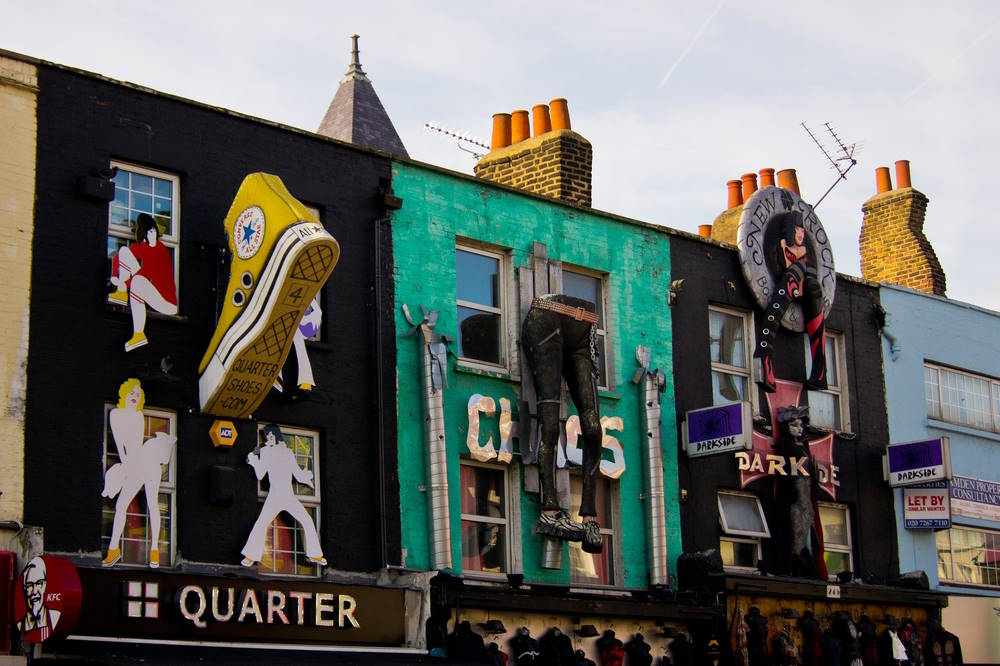 Camden Town High Street
The first thing you'll notice as you exit Camden Town´s underground station are the curious and striking shop facades. As you exit the station, you´ll turn right on the High Street towards Camden Market, where you will see the most fantastic shop facades.
Along the way, you will pass several souvenir shops, and it's worth mentioning that these are probably some of the cheapest places to buy souvenirs from London.
As you go on, you will eventually arrive at Camden Lock. As you go over the bridge, you will see the numerous canalside bars and restaurants. Camden Market is located on the other side of this bridge.
Camden Lock
Regent's Canal runs through North London, passing Camden Town. There is a canalside walk worth exploring, and one of our favourite things to do is to walk from Little Venice to Camden Town alongside the canal.
Camden Market
I always say that if you can't find something specific at Camden Market… then it doesn't exist! You can find almost anything in Camden Market, vintage clothes, antiques, second-hand objects, crafts, decorations… This is the place to buy gifts and souvenirs for family and friends.
Camden Market is divided into several areas with smaller markets. The market located in a former stable is phenomenal. It is an extraordinary place with several nooks and paths that remind us of its history. I highly recommend dedicating a fair amount of time to exploring the market carefully.
Find out more: Camden Market
Amy Winehouse Statue
A bronze statue of the British singer Amy Winehouse is located in the Stables Market in Camden Town. It was unveiled in 2014, three years after the singer's death. Amy Winehouse had become strongly associated with Camden Town until her death in 2011.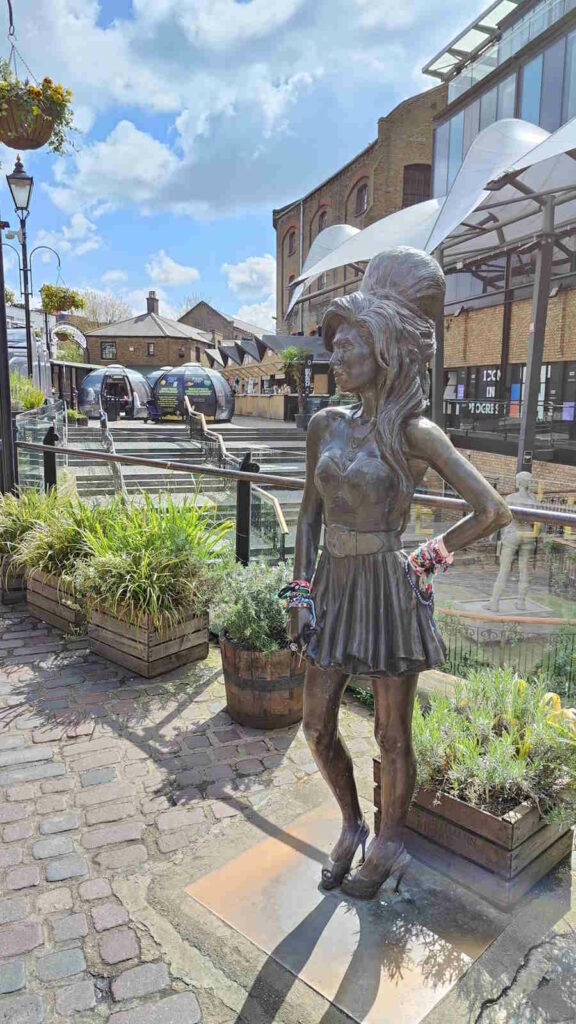 Food Stalls
Inside Camden Market are thousands of stalls, and a big part of Camden Market is dedicated to food stalls, with food from all over the world. This is a great place to try food from the whole planet without leaving London! There is plenty of seating too, and if you go early, the vendors usually ask you to try the food in the hope that you'll buy some, so it's also a great way of trying different foods.
In Camden Market, you'll find every type of cafe or food stall you could wish for; there are cult cafes, terrace bars, top-notch street food and fresh-baked sweet stuff.
Cyberdog
Cyberdog is a futuristically themed fashion retailer in Camden Market. It specialises in neon dancewear; visiting Cyberdog is an adventure in one of the coolest shops ever.  Two giant metal humanoid figures are positioned on either side of the entrance.
Website: Cyberdog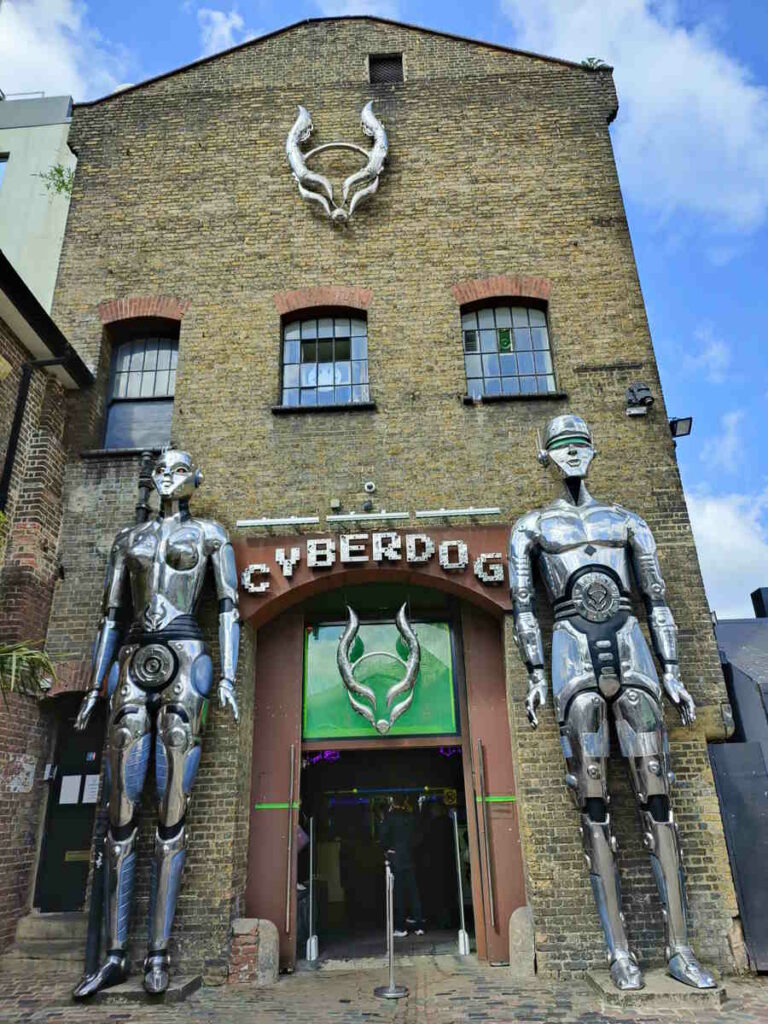 Babylon Park
Babylon Park is an underground theme park located in Camden Market. This is the perfect place for families, home to a mini-rollercoaster, bumper cars, Ferris wheel and loads more. There are also arcade games, air hockey and an incredible soft-play zone. You will also find a café inside.
Website: Babylon Park
Restaurants in Camden Town
In addition to the food stalls in Camden Market, there are numerous restaurants, cafes and pubs around Camden Town.  Most chain restaurants and cafes can be found in Camden, such as Honest Burgers, Pizza Pilgrims, and Costa Cofee…
We can't list them all, but some of the most famous places to have in mind are:
Hans & Gretel
The sweet dream factory Hans and Gretel is the perfect place to go if you want super fancy ice cream, waffles, doughnuts, cotton candy, sweets…
Website: Hans and Gretel
The World's End
The Worlds End Camden has been a North London landmark for years. A pub with two bars, a mezzanine balcony seating area and a great atmosphere. Serving pizza if you want to grab something to eat. The pub is famous for the Underworld, one of Camden's most iconic live music venues. 
Website: The World's End
Poppie's Fish and Chips
Poppie's Fish and Chips is possibly London's most famous and best fish and chips, and one of their restaurants is in Camden Town.
Website: Poppie's
The Hawley Arms
Said to be Amy Winehouse's favourite pub in Camden, this is one of our favourite places in Camden for a burger or a Sunday Roast.
Website: The Hawley Arms
Music venues in Camden Town
Roundhouse
Roundhouse is Camden's legendary arts venue and centre for young creatives. Located in a distinctive former Victorian railway shed, this famous music venue now hosts live music, circus and alternative theatre.
Website: Roundhouse
KOKO
KOKO is a concert venue and former theatre in Camden Town. The building was known as Camden Palace from 1982 until 2004.
Website: KOKO
The Jazz Cafe
The Jazz Cafe is a well-known jazz, hip hop, R&B, soul and funk artists award-winning live music venue in Camden.
Website: The Jazz Cafe
The Blues Kitchen
The Blues Kitchen is a restaurant that serves some great American classics and New Orleans soul food and is also a late-night bar in Camden hosting the best blues in London.
Website: The Blues Kitchen
Electric Ballroom
The Electric Ballroom is a performance venue and indoor market. The two-storey building has two dance floors and four bars, with a stage and full concert facilities. It has been there for over seventy years, during which time it has been used in many different ways.
Website: Electric Ballroom
The Underworld
In the basement of the World End's Pub in Camden Town, the underworld has been host to countless signed and unsigned bands over the years and legendary club nights.
Website: The Underworld
Coyote Ugly
If you have watched the film, you know what this is all about!
Website: Coyote Ugly
Peaky Blinders Immersive Experience
For a real Camden experience, check out the Peaky Blinders immersive experience.
Photos of Camden Town