The London Underground is the most recommended form of transport to get around the city thanks to its 11 lines. It is the world's most extensive underground train network and was inaugurated in 1863. Although the official name in English is London Underground, those who live in London call the London Underground "Tube".
Don't worry if it seems complicated at first; we have prepared a guide so you know how to pay to use the London Underground and find your way around London. In this article, you will find information about London Underground timetables, Maps and Prices.
What you should know about the London Underground
The London Underground map has over 270 stations divided into 9 zones to work out travel fares.
There are 11 tube lines; each has a different name and colour, so they can be easily identified on the London tube map. In addition to the tube lines, on the London Underground map, you will also see the DLR (docklands light rail), Elizabeth Line, London Overground, London Trams, Cable Car and Thameslink trains that are available through central London.
London Underground lines
| Línea | Colour | Description |
| --- | --- | --- |
| Bakerloo | Brown | Line that runs between Elephant and Castle (South London) and Harrow and Wealdstone (Northwest London). |
| Central | Red | Line that runs through the city from east to west, a little towards the north of London. |
| Circle | Yellow | Central London Circle Line. |
| District | Green | Line that runs through the city from east to west, a little towards the south of London. |
| Hammersmith & City | Pink | Line that circulates between Hammersmith and Barking, from east to west of the city. |
| Jubilee | Grey | Line that circulates between Stanmore, to the northeast of the city, and Stratford, to the east of London, passing through the south of the city. |
| Metropolitan | Burgundy | Line that connects the northwest of London, reaching zone 9, with the city's centre. The Metropolitan Line was the first underground railway in the world. |
| Northern | Black | Line that connects the North with the South of the city. |
| Piccadilly | Blue | Line that runs from the southwest to the northeast, connecting Heathrow Airport with the centre and north of the city. |
| Victoria | Light blue | Line running from Brixton, South London, to Walthamstow Central, North East London. |
| Waterloo & City | Turquoise | Line connecting Waterloo and Bank stations. |
Zones of the London Underground
As we have commented above, the London underground has 9 zones, each identified with a number. The most central zone of the London Underground is number 1, while zone number 9 is on the outskirts of London.
The different zones of the London Underground are used to determine the fares of journeys between stations in each zone. In other words, the price of the ticket increases as the number of zones you cover on your journey does.
In which zone are the main attractions and airports of London
The main attractions and monuments of London are within Zones 1 and 2. If you want to visit places like Oxford Street, Regent Street, Piccadilly Circus, Covent Garden, Trafalgar Square, the London Eye, Big Ben, Buckingham Palace, Hyde Park or Notting Hill, you can do so without leaving Zone 1 of the London Underground.
As for Zone 2, the most visited attraction in Zone 2 is Camden Market. There are other places of interest in Zone 2, such as Highgate Cemetery.
The airports in London are located all around the city, in different areas of London. We recommend choosing a hotel that is easy to get to from the airport and avoid booking accommodation on the opposite side of the city.
In which London transport zone are the Airports?
The airports located within the nine zones of the London Underground are Heathrow and London City Airport. Therefore, to get to these airports, you can use a London transport card (oyster or travelcard) or using contactless payment.
Stansted and Luton airports are located outside of the London Transport Zones. Therefore, you must buy a specific train or bus ticket to get to central London from these airports. Gatwick Airport is located outside the London Transport Zones, but it is currently possible to use an Oyster card or contactless payment to travel from this airport to the centre and vice versa.
London Underground Map
As you have probably seen, the London Underground map has a somewhat quirky design with all those coloured lines crossing over each other in all directions and probably making little sense the first time you look at it.
The London Underground map represents more than 400 kilometres of London Underground lines, with over 270 stations and nine travel zones, as well as Overground lines and other transport networks in the city. The London Underground map was designed by Harry Beck, an English draughtsman, in 1933. It would later be adopted by subways in other cities around the world.
Very importantly, the London Underground map is schematic. It does not represent the distance between stations, as a street map normally would. It may seem that two stations are very close to each other on the map, but this may not actually be true!
You can download the different versions of the official metro map from here: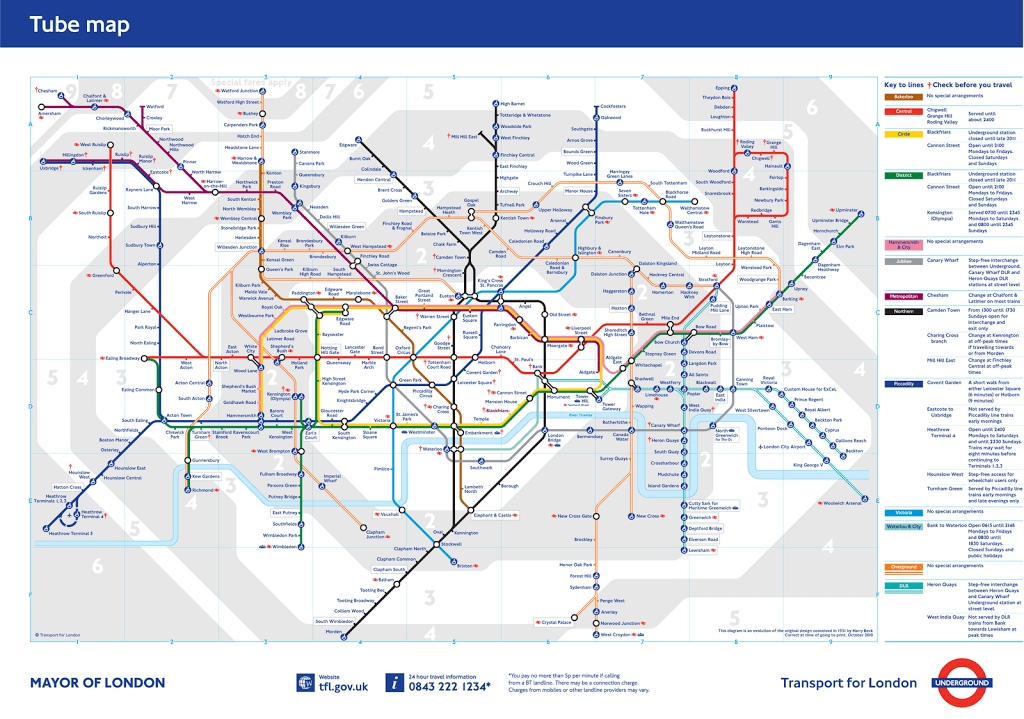 Sometimes, there are cases in which walking on the surface will take less time than going by tube, such as going from Leicester Square to Covent Garden. You can check the walking distance between stations here: Walking Tube Map.
How to use the London Underground map
You enter the station thinking, "Well, let's go in and look at the map", and as soon as you enter, there are signs for three different lines with different colours. And as you keep walking you see they divide into "Northbound" and "Southbound" or "Westbound" or "Eastbound".
At this point, I´d recommend not to panic –  we've all been here once. I do remember thinking that there was absolutely no way I would find my way around without help the first time I stepped into an underground station in London, but I promise it just takes a bit of time to get used to how everything works, and within a few hours you´ll be pro!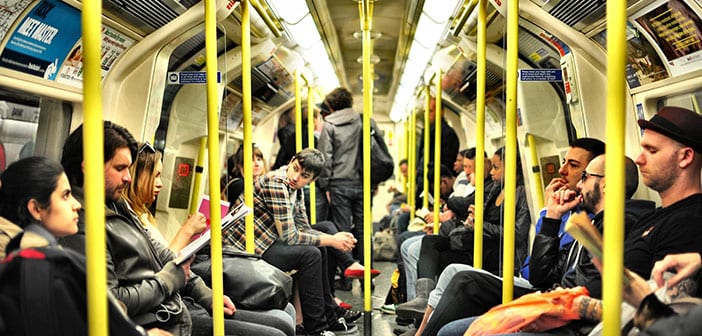 To use the London Underground map and not get lost along the way, the first step is to have your journey planned beforehand. Go into the station knowing what line you need, and the name of the station you need to get to. If you know this before entering the station, the signs you will find along the way from the station entrance to the platform will be easy to follow, and it is less likely that you'll get lost.
I know it sounds obvious, but when you don't know the names, it's easy to confuse "Green Park" with "Hyde Park" or "Queen's Park" and end up wandering around the tube network.
The first thing is to identify our route on the map; for this, we must first look for the entry and exit stations. To do this, you can look at the following Underground map:
Example: Let's say we want to go from King's Cross station to Westminster station. The first thing we do is look for these two stops on the map. As you will see, they are not located on the same line, so to get from one to the other, we will have to transfer at some point and change from one line to another. Sometimes there will be several possibilities, so choose the one that involves the least changes, for example.
Thus, in our example, we will take the light blue line (Victoria Line) at King's Cross and travel from King's Cross to Victoria. We will then change at Victoria station to the green line (District Line ) or the yellow line (Circle Line) to travel from Victoria to Westminster:
In King's Cross, we will follow the signs that indicate where the Victoria Line is, and as you can see on the map, we need to go south. So we will have to take the Piccadilly Southbound line. The last stop on that journey is Brixton, so we want to go on the Victoria Line towards Brixton, and this will be what the signs on the train will say.
When we get to Victoria, we will leave the train and follow the signs for the District Line or Circle Line. And in this case, we will need to go West. Therefore, we must go Westbound. In this case, the green line train (District line) will go towards Upminster, but we will get off at Westminster.
Overground, DLR, Elizabeth Line, Trams and Cable Car on The London Underground Map.
The London Underground Map, in addition to the London Underground lines, also shows the routes that the Overground, DLR, Elizabeth Line, London Overground, London Trams, Cable Car, and Thameslink trains as they go through central London. All these modes of transport are part of the London public transport system and work exactly the same as the tube or underground. Some differences are that the Overground is a train that goes overground, and the DLR is the Docklands light rail, which also goes overground most of the time.
Schedules and Frequency of the London Underground during the day
The timetable of the London Underground will vary depending on the station and the day of the week. London Underground trains generally start from 5:10 a.m. and run all day until approximately 12:15 a.m., past midnight.
As for the frequency of the London Underground, trains on most lines average a frequency of between 3 and 6 minutes. In some central London stations, such as Victoria, you'll see that trains during peak hours are very frequent, and there are trains every 1 or 2 minutes.
Night Tube: London Underground at Night Time
During Fridays and Saturdays, there are 24-hour night tube services on the Victoria line (Light Blue), Jubilee line (Grey) and most of the Central line (Red), Northern line (Black) and Piccadilly line (Dark Blue ).
Victoria line: Trains run with an approximate frequency of 10 minutes.
Central line: Trains run approximately every 10 minutes between White City and Leytonstone and approximately every 20 minutes on the rest of the line. There is no service between North Acton and West Ruislip, Loughton and Epping and from Woodford to Hainault.
Jubilee line: Trains run approximately every 10 minutes on the entire line.
Northern line: The trains run with a frequency of about 8 to 15 minutes.
Piccadilly line: Trains run approximately every 10 minutes between Heathrow Terminal 5 and Cockfosters stations. There is no service between Terminal 4 and Acton Town and Uxbridge.
How to pay on the London Underground
The fares of the London Underground vary depending on the time, time and length of the journey since the fares are calculated according to the number of zones you travel through. To compare the prices of the London Underground, the following aspects must be taken into account:
"Single ticket" or "Oyster Card": When using the London Underground, you can buy a single ticket for each journey from one of the self-service ticket machines at any Underground station. But, this is something we do not recommend at all, as it is the most expensive way of using the Underground. It is much cheaper to use an Oyster Card, or if you are staying in London for a week or more, you might be interested in the London Travelcard.
Using contactless debit or credit card: You can use a contactless credit or debit card to pay for the London Underground, or any other form of transport in London, just as if it was an Oyster card. The fares charged for each journey are the same as if you used an oyster card, so nowadays, using contactless payment to pay for London's public transport is the most common way to pay. If you have a British contactless card, this is what I'd recommend using. If you're travelling to the UK from abroad, I wouldn't recommend using a foreign card as your bank may charge you commission or transaction fees every time you use it – so it can work out very expensive! In this case, we would recommend creating and using a  Revolut account. Check out our article using contactless on London Underground.
Peak or off-peak: Peak rates are applied from Monday to Friday from 06:30 to 09:30 and from 16:00 to 19:00. Weekends and bank holidays are always Off-peak.
London Underground Fares
London Underground Fares 2023
Zones
With Contactless (Peak)
With Contactless (Off Peak)
Single Fare
Zone 1
£2.80
£2.70
£6.70
Zone 2
£2.10
£1.90
£6.70
Zones 1 – 2
£3.40
£2.80
£6.70
Zones 1 – 3
£3.70
£3.00
£6.70
Zones 1 – 4
£4.40
£3.20
£6.70
Zones 1 – 5
£5.10
£3.50
£6.70
Zones 1 – 6
£5.60
£3.60
£6.70
Zones 2 – 6
£3.60
£5.60
£6.70
Tips for using the London Underground
First recommendation: Find the closest underground station to your hotel. The best way to find out this is to simply go to Google Maps. If you have read our article Where to Stay in London, you will have seen that we usually recommend hotels in central London, zones typically 1 and 2. You don't want to spend your entire time commuting to central London if you are visiting London.
Always to the right:  When you use the corridors or the escalators of the London Underground, you will find signs constantly reminding you to Stand on the right. If you don't, some Londoners arriving late for work won't be very pleased! You need to think that the left side is a fast lane.
Accessible stations:  If you travel with a stroller or a wheelchair, check which stations are step-free to make your journey easier. Many stations are not adapted and have lots of stairs. Check our article Travelling in London with kids.
Best London Underground Mobile Apps
Although in all stations you will find paper maps everywhere, the easiest thing to do is to use our mobile phone. This way you will know if there is a problem with any of the lines, the duration and price of your journey.
Some of the best mobile apps for using London public transport are: