The neighborhood of Covent Garden in London is located in the heart of London, and is one of the key places you can not miss during your visit to the city of the Thames. This area is home to one of the most historic markets in London, the historically known as "Apple Market".
Covent Garden Piazza (London, WC2E 8RF) is the official name of the square.
Covent Garden connects some of London's most famous roads and avenues, such as Holborn, Charing Cross Road and The Strand. Today thousands of tourists and Londoners stroll around or cross its galleries as it is located in a strategic point of the city.
We could almost say that it is one of the corners of the city of London where there is more action at any time of day, either by the market, stores in the area, restaurants, pubs, theaters in the area … the list of things to do in Covent Garden is almost endless.
How to get to Covent Garden in London
If your hotel is in central London, you will most likely be able to walk there in a few minutes, taking advantage of the many things to see around. But, if you need to use public transport, here is some information that will be useful for you.
Address: 41 The Market Building, Covent Garden, London WC2E 8RF
Getting to Covent Garden by Underground
The easiest way is through the "Covent Garden Station" (Piccadilly Line). This station is located on the northern approach to the square. It is also very close to the stations of Leicester Square (Northern Line) or Charing Cross (Northern Line, Bakerloo Line), both less than 10 minutes walk. All these stations are in London's transport zone 1.
Getting to Covent Garden by Bus
The RV1 bus line stops directly at Covent Garden. Bus numbers 9, 13, 15, 23, 139 and 153 stop at Trafalgar Square and Aldwych, both of which are just a few minutes walk from Covent Garden square in London. The number 24 stops at Leicester Square, which is 5 minutes away.
Getting to Covent Garden by Bike
If you are thinking of using a rental bike when you are in London, to visit Covent Garden it is good to know that there are places to leave bikes on Southampton Street, Bow Street and on the corner located between Russell Street and Wellington Street.
London Sightseeing Bus
Stop 9 on the red, blue and green lines of the Big Bus Tours London sightseeing bus will drop you off less than 300 meters from Covent Garden Square in London.
Timetables to visit Covent Garden in London
The Covent Garden shopping area in London is open every day of the week. The opening hours are Monday to Friday from 10 am to 8 pm; Saturday from 9 am to 8 pm and Sunday from 12 pm to 6 pm.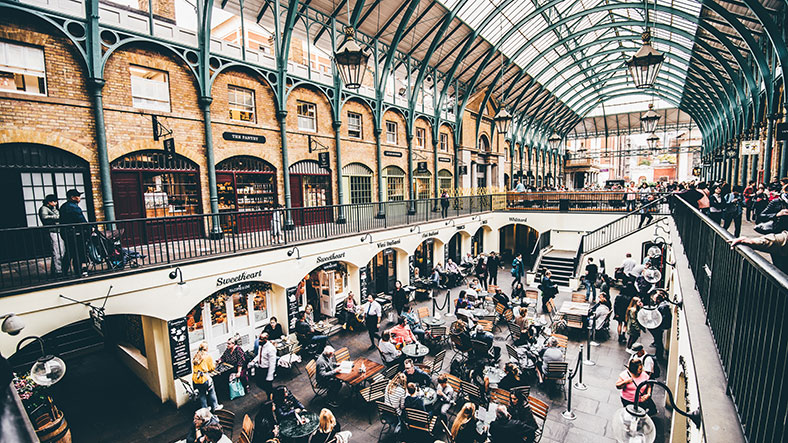 Things to do & visit in Covent Garden
When we talk about Covent Garden in London we are really talking about Covent Garden Square. This square houses a market with stalls, stores and restaurants. In the center of the square we find the covered market which has three floors and I recommend you to walk it from start to finish.
Here we find galleries with live music and an area with craft market. There are also take-away food stalls, clothing and accessory stores and chocolate, tea and coffee shops. You will find a very famous toy store, as well as cafes and restaurants and a tobacconist with history. Around the square we also find the Jubilee Market, the London Transport Museum and the Royal Opera House.
In the streets around the square there are numerous restaurants and bars. This is one of the most lively and recommended areas of London to go both day and night.
Apple Market: The famous Covent Garden Apple Market in London
Apple Market is the name that has the craft market located inside the market building in Covent Garden. Here there are usually about 40 stalls selling handmade items, including jewelry, paintings and scarves for example. What you won't find here is an apple stall! Its name originates from the history of the market, where only fruit and flowers could be sold.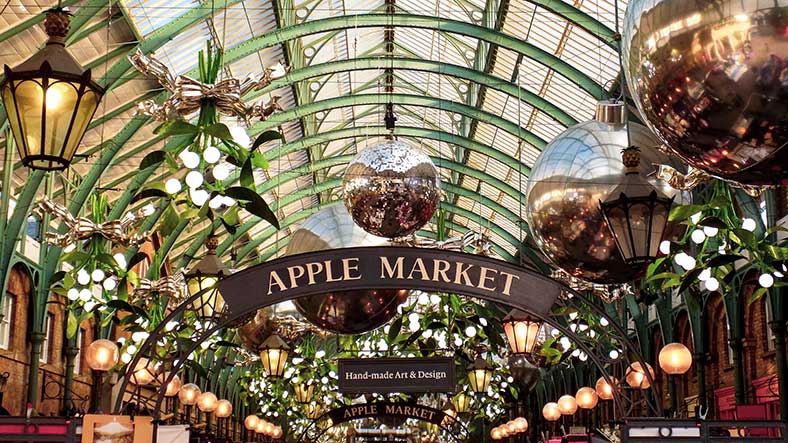 Benjamin Pollock's Toy Shop
Benjamin Pollock's Toy Shop was founded in 1856 in the Hoxton area of London. In 1980 the store was moved to Covent Garden. This store specializes in selling Victorian toys, and is particularly famous for its traditional toy paper theaters. You can find both original pieces and reproductions, with prices ranging from £8.95 to £795.00. In addition to the famous toy theaters, you will find other traditional theater-related toys, including puppets and puppet gloves.
Although Hamleys is the most famous toy stores in London and one that you will visit when passing through the shopping street of Regent Street in central London, Benjamin Pollock's toy store is one of the small stores that you can not miss.
I really consider it a little secret corner of this square in London, because although the entrance to the store is in the center of the square and is one of the most prominent and attract the attention of people passing by, having to climb stairs to get to the store seems that many people do not dare to enter. Including us, that even living in London for several years and going to Covent Garden about 100 times a year (no exaggeration!) I have to admit that we did not get to enter this toy store until relatively recently.
Official website: Benjamin Pollock's Toy Shop
Punch and Judy Pub
The Punch and Judy pub in Covent Garden is one of the most famous pubs in London. Its name refers to two very famous puppets of the United Kingdom: Punch and Judy. Punch and Judy are the protagonists of a puppet show that took place for the first time in Covent Garden on May 9, 1662, and whose protagonists, the puppets "Mr. Punch" and his wife "Judy" became the best known characters of puppet shows throughout the United Kingdom. Every year in May the puppet festival is held in Covent Garden in honor of these two famous characters.
The pub offers a wide selection of beers and drinks and also serves traditional British pub food all day Monday to Sunday. It has several floors, but the best is the terrace from which you can get wonderful views of the square and is undoubtedly one of the best places to have a beer on a summer day in London. I have to mention that the price of drinks is quite high, and you can easily pay £10 for two beers.
Official website: Punch and Judy Pub Covent Garden
Jubilee Market
In the south side of Covent Garden Square in London we find the Jubilee Market, a covered market where you will find a wide variety of stalls. The most popular items are handicrafts, but you will find from jewelry and clothing to antiques and typical items of a market. You'll also find a wide variety of food stalls, with options including traditional English breakfast, pancakes and milkshakes, baked potatoes and even an Italian restaurant.
On Mondays there are antique and collectible items of all periods and styles, including: Georgian, Victorian, Edwardian, Art Deco, Art Nouveau, fine art, fine jewelry, fine china, sterling silver, antiquarian and used books.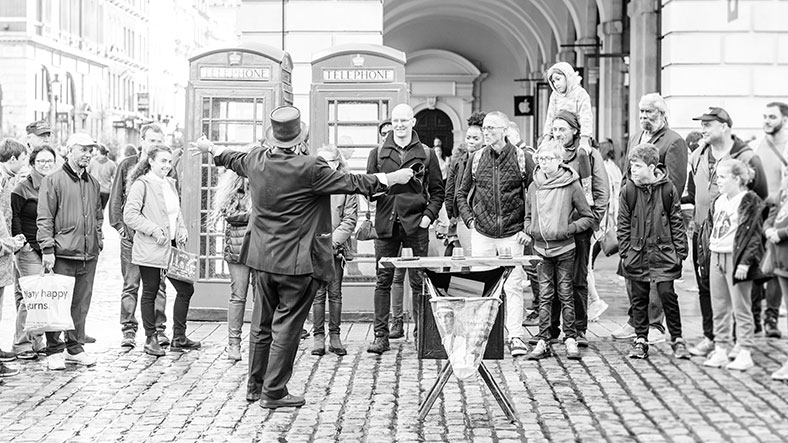 From Tuesday to Friday the market is open from 10.30 am to 7 pm. During these days we can find a wide range of products, plants for picnic baskets, greeting cards for souvenirs, beauty products and gardening equipment.
On weekends the market is open from 10 am to 6 pm and features an Arts & Crafts section. You will find everything from candles and hand-painted items to jewelry, paintings, clocks and even fossils. Ideal if you are going to visit London with kids.
Official website: Jubilee Market.
Segar & Snuff Parlour
The Segar & Snuff Parlour is one of the most traditional stores in Covent Garden Square in London. It is a traditional tobacco store, and is hidden in the southeast corner of the square, being one of the few independent specialized tobacconists in London.
In this tobacconist we find a wide variety of Havana cigars as well as many other cigars of lesser known brands. We can find exclusive tobacco, a wide selection of loose tobacco blended by experts and different specialized tobaccos. They have over 200 smoking pipes for sale, including a wide range of Dunhill and Peterson brands as well as their own "Covent" brand.
Royal Opera House
The Royal Opera House is a performance theater that is also home to the Royal Opera Company and the Royal Ballet of England. The theater was built in 1856, and its auditorium has a capacity of 2268 spectators, with four floors of boxes and an upper gallery. It is possible to join a backstage tour that goes through all the corners of the theater that normally we can not see, here you can see the available times and book: Royal Opera House Tour.
See available shows at Royal Opera House
London Transport Museum
The London Transport Museum is one of our favorite museums in London, and we recommend it especially if you are visiting London with children. Visiting this museum is a fascinating journey through the evolution of the different methods of public transport throughout the history of London. We can see from the first horse-drawn carriages and buses used for public transport, to the evolution of the method of transport that revolutionized London: The Underground, the first method of public subway public transport in the world that today is over 150 years old.
More information: London Transport Museum.
Seven dials and Neal's Yard
The Seven Dials area is located within the neighbourhood of Covent Garden, but you have to leave the piazza to get there. Seven Dials is a small square where six streets converge and where there are many shops and restaurants.
It is also where we find Seven Dials Market, an interior food market where you can eat, dine or just have a coffee and sweet treat.
More information: Seven Dials and Neal's Yard.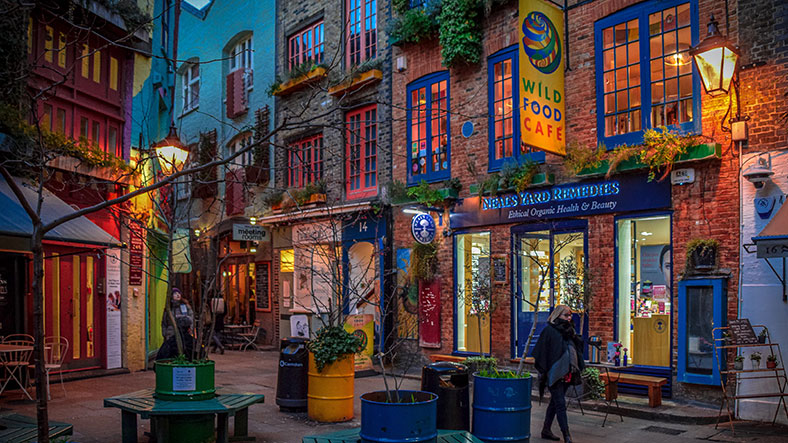 Shopping in Covent Garden
In and around the square you will find all the stores you can imagine. In Covent Garden Square itself you will find Apple, Skechers, Paperchase, Burberry, Bobbi Brown, Dior Beauty, Moomin Shop, Pylones, Ben's Cookies, Laduree, Godiva chocolates, Links of London, Whittards of London tea and coffee shop, Crabtree and Evelyn, Dior and Chanel to name a few. Around Covent Garden square you can find Zara, Marks and Spencer, Nike, Cath Kidston, Radley, Ted Baker, Mango, French Connection…
Restaurants in Covent Garden
The Pub Punch and Judy that we mentioned before is in the same square of Covent Garden, and in the central terrace of the square you will also find the restaurant Brasserie Blanc. Around Covent Garden there are many restaurants, and personally we can recommend Sarastro restaurant for a different kind of dinner. If you are looking for a romantic restaurant in London the Clos Maggiore in Covent Garden has been voted several years in a row as the most romantic restaurant in London.
Although we can't name them all, some of the ones you are going to find are: Bills, Masala Zone, Maxwell, Gourmet Burger Kitchen, Five Guys….
Events in Covent Garden
In Covent Garden there is usually live music and street performers every day. In this magical square of London are also held during the year numerous events.
One of the most important times in London is undoubtedly Christmas, and I must say that seeing Covent Garden is a must if you are going to visit London at Christmas. The Christmas decorations in the square are simply spectacular, and in early December is usually held the Great Christmas Pudding Race. More information: Covent Garden at Christmas.
There is a puppet festival every year to commemorate the famous characters of Punch and Judy.