Seven Dials Market in London is a covered market full of independent bars and restaurants, where you can simply go to have a coffee with a treat or to have something to eat. It is located in the Seven Dials neighbourhood, next to central London's famous Covent Garden.
It is handy to know that this market exists as it is in central London, unlike other food markets like this. Packed with street food stalls, this is possibly a quick option if you don't want to waste time sitting down in a restaurant whilst you're visiting London.
What can you find at Seven Dials Market
As soon as you enter, you will see that the market is spread across two floors. Upstairs there are different restaurants with seating areas. On the ground floor, there is a large central area with tables and chairs surrounded by numerous food stalls.
There are around 25 food stalls, divided into two different areas: Cucumber Lane, where we find fresh local products, and Banana Warehouse, full of ​​street food vendors and independent restaurants.
The pink Italian terrazzo marble counters and the orange leather stools are striking, as well as the giant banana that no child can resist climbing on!
It is ideal if you are looking for a place to grab something to eat or if you just fancy a coffee with a sweet snack, but it is also a great place if you fancy a cocktail in the evening. There are toilets inside the market, which is always good to know!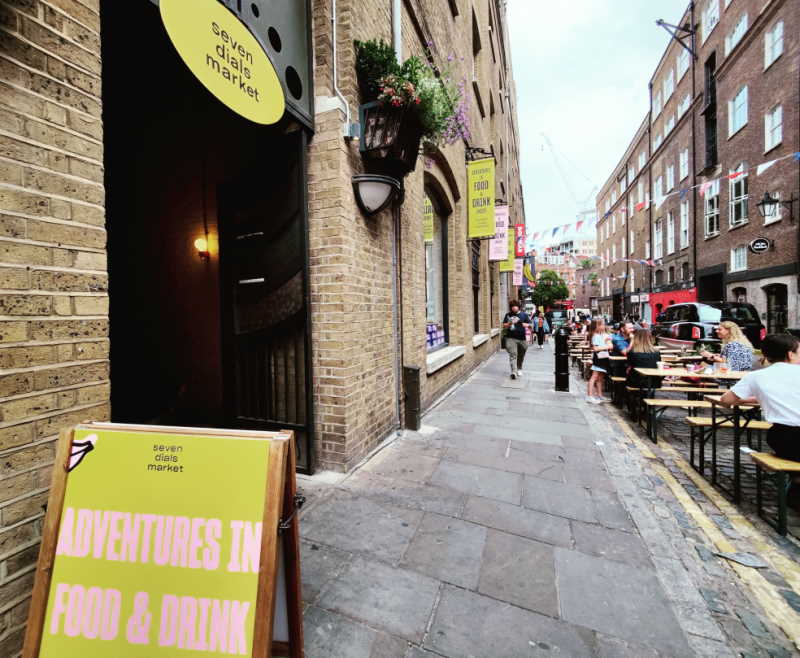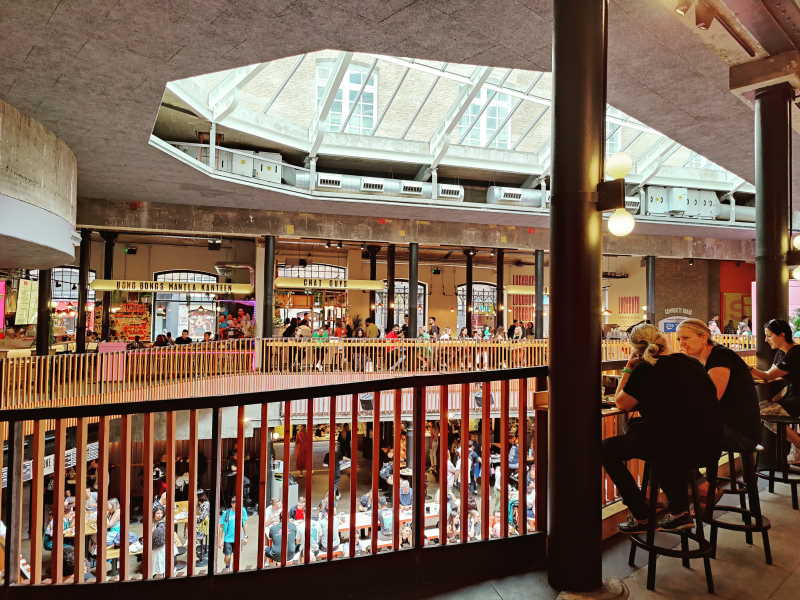 What to Eat in Seven Dials Market
The truth is that you can find almost everything here. Pizza, hamburgers, Mexican food, doughnuts, curries, tea and coffee, dumplings, crepes, waffles…
There's also a bar, with drinks from local independent producers, and another venue called The Market Bookshop, a space dedicated to London's food, drink and literary culture. At night, this place becomes a space for events that companies frequently book for parties or company events.
Where is Seven Dials Market
Seven Dials Market is located on Earlham St, London WC2H 9LX, United Kingdom.
Opening Times
Seven Dials Market is open on the following days:
Monday and Tuesday: 11 am – 10 pm
Wednesday to Saturday: 11 am – 11 pm
Sunday: 11am – 9 pm
Website: Seven Dials Market
Events
Numerous events are organized within the Seven Dials market in London. Some of these events are weekly, such as the live DJ nights that usually take place on Saturdays from 7 pm to 11 pm.
Kids Cartoon Club takes place on Sunday mornings, starting at 11 am, at The Market Bookshop. Here the youngest members of the family can spend some time watching a movie while the grown ups can relax and have a drink. You don't need to book.
For more events, we recommend visiting Seven Dials Market's official website.
Seven Dials Market History
In the 19th century, what we now know as the Seven Dials Market was Thomas Neal's warehouse. This warehouse was used to store cucumbers and bananas for the Covent Garden Fruit and Vegetable Market. Paying homage to the building's past, the market is now divided into two areas. The fist are is Cucumber Alley, where you'll find fresh local produce. The second area is Banana Warehouse, home to an excellent range of street food vendors.