Borough Market is one of our favourite places in London. I wouldn't be lying if I told you that it is one of the places we have been going to most weekends since we have lived here.
Although for some people, this is "just a market", we would define it as a "celebration of British produce". The place itself, the atmosphere, the quality and variety of the products that we can find added to the location of the market makes this place very special.
And it is for all these reasons that we love this place and we recommend everyone who visits London to visit it.
What to see at Borough Market in London
Borough Market is a market where you can find a wide variety of fresh, quality produce, frequented by top chefs from around the UK. It is known that there has been a market in this area dedicated to the buying and selling of produce and livestock since before 1014, so we are talking about a market that originated over 1000 years ago, making it the oldest market in London.
London Bridge has always been one of London's most important landmarks, and was the most accessible area for the sale of produce and livestock in its day. Farmers and traders came to sell their produce and livestock. During its more than 1000 years of existence, the market has changed location several times, and was even banned in 1754 because of the traffic it caused. The building in which it stands today was designed in 1851, and was renovated in 2001.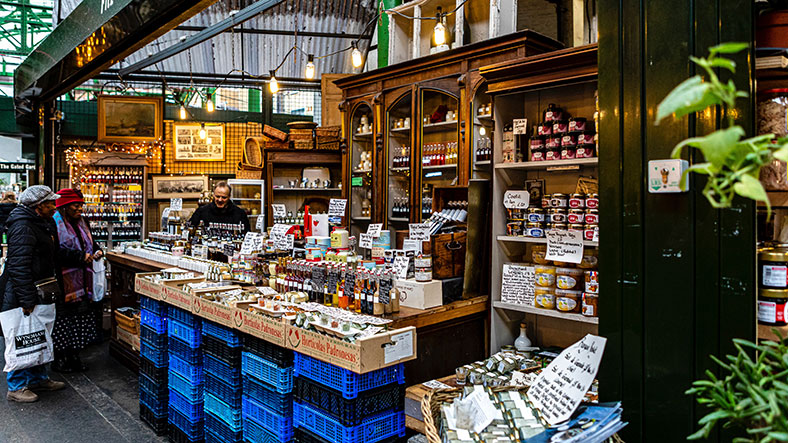 In addition to the food stalls, there are numerous stalls serving street-food from different countries with vegetarian and vegan options. There are also several restaurants and a multitude of cafés and stalls selling plants and flowers.
Some scenes from the Bridget Jones films were filmed in Borough Market, and we can see inside the market the famous pub "The Globe" that appears in the film and the door located on the side of this pub which is the door of Bridget's house in the film.
Why visit it? I know what you will say, "but… it's a market, why would we visit a market?" I promise you won't be disappointed, here you can see another side of London. This is a place where everyone looks happy. Simply grab a beer, some fresh fish & chips or even a traditional british pie… or some of the best falafel that you will find in London and relax, laugh and enjoy the day!
When is the best time to visit Borough Market: Opening times
Wednesday to Saturday the entire market is open until 5 or 6pm, Sunday to Tuesday the restaurants in the area are open but the market stalls are not open and it is not the same.
Monday 10:00 – 17:00 some stalls only
Tuesday 10:00 – 17:00 Some stalls only
Wednesday 10:00 – 17:00 Market complete
Thursday 10:00 – 17:00 Market complete
Friday 10:00 – 18:00 Market complete
Saturday 08:00 – 17:00 Market complete
Sunday 10:00 – 16:00 Closed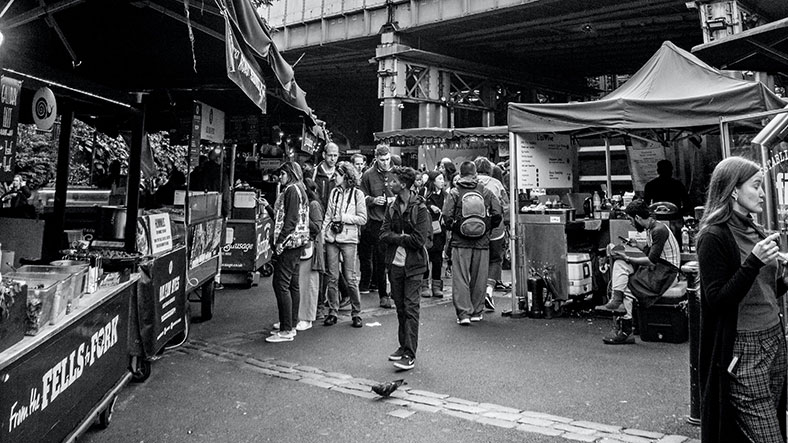 How to get to Borough Market in London
Borough Market is located at: 8 Southwark Street, London, SE1 1TL. The nearest tube stop to Borough Market in London is London Bridge, located in London zone 1.
Secret spots near Borough Market in London
For those of you who like to discover secret corners of London, I have to say that we love the pub The George Inn, which has a lot of history and that goes unnoticed by tourists as it is a bit hidden. I recommend you to go there if only to see the façade.
Other secret spots we discovered walking around the area include Cross Bones Graveyard and The Old Operating Theatre.
Things to do near Borough Market in London
As Borough Market is located near London Bridge, you can really walk to many interesting places from here in just a few minutes. We would recommend:
London Bridge
London Dungeon
HMS Belfast
Imperial War Museum
Official website: https://www.boroughmarket.org.uk/