Camden Market is one of London´s best-known markets and one of those places you need to add to your itinerary if you are planning a trip to London.
Camden Market attracts thousands of tourists a week and is undoubtedly the most variable, original, and one of the largest flea markets you will probably ever visit.
What to see in Camden Town
Camden Town is an area full of shops, markets and street food. It is also the go-to place for evening music venues and nightlife. A beautiful canalside walk from Camden Town to Little Venice makes a fantastic day out.
Camden Town is one of the most alternative areas of London, mainly due to the high number of gothic, hippie, punk and vintage shops (among others!) in the area.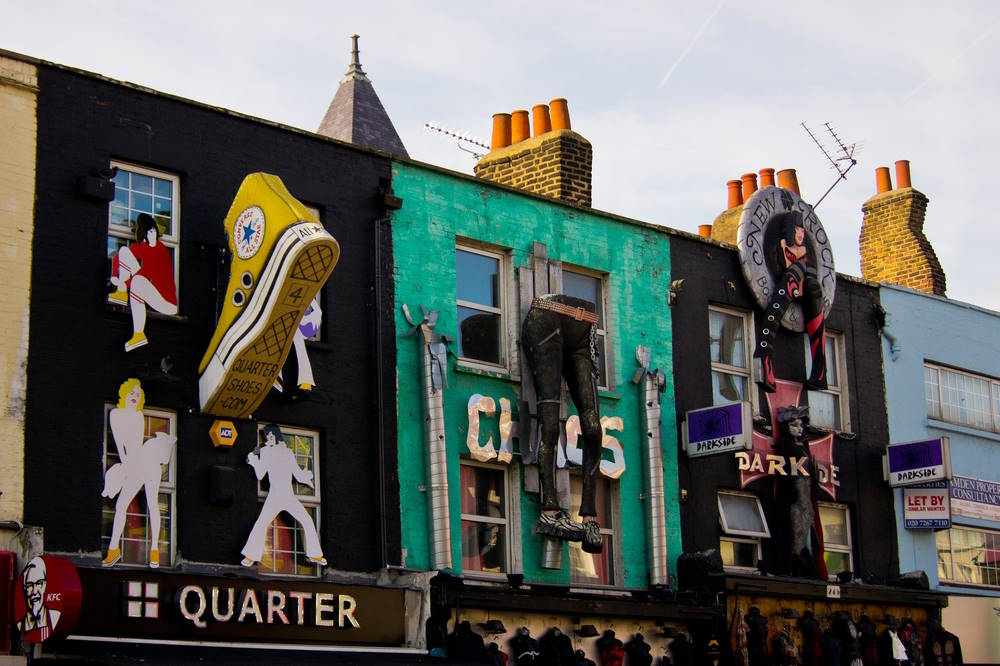 How to get to Camden Market
Camden Town is in London Transport Zone 2. The best way to get to Camden Town is by Underground, using the northern line towards Edgware or High Barnet. You can use an oyster card, a travelcard or make contactless payments to pay for using London's public transport.
How long should I spend at Camden Market?
You probably need about 3 hours to walk around Camden Market, but you could easily spend an entire day in Camden. With the numerous restaurants and places to see, adding to this the Regent's Canal Walk, it is easy to spend a whole day here.
When to go to Camden Market
Camden Market is open seven days a week from 10 am to 6 pm including bank holidays. It is also open some evenings if there are any events going on. The only day of the year Camden Market is closed is Christmas Day.
Most shops along Camden High Street are open daily, but most stalls in Camden Market trade from Friday to Sunday.
Camden Market: Complete Guide
Although we always refer to Camden Market as one, the truth is that there are several markets in the Camden. In these markets, we can find practically everything you can think of. From clothing to antiques, or handmade crafts to souvenirs.
You will also find many takeaway food stalls. Among these food stalls, you can find food from every corner the world, and when you walk through the stalls, it is not unusual for the stall holders to offer you some for you to try.
We will talk about these markets in the order in which we will find them according to the route we have designed to visit Camden. From Camden Town tube station, we turn right and start walking along Camden High Street. We will then be able to explore the different markets in the following order:
Inverness Street Market
A few meters after leaving the tube station, we find the Inverness Street Flea Market to our left. This is the original market that existed in Camden in the 70s when it consisted of a typical food market. Today the market consists of some takeaway food stalls, among other craft stalls, clothing, gifts…
This market is open from Monday to Sunday from 10 am to 6 pm, but there are more stalls from Friday to Sunday.
Buck Street Market
The next market we´ll walk past is Buck Street Market, to our right if we continue walking along Camden High Street. It is a market created with ecological containers, where we find many ethical fashion and street food stalls, with numerous vegan and vegetarian options.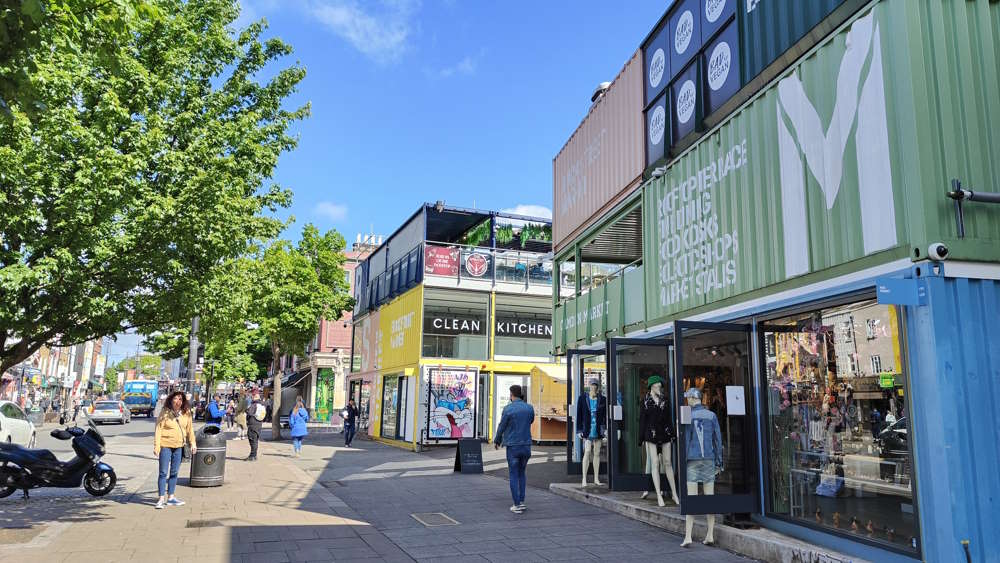 Camden Lock Market
Camden Lock was the location of one of London's first antiques and crafts markets, originally opening in 1974 as a series of stalls in the former courtyard of T.E. Dingwall's construction company, next to Regent's Canal.
Following our walking route, once you arrive to Regent´s Canal, instead of walking across the bridge we recommend crossing the road to the left-hand side and turning left, to walk alongside the canal. We will then be able to cross the black and white bridge. Camden Lock Market is on the other side of the canal, and the first thing you´ll see is an area of ​​street food stalls.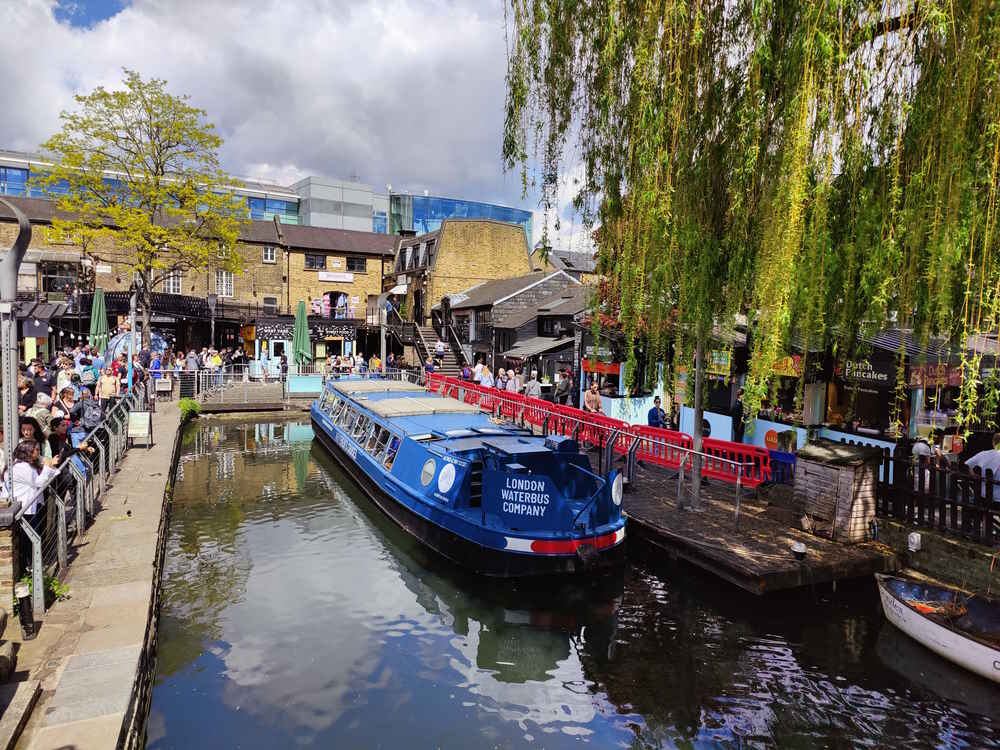 Stables Market
The Stables market is a wonderful place to visit. It is located in the historic former Pickfords stables. With many corridors, this indoor market is one of the most impressive markets I´ve ever seen.
When touring this area, you will find the statue of Amy Winehouse and the famous Cyberdog store.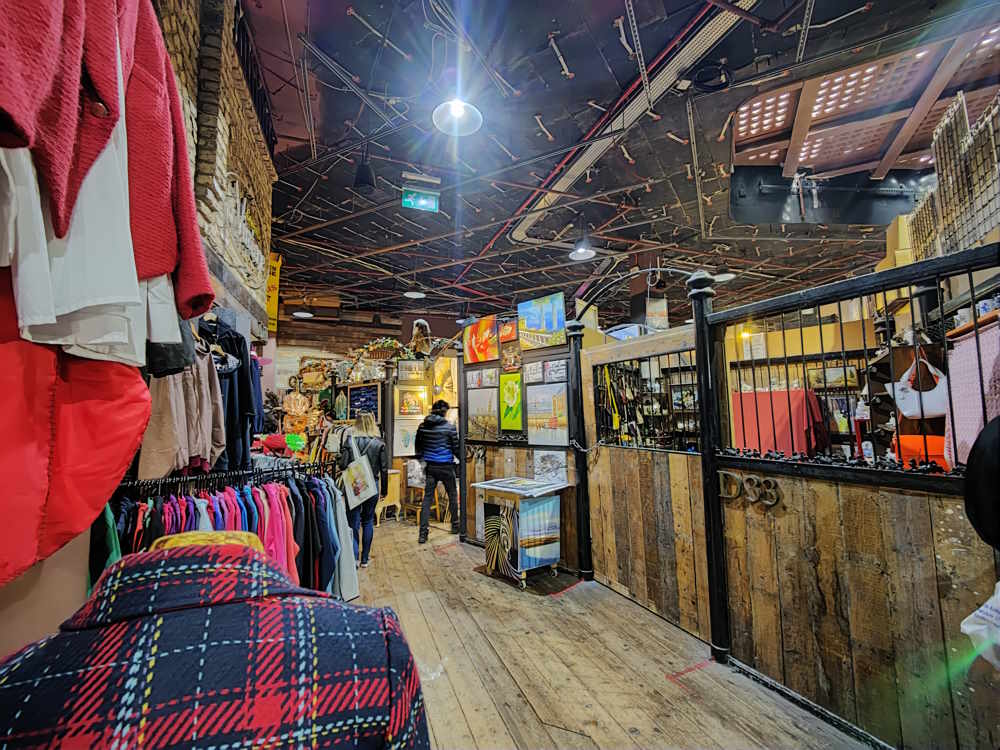 Amy Winehouse Statue
A bronze statue of the British singer Amy Winehouse is located in the Stables Market in Camden Town. It was unveiled in 2014, three years after the singer's death. Amy Winehouse had become strongly associated with Camden Town until her death in 2011.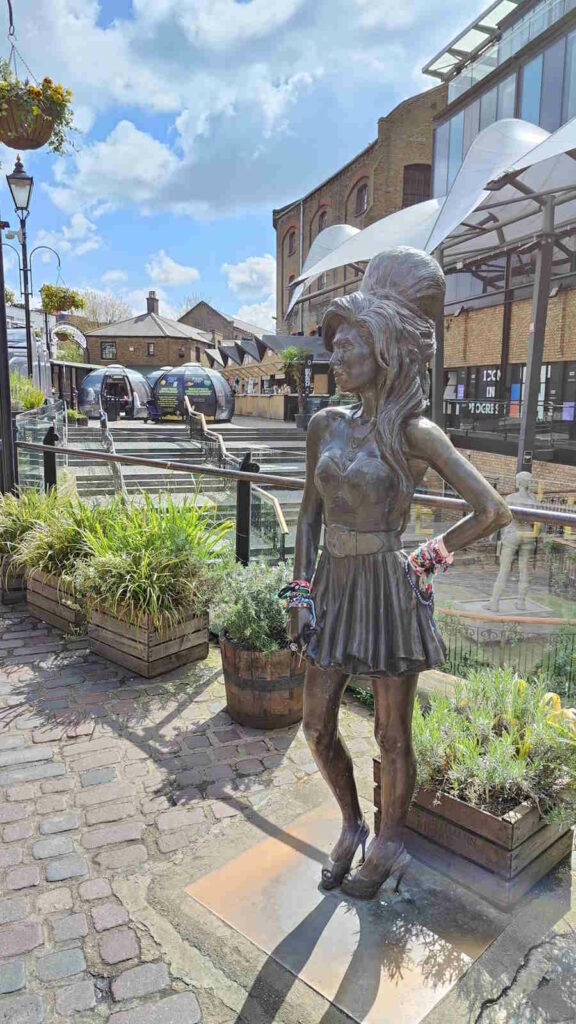 Food Stalls
Inside Camden Market there are thousands of stalls with food from all over the world. This is a great place to try food from the whole planet without leaving London! There is plenty of seating too, and if you go early, the vendors usually ask you to try the food in the hope that you'll buy some, so it's also a great way of trying different foods.
In Camden Market, you'll find every type of cafe or food stall you could wish for; there are cult cafes, terrace bars, top-notch street food and fresh-baked sweet stuff.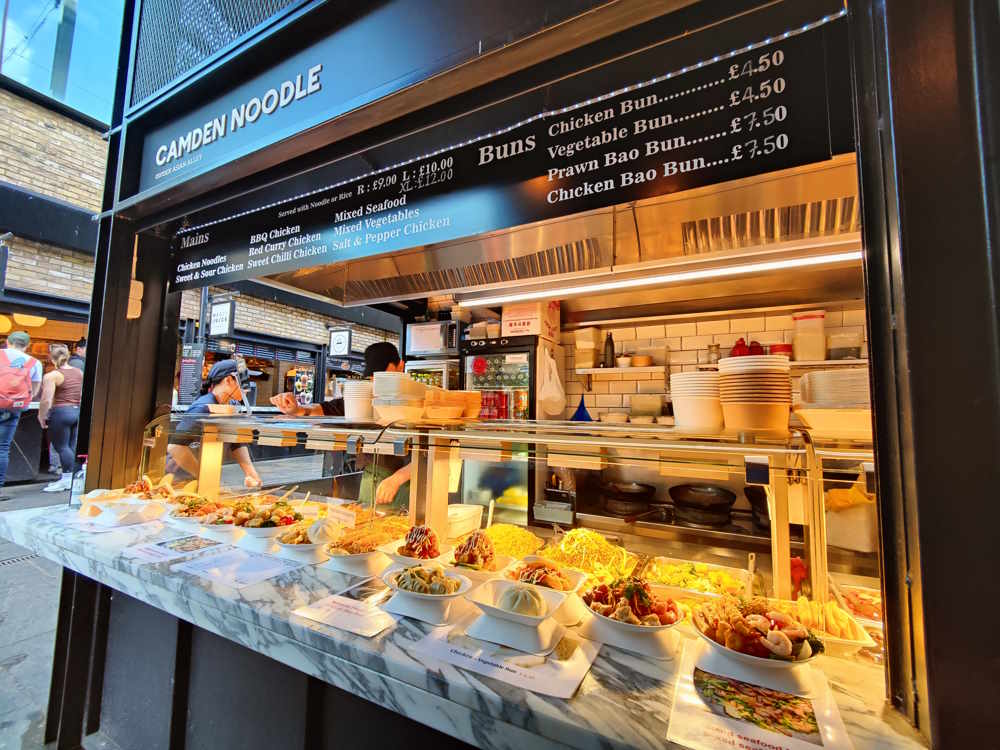 Hans & Gretel
The sweet dream factory Hans and Gretel is the perfect place to go if you want super fancy ice cream, waffles, doughnuts, cotton candy, sweets…
Website: Hans and Gretel
Cyberdog
Cyberdog is a futuristically themed fashion retailer in Camden Market. It specialises in neon dancewear; visiting Cyberdog is an adventure in one of the coolest shops ever.  Two giant metal humanoid figures are positioned on either side of the entrance.
Website: Cyberdog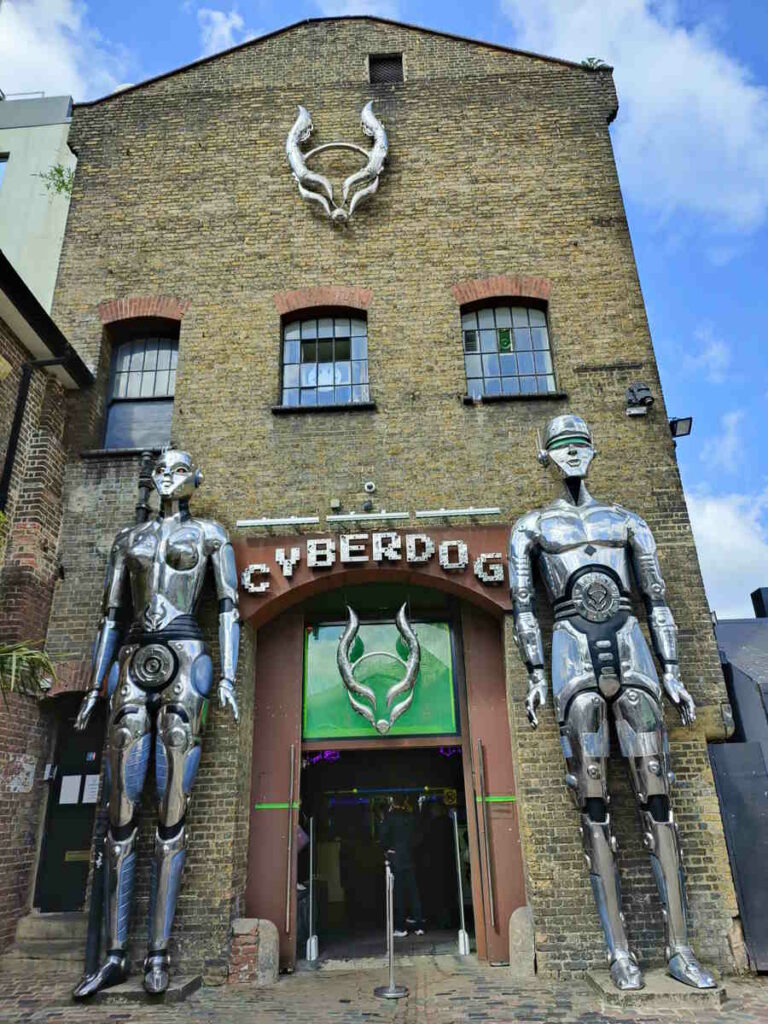 Peaky Blinders Immersive Experience
For a real Camden experience, check out the Peaky Blinders immersive experience.
Hawley Wharf
The last area of ​​Camden Market we will explore following our itinerary is Hawley Wharf. To get to this area, we cross Camden High Street again, at the height of the famous bridge with the Camden Lock sign (the article's main photo above). Here you will find several floors of restaurants, takeaways and clothing stores, a cinema and an underground theme park.
Babylon Park
Babylon Park is an underground theme park located in Camden Market. This is the perfect place for families, home to a mini-rollercoaster, bumper cars, Ferris wheel and loads more. There are also arcade games, air hockey and an incredible soft-play zone. You will also find a café inside.
Website: Babylon Park
The Hawley Arms
Said to be Amy Winehouse's favourite pub in Camden, this is one of our favourite places in Camden for a burger or a Sunday Roast.
Website: The Hawley Arms
Map and Walking Itinerary to see Camden Market
We have created the following walking itinerary to visit Camden Town, going through Camden Market and highlighting some of the most important places in Camden.
Find a step-by-step explanation here: See Camden Town Itinerary.
Another option we would recommend is visiting Little Venice first and then either walking along Regent's Canal or going on a Canal Boat Ride to Camden Town. Check out our itinerary from Little Venice to Camden Town here: Little Venice to Camden Lock Walking Itinerary.
You can find our walking routes on our FREE London Travel App.
Activities and Tours in Camden Market
Check out tours and activities in Camden Town here: What to do in Camden
What else to see in Camden Town
Check out our guide visit Camden Town to explore Camden Town.
Photos of Camden Market