One of the things you can not miss if you are visiting London with children, is to visit some of the best toy stores in London.
London has some of the most famous shopping streets in the world, such as Regent Street and Oxford Street, where we can find thousands of fashion clothing stores and accessories, but in addition to the shopping streets shopping in London can be a unique experience, being able to go every day of the week to one of the most famous London markets.
But, one of the things that sometimes go unnoticed, are the beautiful toy stores that we can find in London. Some of them are located in the center of some of the most important shopping streets of the city, but others are a little more hidden?
And it is not surprising that London is an important city when it comes to toy stores, as it is where we find the largest Lego store in the world or the largest Disney store in Europe. These are our favorite Toy Stores in London after visiting all of them.
1. Hamleys
Hamleys is the star toy store in London, and one of the places you have to visit almost a must, especially if you are visiting London with children. It is the largest toy store with history in the city, and is located in Regent Street, one of the most important shopping streets in central London, one of the best places to go shopping in London.
This fantastic toy store in London has 7 floors of pure fun, where imagination is mixed with live toy demonstrations, where the youngest members of the family will undoubtedly lose their senses.
Location: Regent Street
Nearest London Subway station: Oxford Circus or Piccadilly Street
More information: Hamleys in London
2. Benjamin Pollock's Toy Shop
This toy shop, located in Covent Garden, although it is much smaller than Hamleys, is one of the toy stores in London that I like the most, because when you go insde, it makes you go back a little bit to the past.
And it is that these are two very different stores, as Benjamin Pollock's Toy Shop specializes in selling toys from the Victorian era, and the traditional toy paper theaters that can be found in this store are famous in England, as it is possible to find both original pieces and perfect reproductions. Also here we find a large selection of traditional toys, many of them related to the theater, without missing the puppets or marionettes.
Location: Covent Garden
Nearest subway stop: Covent Garden
More information: Benjamin Pollock's Toy Shop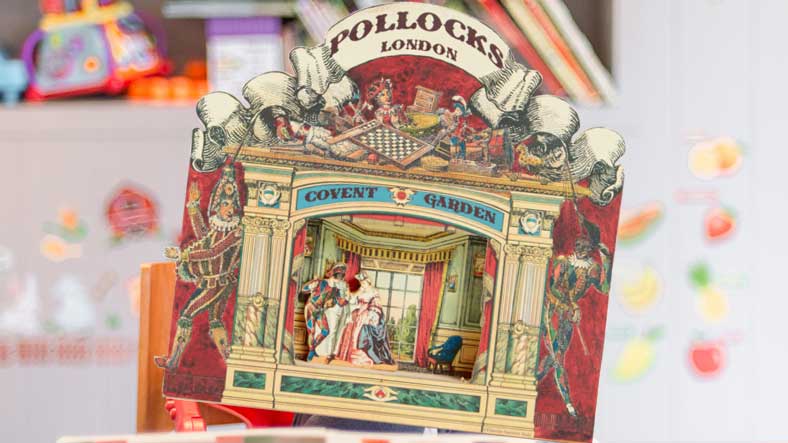 3. Disney Store
The Disney Toy Store located in Oxford Street, one of the most important shopping streets in London, is the largest Disney toy store in Europe. For this reason we believe it is one of the toy stores in London that you should not miss if you are visiting London with children, or if you want to go in search of a special gift!
Location: Oxford Street
Nearest subway stop: Oxford Circus
4. Lego Store
In Leicester Square we find another of the most famous and most visited toy stores in London, the largest Lego store in the world. Entering this store gives the feeling of having entered a museum, as you will find yourself admiring the giant sculptures that are scattered around the store made exclusively with millions of Lego pieces. Among them are some famous icons of London, such as Big Ben or a life-size subway carriage in which you can sit.
Location: Leicester Square
Nearest subway stop: Leicester Square
More information: Lego Store in London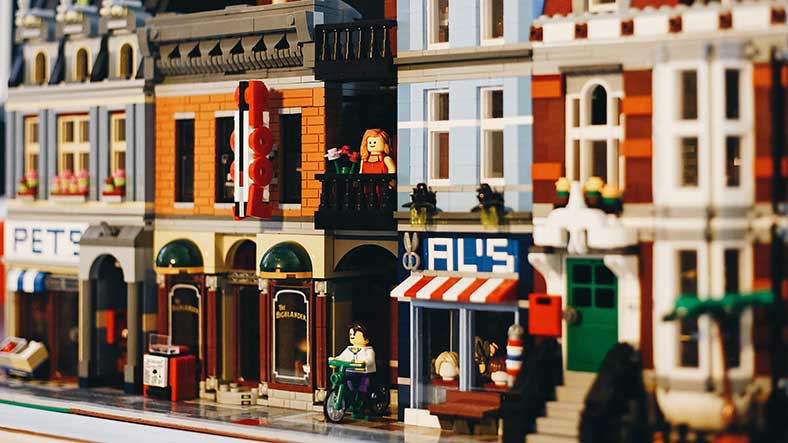 5. Paddington Bear
Paddington Bear is the quintessential London bear, and although in the UK is well known and you can find one in every souvenir store, it is not until relatively recently that has become known worldwide, thanks to recent films.
And of course, you could not miss a store dedicated exclusively to Paddington Bear in London, and obviously this store is located in nothing more and nothing less than the Paddington train station in London. Here you will find everything you can imagine about Paddington Bear, from teddy bears to stationery. In addition to the store at Paddington Station there are also a couple of Paddington Bear statues that you won't be able to resist taking a picture of!
Location: Paddington Station
Nearest subway stop: Paddington Station
6. Harrods Toy Store
Harrods department store in London could not be missing in our list of best toy stores in London, simply because the toy store is awesome. The toy section of Harrods is located on the third floor, and here we will find in addition to souvenir toys of London, lots of children's books as well as traditional wooden toys. No shortage of giant stuffed animals, or the famous Harrods teddy bear.
Location: 87 – 135 Brompton Rd, Knightsbridge, London SW1X 7XL
Nearest subway stop: Knighstbridge
7. Puppet Planet
Puppet Planet is a store dedicated exclusively to the sale of puppets of all kinds. Here you will find vintage puppets as well as more modern puppets, and obviously you can not miss the famous characters of Punch and Judy.
Location: 787 Wandsworth Rd, Clapham, London
Nearest subway stop:
Official website: Puppet Planet
8. Sylvanian Families
In the Sylvanian Families store you will find more than 400 items from these families of toy animals, ideal for both children and collectors, as here you will usually find from the most famous items to the less seen, and occasionally real collector's items.
Location: 68 Mountgrove Road, Highbury, London, N5 2LT
Nearest subway stop: Finsbury Park
9. Fagins Toys –

Closed in 2022
This toy store in London is dedicated to the sale of traditional toys, but we can also find a large selection of modern toys. It is one of the toy stores in London most preferred by locals, and is one that you can visit although it is a bit far from the city center.
Location: 84 Fortis Green Rd, Muswell Hill, London N10 3HN
Nearest subway stop: Highgate (although from Highgate tube station it is quite a long walk, so from here it is also advisable to go by public bus).
10. Toy section of the Science Museum
Although museum stores are not usually mentioned in the articles of the best toy shops, I think in this case it is worth mentioning the Science Museum in London. The museum is rather created for children, with many exhibits that are interactive and educational in nature for the youngest members of the family, and the toy section of their store is no exception.
Here you will find a multitude of toys for the development of children's imagination, as well as creative and educational toys.
Location: Exhibition Rd, Kensington, London SW7 2DD
Nearest tube station: South Kensington
More information: London Museums
Other toy stores in London
Other toy stores in London that deserve a mention are:
M&M's store located in Leicester Square.
The Guards Toy Soldier Centre
Toy section of the Londo Transport Museum in Covent Garden.
Forbidden Planet, which is the world's largest comic book store with merchandising and events.