If you're travelling to London during the summer months, there's nothing better than visiting a beer garden while you're in town. London pubs with beer gardens offer a great way to spend a sunny day with close friends or while you're traversing the city on your own. But what makes some of the best beer gardens in London, and why are they so popular?
If you're not familiar with the term, a beer garden is an open area outdoors where food and beer are served to everyone. It's a place that's meant to be social, where you can make new connections with people, giving a very community-like feel. Checking out good London pubs with beer gardens is a great way to boost the fun when you're visiting the area.
Fancy a pint and want to know what the best beer gardens in London are? Get the inside scoop by reading through our helpful guide on some of the best beer gardens in London that you can visit. Nothing better than having a cold one in the sun at the absolute best places in London with beer gardens.
When to Visit the Best Beer Gardens in London
For most Brits living in London, it's an unwritten rule to visit the nearest beer garden once the weather hits 15°C. But while that may be tradition, you can decide to check out a beer garden any time you're in the area.
You can find a lot of great spots with central London beer gardens, but there are plenty of other locations to have a relaxing time throughout the city. Here's a rundown of different locations we recommend for your next outing if you find yourself in the mood for a great drink and fun company.
The Ashburnham Arms
Located on Ashburn Grove in London, The Ashburnham Arms is a place that's both an old-fashioned local spot and a contemporary bar.
There's lots of wooden furniture and plenty of natural light all around, with a section for families in the conservatory. You can find a good selection of drinks here too, including wines and a variety of beers.
The Avalon
Those who visit the Avalon will enjoy a great combination of front and side terraces with a large garden in the back.
This location is famous for its steaks and burgers, but the garden is considered one of the city's best spots for just about anyone. The back garden is fully covered and heated, as well as open all year-round. The Avalon also has a good number of options for drinks, including offerings such as Hot Gin Toddy and Boozy Baileys Hot Chocolate.
The Garden Gate in Hampstead
Our favourite Beer Garden in London or enven in England! – Allegedly offering the best al-fresco fun in Hampstead, North London. Boasting one of the finest beer gardens in the whole of the capital, The Garden Gate is an iconic London pub, ahead of the game in providing the perfect setting for a truly memorable drinking and dining experience.
Whether it's a relaxed lunch, sumptuous Sunday roast, family dinner or lazy brunch you're looking for, we offer fresh and flavoursome home-cooked food, a diverse and explorative drinks menu, and the warmest of welcomes.
The Canonbury Tavern
Many know of this place because it was famous for being a frequent spot for George Orwell, where he was inspired to create "The Moon Under Water" essay. He used it as an example of what could be the idealized London pub.
The outdoor bar has a handful of wines, spirits, and the best beer in London to enjoy while sitting on any of the designer sofas available. Food options include burgers, pickles and fries, and more. The beer garden is large and offers a lot of space to interact with people or enjoy some relaxing alone time.
The Magic Garden Pub
Often described as a "festival in a pub", weekends at the Magic Garden (231 Battersea Park Road, London, SW11 4LG) are all about big festival bands with the some of the finest DJs from the London scene and beyond! Expect plenty of dancing and loads of fun – you'll hear everything from funk, Balkan and reggae to hip hop, ska and Latin.
Socialise in the stunning beer garden, where they provide furry blankets and hot water bottles in case you're feeling nippy. Birthday parties and bookings are taken special care of – call them to reserve a table for a memorable meal with friends.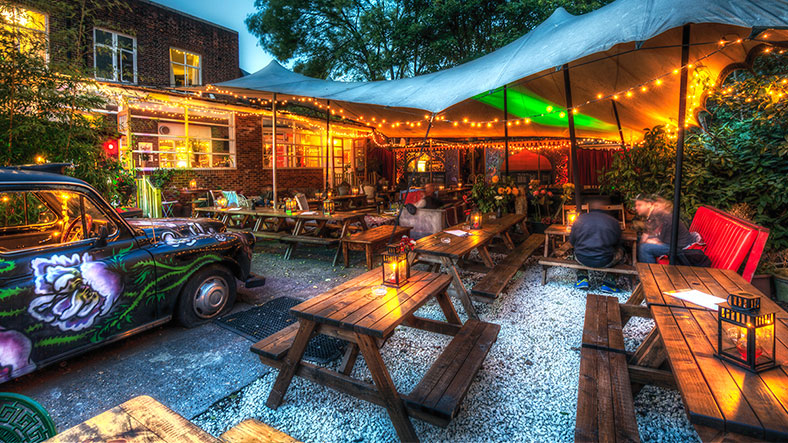 The County Arms
London pubs with beer gardens are usually at their best when they offer a lot of space for everyone to enjoy. The County Arms has a beer garden that is very peaceful with deckchairs, outdoor heaters, parasols for changing weather, and more. There are also dedicated outdoor barbecue stations to get food and give additional options for those looking for other types of food to enjoy.
The County Arms is located on Trinity Road and is open throughout the week. The pub has been operating steadily since 1852. Sitting outside in the beer garden is very calming since the sound of traffic from the nearby roads is just far enough away to not be a hassle.
The Eagle
For a Young's pub, The Eagle has a lot of great amenities to enjoy. There is a very good selection of wines to choose from, as well as a great atmosphere with a luxurious interior and delicious food menu. The garden is an open lawn that is filled with beach huts, beanbags, and deckchairs for lounging.
The alfresco bar at The Eagle is open on days during a hot summer in London to offer refreshments. There are also swing chairs and outside tables to use for watching the sunset and relaxing in the evening.
The Tattershall Castle
This is a pub and restaurant that is floating on the River Thames, with a gorgeous view to enjoy as you sip on a great drink. Things can get very busy when the sun is out and the weather gets a little hotter. But if you wanted one of the best views from central London beer gardens, then it doesn't get better than this.
There's a ton of entertainment to enjoy while visiting the Tattershall Castle, including concerts and events hosted there. The menu of food and drinks is vast, offering all kinds of options for any mood you might be in. Patrons can also enjoy evening music that plays from time to time, usually matching up with announced events.
The Lock Tavern
This historic Camden boozer in Chalk Farm Road (Camden) is something of an institution in North London. Their newly renovated pub has been brought back to life as a popular destination for locals and beer garden lovers. Its design means guests can enjoy anything from leisurely lunches to private parties as well as a weekly pub quiz, Sunday roasts and live entertainment.
Enjoy from mouth-watering beef burgers with bacon to their famous vegan black bean and mushroom burger, plus wings galore. Some people say that they have the best burgers in Camden! With 18 taps downstairs, they have Happy Hour from Monday – Thursday 5pm – 7pm where selected beers are only £3. 35.
Visiting London Pubs with Beer Gardens
By reading through our guide on some of the best beer gardens in London, you'll have the knowledge to make your trip to the city a lot of fun. London pubs with beer gardens offer a great atmosphere for you to enjoy and meet other people, some of who may be travelling to the city looking for a similar experience as you!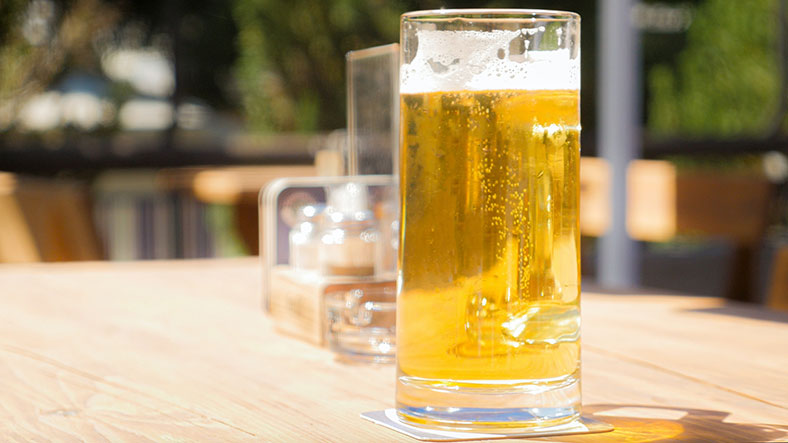 Whether you're looking for a great beer garden to visit or planning a full trip to London, visit PlanTrip London to get yourself started. You'll find lots of helpful info, great spots to check out, and options for you and your family who are heading to London in the nearby future. Plan the perfect trip to London with highlights on attractions and tips on where to sightsee!