Visiting London with a baby may seem difficult, especially if this is your first family trip. The truth is that the difficulties you face when travelling with a baby are something we don't understand until we have one and start planning a trip.
After spending some time using public transport and travelling around London with a baby and a buggy, we decided to write this article with everything you might need to know to plan a London getaway with a baby.
Flying with a baby
If this is your first plane trip with a baby, there are a few things I would recommend. For starters, I recommend that you take a folding stroller, and although it doesn't have to be an umbrella stroller, in my opinion, if it can be an umbrella stroller, then all the better. We bought an economic folding seat for the trips since we didn't want to spend a lot of money on a seat that we knew we would check in since you never know how it might leave the plane…
The most important thing for me is that it is comfortable and can recline when sleeping. I have to say that the stroller we use to travel is not the one in the picture, that is the stroller that we use at home and to go to Central London.
At the airport it is possible to take the stroller to the plane itself and there just before entering you can fold it and they will put it in the hold. When you arrive at your destination, sometimes they take the strollers out of the hold and leave them next to the plane or in a certain area if you have left the plane directly to a gangway.
It is best to ask, as sometimes they take them to this specific area so that you can put the child in the stroller before going through control, but sometimes you have to pick up the stroller in the baggage claim area. If this is the case, you will find that in most airports they put the strollers through the normal baggage claim carousel, but at Stansted airport for example there is a specific area for baby baggage, including strollers, next to the toilets, so check the signs carefully just in case.
Baby luggage
Most airlines allow two pieces of free luggage for infants, such as a folding stroller and a car seat. But I recommend checking with your airline before you travel.
Liquids on the plane
As you may already know, when you go through the airport checkpoint you will have to remove any liquids you are carrying in your carry-on luggage and put them in a plastic bag. You cannot carry liquids in bottles of more than 100 ml.
But if it is baby food or milk for a baby, you can take more. The only thing is that you may be asked to try some of the milk or food you are carrying. They usually take the baby food and check it before returning it to you. We even brought the food in a cooler and they let it through without any problems.
The flight itself
If your baby is under 2 years old, he will not have his own seat. If you want them to have their seat, you will simply have to buy another seat, but it is normal to carry them on the whole way. You will be given a belt for the baby that attaches to the adult's belt.
To avoid ear pain on takeoff or landing, they recommend that you breastfeed or use a pacifier during takeoff or landing. If you breastfeed on take-off, with a bit of luck he will fall asleep!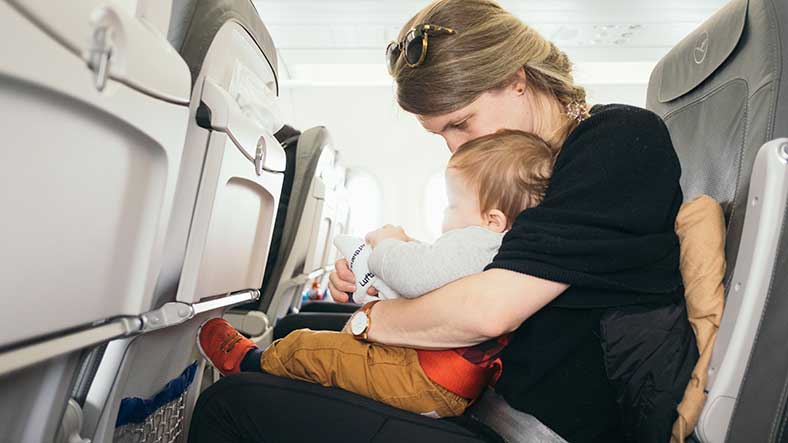 Airports
To get from the airport to the centre, if you fly to Heathrow you can take the tube directly to the centre, but from any other airport, you will have to go to the centre by train or bus and then most likely you will have to go by tube to your hotel. In our article about London Airports transfers options, we tell you the different methods to get from the different airports to the centre of London.
Cab in London with a baby
If you are going to visit London with a baby it is not a bad idea to book a cab and to go from the airport directly to your hotel. With the stroller, the baby and the suitcases to go to the centre of London from the airport combining trains, buses or subway can be a bit stressful. When booking the cab you will need to ask for a car seat for the baby, as they usually have car seats for all ages. The baby must be in a car seat as the cab will have to go out on the highway.
On the other hand, you can take a typical London cab (black cab) to go from one place to another in central London carrying the baby (or child who would normally need a car seat) in your arms, as long as the cab does not have to go out onto the freeway.
Public transport in London with a baby and stroller
If this is the first time you are going to use public transport in London, either subway or public bus, you will probably find it a little difficult to adapt and know exactly how it works, so if it is already a little difficult in itself, then with a baby and a stroller, you will be able to use the public transport in London.
Well, to begin with, I am going to tell you that we and many parents living in London use public transport with strollers a lot. The truth is that it can be very easy if you can choose accessible stations and routes. But sometimes this is not possible and the truth is that it is not very easy, but if you have to do it, you do it.
If you are visiting London with a baby, you should know that children under the age of 10 travel on London public transport for free, as long as they are accompanied by an adult. If you are travelling with more children, you can check the fares when travelling on public transport with children in our article: Travelling in London with kids.
London public bus with a baby stroller
Public buses have a special area for wheelchairs and strollers, but I have to mention that wheelchairs have a preference, so if the wheelchair and the stroller do not fit together you will have to allow the wheelchair to take the seat. If there are already two strollers on the bus, the driver will most likely tell you that you can't get on the bus for safety reasons, you will just have to wait for the next bus.
London Underground with a baby carriage
Travelling on the London Underground with a stroller is something we do almost every weekend, but it is something that can be very simple or it can be a nightmare, it all depends on the route you have to do, and if you go one or two adults. Not all Underground stations have elevators, so it is important to keep this in mind. If there are two of you, it is very easy because one can carry the baby in his arms while the other carries the stroller, upstairs or on escalators. Many people take the stroller up the escalator with the baby in it, but it is an art to learn! but the biggest problem is when there is no escalator or elevator, but a lot of steps…
The subway is also accessible as long as you go with the route well studied in advance, and I must admit that there is a very useful map, with everything you need to know, but at first, it is a little complicated to understand.
Most of the subway stations in central London have escalators to go down to the platforms, but even so in many of the stations, it is necessary to go down some steps after the first escalators to get to the different platforms. Many of the stations also have elevators, but it is not necessarily possible to get to the platforms by elevator, as sometimes you also have to go downstairs afterwards.
London Underground accessibility maps
On the normal London Underground map, accessible tube stops are marked with a wheelchair. If it is a blue circle indicates that they are fully accessible, ie it is possible to go from the street to the same carriage without having to go up or down any steps, and on the platform, there will also be a higher area to avoid unevenness between the carriage and the platform. If on the map a station is indicated with a wheelchair in a white circle means that there are no steps from the street to the platform but there is some unevenness when getting into the subway car, but this is not usually a problem for the carriage.
In addition to the normal subway map there is another map that explains in great detail what degree of accessibility there is at each subway stop and between different lines in those subway stops where there is more than one line in case you need to transfer. At first, it is a bit difficult to understand, but once you get the hang of it, it is very easy. You can see this map here: London Underground accessibility map.
If you need help just ask one of the station staff. If you need help getting the stroller up or down a flight of stairs, for safety reasons they will ask you to take the baby out of the stroller and carry the baby in your arms and they will walk the stroller up or down the stairs.
Public toilets in London with baby changing facilities
In central London, you will find that almost all restaurants have baby changing facilities, especially family restaurants, such as Prezzo, Pizza Hut, Café Rouge, Wagamama's, Giraffe, Jamie's Italian, Carluccio's and many more.
Coffee shops also often have baby changing facilities, such as Cafe Nero or Costa. Just check that this is the case before ordering a coffee, there are so many cafes that it's just a matter of walking into the next one if you see that there is no bathroom with a baby changing table and you need it. Sometimes the toilet with baby changing facilities is also the disabled toilet, and sometimes you need to ask for a key.
In Southbank, next to the London eye (Check our Southbank Itinerary), the Royal Festival Hall has free public toilets with baby changing facilities, plus a restaurant/cafe on the second floor overlooking the Thames ideal for families as there is usually room because many tourists do not enter. To enter you must go through the door next to the Foyles bookstore and go up to the second floor (elevator or stairs).
The Waterstones bookstore in Piccadilly Street, next to Piccadilly Circus, has a family room with a changing table and an area to breastfeed comfortably. It is the largest bookstore in Europe and they have an entire floor with children's books which is amazing. There are also a couple of cafes on different floors of the bookstore.
All the museums have toilets with baby changing facilities.
In Oxford Street, one of the most important shopping streets in London, the John Lewis department store has a family room, a place with a changing table and a place to breastfeed. Other department stores on the same street such as Selfridges, Debenhams or House of Fraser also have a baby changing room. Peter Jones department store in Sloane Square also has toilets with baby changing facilities.
Although I have never changed a diaper in one of the toilets in a subway station, it is good to know that there are subway stations with toilets and some have changing tables. To see which subway stations have restrooms with changing tables it is best to look at the map with restrooms with baby changing tables.
In most of the parks, you will find public toilets (although you have to pay £10p or £20p to enter) with baby changing facilities. In Hyde Park, there are several scattered around the park and in the restaurant at the Serpentine Lake.
If you would like to find out the different museums that you can visit in London, have a look at our article: Best Museums in London
Where to eat in London with a baby
I would venture to say that all the family restaurants in central London have baby highchairs available, you simply have to ask for one. So far we have never been to any restaurant that didn't have turntables and finding a place to eat in London with a baby has never been a problem. To name a few: Wagamama's, Ping Pong, Jamie's Italian, Prezzo, Zizzi's, Bill's…
Breastfeeding in London
Breastfeeding in an unfamiliar city can be a bit scary at first, but I can assure you that in London there is no problem to breastfeed in public places. I usually look for a corner on a sofa in a café or a park. There are also "family rooms" as I mentioned before where it is possible to breastfeed, but when our baby was very young, you had to feed him when he wanted to, not only when he was in a suitable place!
Buying baby food and diapers in London
In practically any supermarket in London, you will find baby products, including baby food and diapers. The supermarkets you will find are mainly Tesco, Sainsbury's and Marks & Spencer. In Boots stores, which are drugstores where you will find everything, you will also find baby food of different brands and diapers.
There are many brands of baby food, but I recommend Cow & Gate and Ella's Kitchen, and you will find different textures depending on the age. If you want to buy cereal porridge, you can find it in the same area as "porridge". Depending on the age, it comes in different flavours, with fruits, etc.
As for diapers, the most famous brand here is Huggies, and you will find the usual diapers and panty diapers.
Visiting London Attractions with a baby
Next, I am going to tell you a bit about the best attractions in London for kids. We always take a baby carrier with us, because sometimes it is necessary to leave the stroller somewhere and it is more comfortable to take the baby with us.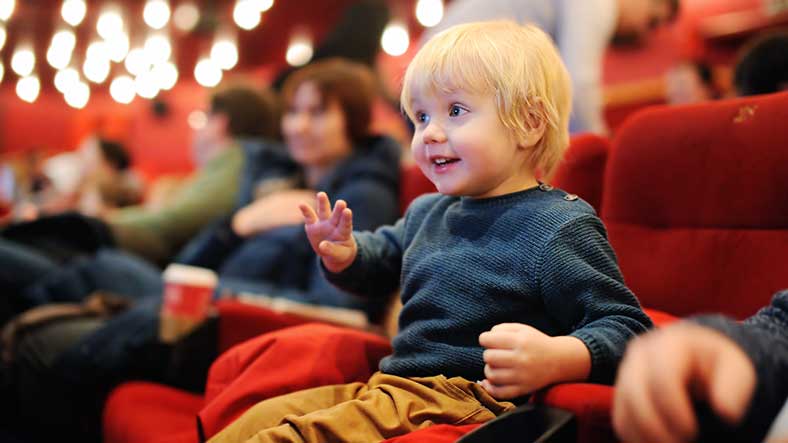 Buying tickets in advance online will save you a lot of queues, which in my opinion is quite important when you go with children!
London Zoo
London Zoo is one of the best places to take the kids and it is fully stroller accessible. There are playgrounds, and a restaurant with a children's menu and the kids can go out with an animal face paint. You can also rent a stroller (so you don't need to bring one if you just want to walk around the grounds) or a trike.
London Aquarium
The London Aquarium is also one of my favourite places to go with kids. We took our one-year-old son, and he loved seeing the fish and the lights. It can be toured from start to finish with a stroller, and the restaurant and bathrooms are family-friendly.
Book tickets for the London Aquarium
London Parks
Strolling through any park in London is a perfect plan if the weather is nice. This summer we have been going a lot to spend the day in Hyde Park. Sometimes we go for a picnic and other times we eat in the restaurant overlooking the lake (they have high chairs) and then we walk to see the ducks and go to the wonderful Diana Memorial playground in Kensington Gardens. But besides Hyde Park, I would also recommend Regent's Park, St James Park, Holland Park…
More info: London Parks
London Eye
If it is the first time you travel to London you will probably consider going on the famous London Ferris wheel. It is possible to go up to the London Eye with the carriage folded, so if you carry an umbrella, all the better!
More info: London Eye
London Bus Tours
It is possible to get on the different London Sightseeing bus tours with a stroller without problems, and the truth is that many families choose to use the tourist bus when visiting London with children.
If you take a stroller, you will see that at the bottom of the bus there is a place to leave it. But in our experience, you can even take it folded up to the top floor if you don't want to leave it downstairs. That's what we did when we used the tourist bus in Paris.
As a recommendation when taking a tourist bus with a baby or children, is that the beginning of the second floor of the bus usually has a part that is covered and a little more protected from the air and sun. It is an area that I consider safer if you have a baby that already moves a little, as I was a little scared to go up to the top floor with a child moving when there is no glass!
More info: London Bus Tours
Tower of London
The Tower of London is one of the most famous tourist attractions in London and there are parts where you can walk with a baby carriage, but to enter the different exhibitions or buildings is necessary to leave the baby carriage in a special area for baby carriages: the Buggy Park.
More info: Tower of London
St. Paul's Cathedral
St. Paul's Cathedral has an accessible entrance to enter with the stroller without climbing stairs, but once inside the Cathedral if you want to go up to the galleries, keep in mind that they are so narrow that to access them you will have to leave the stroller behind and would recommend using a baby carrier.
More info: St Paul's Cathedral
YOU MAY ALSO LIKE