You may want to find out where to store luggage in London if you have some extra time without accommodation and don't want to drag your suitcases around London.
This may happen on the day you arrive to London, you may arrive early and be unable to check in at the hotel or you may simply want to explore some of London before heading to your hotel.  You may also find this is a solution for you on the last day of your trip if for example you have to leave the hotel in the morning and the flight does not leave until late… Those hours are much better spent without dragging suitcases around,  especially if you are going to use public transport to get from one place to another.
There used to be lockers in London train and tube stations, but nowadays, there are left luggage offices and self-storage facilities to store luggage in London.
For this reason, after several people using us where to safely store luggage in London, we are going to explain in this article all the options available.
Storing luggage at the hotel
Usually, most hotels will keep your luggage at the reception, or they may have a specific room for this if you ask them. Hotels in big cities are used to this, so if the hotel location is convenient, I would first consider this option. Most hotels will do this for free, and others will charge a small fee to store your luggage.
Luggage Hero
One of London's leading companies specializing in luggage storage in London is Luggage Hero. Its main advantage is that many offices are spread throughout the most important areas of London.
You can book online easily:
Visit their website at Luggagehero.com
Use the interactive map to select the London area or address where you will need to store luggage to get a list of available locations.
You are then able to book and pay online securely.
And voila, you will receive an email with all the information.
Also, another advantage is that most of their central London locations are open 24 hours a day, 7 days a week.
PROMO CODE FOR LUGGAGE HERO
Enter our promo code QVERHERO using this link, they will give you 2 hours of free service.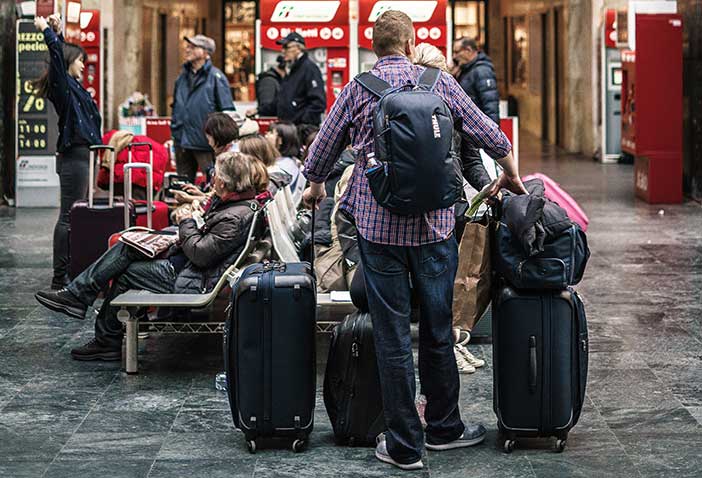 Left Luggage Offices
There are also left luggage offices in train and bus stations.
Victoria Coach Station
The cheapest place to leave your bags for short periods of time is possibly Victoria Coach Station, about an 8-10 minutes walk from Victoria Train and Tube Station. You don't need a bus or coach ticket to store bags here. The left luggage office is in front of Gate 6, inside the bus station. See Website
Prices:
Up to 3 hours: £5 per bag.
3 – 6 hours: £7.50 per bag.
3 – 6 hours: £10.00 per bag.
Address: Victoria Coach Station, 164 Buckingham Palace Rd, London SW1W 9TP.
Opening hours: 8.30 am–10.00 pm.
Train Stations
The company left-baggage.co.uk is the one responsible for the left luggage service in several central London train stations.
Precios:
£7.50 per bag up to 3 hours.
£15.00 per bag up to 24 hours.
£22.50 per bag up to 48 hours.
£30.00 per bag up to 72 hours.
Then £7.50 per day after 72 hours.
Opening hours:
Victoria station: 7 am – 11 pm
Charing Cross station: 7 am–11 pm
Kings Cross station: 7 am–11 pm
Euston station: 7 am–11 pm
St Pancras station: 7 am–11 pm
Paddington station: 7 am–11 pm
Waterloo station: 7 am–11 pm
Liverpool St station: 7 am–11 pm
Cloakrooms in Shopping Centres
Both Westfield shopping centres offer cloakroom services where you can store luggage.
Westfield London
Westfield London shopping centre in Shepherd's Bush has a cloakroom at Lift Lobby 2 on Level -2. Website: uk.westfield.com/london
Prices:
£5 small items.
£8 large items.
£20 multiple shopping bags
You need to collect your items before the shopping centre closes that day.
Westfield Stratford City
The cloakroom service at the Westfield Stratford City shopping centre is located on the Lower Ground Floor, next to Costa Coffee. Website: uk.westfield.com/stratfordcity
Prices: 
£3 small items.
Luggage and Handbags £5 per item (0-4 hours), £10 per item (4-24 hours)
Cloakrooms at Museums and Galleries
Most of London's museums and galleries offer cloakroom services.
Depending on the museum or gallery, they might charge by time or size. They don't usually accept large suitcases. My recommendation is to check their website where you will find detailed information.
Self-storage: Luggage storage for long periods
If you need to leave your suitcases or some boxes for several days, weeks or months, it is much cheaper to use a self-storage service than a left luggage office. This is very useful to know if you live in London and need to store some things for a few days, weeks or months.
The price depends typically on the space you need. The closest self-storage offices to central London are Safestore and Big Yellow Safe Storage.
Access Storage, located in front of King's Cross station, offers a self-storage office that can be used for a few days. These lockers can generally fit up to 5 suitcases.