Harry Potter fans planning a trip to London won't want to leave the British capital without visiting Platform 9¾ at King's Cross Train Station in London.
When you visit Platform 9¾ in London, you will be able to take a photo of yourself pushing a trolley through the station's brick wall, and you will also be able to visit the Harry Potter shop at Platform 9¾.
What is Platform 9¾ in London
If you don't know what Platform 9¾ is, I think it's about time you read the first Harry Potter book! Or, maybe, watch the first Harry Potter film. The first film will probably also make you want to visit other Harry Potter filming locations in London.
Platform 9¾ is a place hidden from Muggles (those without magical powers) in King's Cross Station in London. Wizards and Witches going to Hogwarts School of Witchcraft and Wizardry need to catch the Hogwarts Express Train that leaves from Platform 9¾ at King's Cross Station. To reach this platform, students must run into a magical brick wall between platforms 9 and 10. However, they need to do this without attracting the attention of Muggles… Once they go through to Platform 9¾, they enter a magical world and can board the Magical Hogwarts Express.
Where is Platform 9¾ in London
Platform 9¾ is located inside King's Cross station in London. Until a few years ago, it was located where one would expect between platforms 9 and 10 of the station.
After the recent remodelling of the station, however, this area can only be accessed if you have a train ticket nowadays. For this reason, Platform 9¾ was relocated, so you don't actually need a train ticket to access it.
Platform 9¾ at King's Cross station is just outside the gates to platforms 9 to 11. You don't need a train ticket to visit the shop or access Platform 9¾.
Many of the Harry Potter Guided Tours in London visit Platform 9¾, as well as other Harry Potter film locations.
What to see at Platform 9¾  in London
Upon arrival, you will spot a sign that says "Platform 9 3/4". Beneath this sign, there is a trolley loaded with suitcases and a cage. This is just like Harry Potter's trolley the first time he went to Hogwarts. The trolley is embedded in the wall as if it's going through the brick wall.
When we visited, a stuffed owl inside the cage represented Hedwig, Harry Potter's snowy owl. The idea is that you hold the trolley and take a photo pretending that you are crossing the wall to reach Platform 9¾.
Platform 9¾ Opening Times and Photo Opportunities
Platform 9¾ and the trolley are accessible free of charge inside the Station. King's Cross Station is usually open almost 24 hours a day.
You don't have to pay to take your own photographs. A professional photographer is at hand between 9 am and 9 pm daily. The professional photographer has a selection of house scarves, so you can choose a scarf in your house colours for the photograph to be taken. You can buy this photograph at the Harry Potter Shop next door. The photograph costs £9.50 for one or £15 for two.
There is usually a queue during the weekends and school holidays. If this is when you are planning to visit, we recommend arriving early.
Harry Potter Shop at Platform 9¾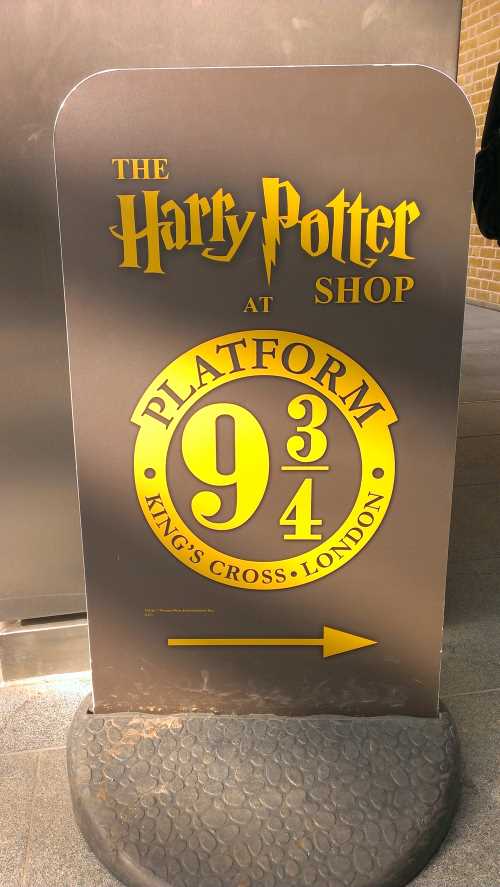 A Harry Potter Shop is next to Platform 9¾ at King's Cross Station. This shop has gift items and souvenirs related to the magical world of Harry Potter.
The Harry Potter Shop at Platform 9¾ at King's Cross Station is open seven days a week. It is usually open from 8 am to 10 pm, Monday to Saturday, and from 9 am to 8 pm on Sundays and Bank Holidays. 
There is another Harry Potter Shop at Terminal 5 at Heathrow Airport.
Back to Hogwarts Day on the 1st of September
The 1st of September is known as Back to Hogwarts Day in the Wizarding World. On the 1st of September, students arrive at King's Cross Station in London to board the Hogwarts Express for the new school year.
King's Cross Station in London celebrates Back to Hogwarts Day with different events. A special Hogwarts Express train announcement takes place at 11 am. There is a great atmosphere at the Station on this day, along with a huge celebration at 11 am.
Visit the Harry Potter Studio Tour in London
Harry Potter fans can also visit the Harry Potter Studios whilst visiting London. The Studios are easy to get to from central London. You will find the same photo opportunity for Platform 9¾, with the sign and the trolley. There are three of these, so there usually isn't a queue here, which is something to consider if you want to visit both locations. At the Harry Potter Studios Tour in London, you can get on the Hogwarts Express, visit the Great Hall or explore the Dark Forest.
You must buy tickets in advance to visit The Harry Potter Studio Tour. It gets fully booked very quickly, especially during school holidays and weekends. You can choose if you want to buy tickets for the Studios and travel there by public transport, or you can buy a complete package that includes travel and entry to the Harry Potter Studios.
Harry Potter Filming Locations in London
 In addition to the Warner Bros Harry Potter Studios and Platform 9¾ at King's Cross, Potterheads can also visit several filming locations in London.
The St. Pancras Renaissance Hotel is next to King's Cross Station. This hotel with stunning neo-gothic architecture appears in Harry Potter and the Chamber of Secrets. London Zoo, for example, is where Harry Potter discovers that he can talk to snakes. Leadenhall Market, a beautiful Victorian Market, is Diagon Alley in the first Harry Potter film.